Jai Sri Hari!
नारायणी नमोस्तुते
kabi n houn nahin chatur kahavun. mati anuroop ram gun gavun॥
kahn raghupati ke charit apara. kahn mati mori nirat snsara॥
(I am neither a poet nor a clever one, I sing the praises of Shri Ramji according to my intellect. character of Shri Raghunathji is immense and my intellect is attached to the world!)
Read Part 1 here.
After having darshana of Sri Hari, in super excitement I headed toward book shop to get some books and Rudraksh Mala. In polite manner a devotee of Swami Ji, who was wearing a locket with Swami Ji's beautiful pic, greeted me with Jai Sri Hari! I greeted her too and the I asked for Rudraksh Mala, she said Rudraksh Malas are out of stock now, we have ordered but it'll take time to manufacture them. I asked her, at least one mala must be there, she said there is no one left. Disappointed, I bought bracelet but I really need mala Maa, why Maa why Maa, I was talking to Maa in my heart.
Healing:
So, we had our lunch and there I met Swami Ji's devotees, they said Abhishek, I said: Yes. They said we have read your posts on os.me. I was happy that time to see such pure devotees of Swami Ji. Nalin Bhaiya was one of them. So we started conversing on Swami Ji. I asked Nalin Bhaiya, would you like to go to Giri River, he said ofcourse, let's go. On the way to Giri River, my left foot got injured, I thought it would be some minor cut. When we reached Giri River, I saw my foot was red with blood. Nalin Bhaiya was so nice, caring, he told me let's go back to Ashram to get some first aid. I refused because that time I was in my sankalpa. After completing that sankalpa I said let's go back. But wait, now there is no bleeding, I said to Nalin Bhaiya. Chilled water of Giri Ganga healed me.
Lalita Sahasranama at the bank of Giri Ganga:
Now I decided, let's chant Lalita Sahasranama. We sat on the bank of Giri Ganga and I started chanting Lalita Sahasranama. When I started chanting, the wind was stagnant and it was quite hot. I said, "Maa bahut Garmi hai," I continued chanting and in between the chanting I realized that I'm not sweating. Stagnant air was flowing now, till the end of Lalita Sahasranama.
In Sri Mandir:
We came back to Ashram and now Sri Hari was ready to give Darshana . After Lalita Sahasranama by Vidyananda Swami Ji, everyone  was sitting quite, although it was Bhajan time and I was thinking, "Koi Bhajan kyun nahi gaa raha?" Suddenly, a lady started singing Mahamantra, I joined her and with in 3-4 minutes, everyone was singing his holy name. Now, it was time for Sri Hari's bhog. We came out of the Sri Mandir and we had our dinner. 
Discourse:
Excited to get Swami Ji's darshana for the very first time (physically) in this life. Everyone was reserving seats for themselves, so I reserved one for me already and when I came back, what I saw, I saw that the devotee who was singing bhajans with me was sitting next to me. I asked her what to do during meeting with Swami Ji. She told met as you are in group meeting so jot down your questions before going to the meeting room and speak out your question in limited words. Compress your questions just in two sentences. I did the same. Now we all were ready to welcome our Swami Ji, divine Sri Suktam was playing in background, Sadhvi Vrinda Om Ji, Sadhvi Shraddha Om Ji was rinning towards Sri Mandir to reach inside before Swami Ji's arrival. 
Finally, I was seeing my Swami with these eyes, "Sabki aankhen Nam thi apne Nath ko Dekh kar, Apni paduka pehan kar jaise hi pravesh kiya mere Swami ne, vaise hi maano kuch badal gaya, sab unhe pranam kar rahe the or vo sabme virajmaan Sri Hari ko, apni tooti vani se maine kaha, Swami Ji! Happy Holi, Aankhen mili unse pehli baar….  Mere Swami ne rang diya mujhe prem rang me…………"
As you know, I jotted down my two questions on a paper before the starting of discourse to ask in meeting. But when the discourse ended there were no question left to ask. I said to the devotee sitting next to me that I don't have any question, she smiled at me…. I also told her that Rudraksh Malas are out of Stock, she said, I'll try to arrange one…
Wait for Next Part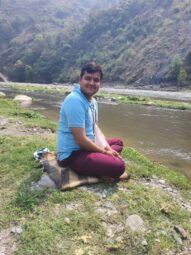 At the Bank of Giri Ganga….
Naryani!
---