I have known Shirdi Sai Baba all my life and I believe that he has led me to Swamiji.
On this new path, I started reading or listening to every piece of  article on Om Swamiji. However,  as always, new experiences  come with many questions. Hence, I was time and again asking myself  if I am on the path meant for me.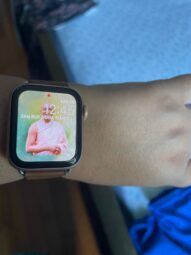 That particular day, I woke up earlier than usual. In the darkness and silence of the dawn, I prayed both to Baba and Swamiji to give me the direction. Like most naïve souls , I resorted to a material object  to find the answer. In this case, the object was my Apple watch. My Apple watch has many portrait interface with a mix of pictures of Baba, Swamiji and family (currently, 6 interface with 24 pictures each). I prayed that when I lift my left hand with the watch , I should see Swamiji's picture on it. If I think of it now, the probability of that was very low given that the watch had only 3 pictures of Swamiji. My daughter rules that space.
But, the answer came. I lifted my hand and lo and behold, it was Him ( took this picture later for this  write up)
I once again experienced that if you ask with a pure heart and love, the answer comes.
I have chanted Om Sai Ram for the past 15 years. Now I got OM + SAI+ RAM (HARI) all merged in ONE.
Pranam to Om Swamiji. I bow to the Divine. 
---