My cousin told me she was gifting me a membership of os.me, on my birthday. I don't think she would have gifted me this if I hadn't met with the accident. So you see, the first benefit of getting hit by a truck is to be here amongst some amazing people.
By the way, this is my first post here, so I don't want to write a sad one by talking about my accident and the consequences. Instead, I will tell you all the beautiful things that have unfolded after that; what I realised and felt.
It's my birthday today. I have turned 23 (Yay). This birthday is different. Not because I won't be able to hold the knife to cut the cake, but because my whole family will be with me to cut it on my behalf. I am sure they will fight over who gets to cut it, since they all love to be the centre of attraction. If I were to count them on my fingers, I'd need ten hands to count my family members.
I was in the ambulance alone, coming down to Delhi. My dad met me halfway, the moment I saw him and felt his hand on my head, it was magical, as if I was going to win the world. My cousin (Piyush), who is a doctor, was waiting for me at the hospital. I looked at him and told myself, 'Ab bhaiya dekh lenge (Brother will handle this now).' I felt all fine already! He was by my side all the time.
How could I worry about anything when he took over everything. I am telling you, it's a blessing to have a doctor in the family. I spent four-five days in the hospital and was super-excited to come back home.
The moment I entered my room, I received a huge welcome. My room had got quite a makeover. My favourite actor's poster looked at me lovingly, my cousin's favourite quote (Love. Live. Laugh. Give. Let Go) had been hand-painted on the wall, and beautiful fairy lights sparkled all around. Though I couldn't move physically, I jumped out of happiness on my bed. What more did I need?
I don't bother about the seriousness of the accident because I am surrounded by such lovely people. Is it not a blessing? It is. I never felt that I am loved by so many people before the accident (photos attached for the reference, that's what they do with me when they are free).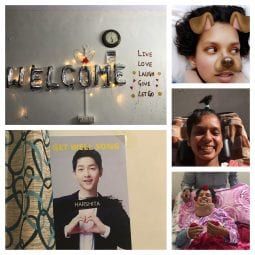 All of them have divided their duties. One of my cousins (Sakshi) clean up my face with her amazing skills, my brother (Kartik) helps me with brushing my teeth, another cousin (Mohit) cheers me up with his witty humour, those who are married visit me often and bombard me with gifts! Such cool gifts that I take a lot of time to calm down my excitement.
And yes, some of them (Naman and Oju) are even writing exams on my behalf. Just fantastic! So, rather than feeling helpless and depressed, I feel blessed.
I have dozens of cousins. Besides performing the duties they have taken up, all of them try to be my physiotherapist (that's the irritating part). I once read that we all have something in our life to be grateful for and I am grateful for a thousand things. I came back alive from such a massive collision, it's like getting another chance to live my life. I know my recovery will take time, but time flies with such lovely people around. I have even made a list of things I want to do once I recover.
I have heard about os.me from my cousin and it feels super-amazing to be here. The comments and blessings on her last post made my day, and I can't wait to visit the ashram and meet Shri Hari and Swamiji. I have only heard about them and have never got an opportunity to see or meet them. I want to visit and thank them for making me a part of this community. To all the lovely people here, I am grateful for your support, love and blessings. I will see you all in the ashram very soon.
---