In the last 3-4 years there have been quite a few 'First Time in My Life' acts which might seem trivial to others, yet have proved to be some sort of mile stones in my journey.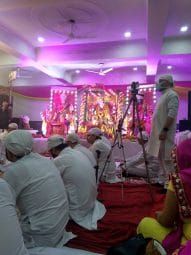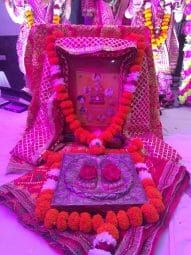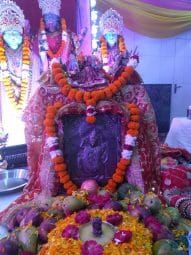 Yesterday, with the blessings and grace of Almighty, my 'First time in this life…' series got one more pearl when I attended a divine gathering.
It was 3 hours shortened to 3 minutes, compressed into just these 3 minutes for me. I literally felt Einstein's Law of Relativity in real. In no time clock ticked from 6.15 p. m. to 9.15 p. m
The 'Maa ki Chowki' ( a very bright, energetic, beautiful arrangement for the Divine Mother's pooja, archana, chanting, singing and arti) was so full of divine rasa (nectar )…. Right from the beginning when the mahajyoti is lit till the last when mahabhog is offered and in between, it was just ecstatic ❤❤❤. The devotion of the group doing the chowki was beyond words, as also of my childhood friend when she told me, that she has been going to Vaishno Devi Shrine, Katra, EVERY MONTH, for the past 10 years. See, Maa chose to reunite me with my childhood friend and to her deep devoted self NOW. Maa's timings, Maa's plays are beyond our comprehension🙇‍♀️🙇‍♀️🙇‍♀️.
Although we, I mean my family, regularly received many such invitations to attend mata ki chowki in the past, but I never ever got to attend one from start to finish. It has always been a very formal visit, which always starts by reaching late, at the time of the final arti, having prasad, then worldly chit- chat with the people and back to our nest. As my husband is a private practitioner of allopathy medicine, his clinic has always overshadowed our family life for the last 30 years. We have never ever attended any social gathering of any sort, in a tension free manner.
But yesterday it was different.
First time in my this life I had the courage to listen to my inner calling. Against all odds, I decided to go alone. I planned to reach the venue in time to attend the Chowki from beginning to end. (Although it was a bit scary to come back alone, in a cab, late at night). My bold decision has proved to be such a fulfilling experience for me. I am so, so happy to see that at last, I decided to walk the path that I have been suppressing since past 30 years. Due to family responsibilities, never ever did I listen to my inner callings, except on very few occasions—like when I decided to visit the Ashram in 2015, which has worked like a life line.
What I have understood from my life experience is that suppression leads to suffocation. If still not addressed, it leads to anxiety, and then mental illness, and then a human becoming a burden, an unproductive bundle of flesh, bones and blood. And slowly, even that bundle would began to rot and smell. And NO ONE BUT YOU would suffer the most. Thankfully I have understood this phenomenon halfway itself and started taking remedial action.
Yesterday, while those 3 hours passed in just 3 minutes, the experience has filled the emptiness of my past 30 years. Yes, I am rejuvenated, refreshed, reignited for 30 years to come😊😊😊😊.
May Divine Mother keep paving ways for all her devotees. Its nothing but pure Grace. We get divine blessings when we become a worthy recipient🙇‍♀️🙇‍♀️🙇‍♀️🙇‍♀️🙇‍♀️.
Jai Mata Di🌹🌹🌹🌹🌹
---