Today is father's day , on this day I want to reshare  a special story of bond between father and son.
Earlier i have written about Narmada river, how it came to earth, why it is most important among all the rivers etc. This post is about Narmada Parikrama by a man called Shailendra Narayan Ghoshal Shastri as per his father's last instructions.
Epilogue
Shailendra Narayan Ghoshal Shastri was born in Medinipur District of West Bengal. His Father's Name is Shashi bhushan Ghoshal. when he was a student, whenever he had a summer vacation or a holiday for Durgapuja, his father would always send him to some pilgrimage area for travel. He always insist him to go anywhere, but do not stay at home.
When he has completed his graduation in 1949 and came to village, his father said these words to him:-"Son, it has been my deepest wish that I should go for Narmada Parikrama once in my lifetime, but I could not do so. Now at least if you can circumambulate the origin of Narmada from Amarkantak to Vimleshwar Jyotirlinga i.e. from Bhrigu Kamandal to Brigukchha, then I will get peace even after death. He added: – After completing the Narmada parikrama, you should publish a book describing your experiences, only then your ऋषिऋण  (debt of rishis) will be missed."
In 1951 when he just completed his postgraduation, he received his father's letter instructing him to came soon at home. When he reached home after that his father left his mortal body on Shivaratri, sitting in yogasan and reciting Ved Mantras. 
Now over to the Author in his own words:- 
मेरे जीवन का प्रकाश और आनंद नियति के एक फूंक से बूझ गए। आँख और मन में उस वक्त रेगिस्तान कि ज्वाला धधक रही थी। पिताजी का अंतिम संस्कार करके मैंने भी घर छोड़ दियाँ। फिर पिताजी कि अंतिम इच्छा को याद कर चला गया अमरकंटक। समय् काल था 1952 मैंने अपने मन में ठान लिया था, या तो शास्त्रीय नियमो से नर्मदा परिक्रमा पूरी करूँगा, या फिर मर जाऊंगा। पिता जी के आशिर्वाद का सहारा लेकर मैं नर्मदा के दोंनो तट पर लगातार 6 वर्षो तक घूमता रहा। 

उसी दुष्कर एवम् दुर्गम यात्रा के फलस्वरुप इस पुस्तक तपोभूमि नर्मदा का अवतरण हुआ है।
(The light and joy of my life were drowned out by a whiff of destiny. The flame of the desert was burning in the eyes and in the mind at that time. After the funeral of my father, I also left the house. Then remembering father's last wish went to Amarkantak. The time period was 1952, I had decided in my mind, either I would complete the Narmada Parikrama according to the classical rules, or I would die. With the help of father's blessings, I roamed on both the banks of Narmada continuously for 6 years. As a result of the same difficult and inaccessible journey, this book Tapobhoomi Narmada has been incarnated.)
What is special about Tapobhumi Narmada?
In this book Author has described all incidents while doing narmada parikrama in a manner which can't be described. He has taken notes from various old literature and shastras along with examples. It consists of 8 parts, with each part having 350-400 pages. From That much length of book one can imagine , how so much is described in book.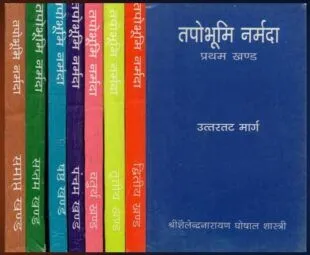 How to Get this Book?
There are 2 ways:-
1. It can be purchased from Sushil Tambi ji (see this Post to know about him),  one can contact him as per details mentioned below.
2. It can be purchased directly from Shri Anandmohan Ghoshal ji (Author's son) by emailing him on tapobhumi[dot]narmada10[at the rate of]gmail[dot]com OR tapobhuminarmada15[at the rate of]gmail[dot]com. I will give his mobile number also but plz. remember 90% of the time he is not reachable on mobile. He will only reply by email. (I have purchased from him, as I don't know about Sushil ji at that time) Also this method will take time, whereas method 1 is faster. 
3. In the Book itself I have found some distributors, I am giving below their names:- 
Glory of Father
Below are the words by Author, for his father
Namo Narayan 🙏🏻🙏🏻
Image from shutterstock
P.S. :- 1. Kindly see this post  for Latest Narmada Route Maps along with all other information of Narmada Parikrama.
          2. Link of Latest Narmada Parikrama video experience by Rohit Sawant provided by Sandhya ji is here.
---