As a child, I fondly remember watching "Little Krishna" whenever it aired on T.V.
It was an absolute delight seeing baby Krishna enrapture the residents of Gokul with his sweet innocence and divine leelas. He was the entire universe manifest as a little child, who left no stone unturned to trouble the people of Gokul only to drench them in love soon after.
He truly was the darling of Vrindavan.
There are countless stories of Kanha, each one brimming with sweetness. Though I am sure you are familiar with these stories, I would love to narrate one of them here for the sheer joy it brings me.
Krishna and the Fruitseller
Vrindavan bathed in the golden glow of the summer sun. A gentle wind carried the call of a fruit seller as her voice echoed through the dusty lanes. She carried a basket laden with luscious, golden mangoes. They were fully ripe as if waiting to be devoured. She called out to her prospective customers as she went on chanting  "Phal le lo, Phal" (Take these fruits).
Hearing her call, little Krishna, who was playing inside, rushed to the window. He lifted himself on his little tiny toes and peeped out of the railing. Clapping his hands in joy, he babbled and asked her to wait.
"Ruko! Ruko! Kisna ke liye Ruko!"
(Wait for Kisna!)
With only a golden chain girdled around his waist, he flapped his arms and toddled towards her.
"Tell me, little one, would you like to have some fruits?" 
Krishna nodded intently as his eyes gleamed with playful delight.
"Yes! Kisna wants those mangoes" 
"But You'll have to pay me," she teased him, " do you have the money?"
Krishna's face dropped and then brightened again. "Yes, Kisna has the money," he beamed.
He rushed inside and returned with his fist full of grains. But how many grains could his little, baby hands possibly hold? As he raced towards the fruitseller, all the grains trickled out of his palms and dropped to the ground.
He unclenched his fingers, disappointed to find that there was nothing inside. His smile turned upside down and a tear escaped down his soft cheeks.
The fruitseller couldn't bear to witness his sadness. She picked him up and planted a kiss on his forehead.
"I was only teasing you Kanha! All these fruits are for you. Take as much as you want."
His smile returned and he filled the skies with his infectious laughter. He carefully picked a few fruits and dashed back to Maa Yashoda.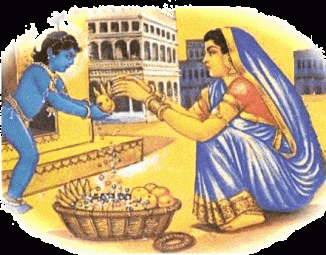 Pleased with what had conspired, she packed her basket and headed along. Only later did she realise that all of her golden mangoes had been turned into actual gold. As she marvelled at this miracle she realised that the little boy was none other than the Lord of the universe himself!
***
P.S: Inspired by Mohit Ji's post, I pledge to donate anything I earn on this site to charitable causes and promise to extend the spirit of kindness that has been so abundantly showered on me. While I will never be able to fully express my gratitude towards Swamiji and this lovely spiritual I have been blessed with, I would still like to make a measly attempt. Thank you so much for this opportunity of kindness and the never-ending grace. Jai Shree Hari!
---