A few weeks ago, Vipinji had forwarded a very interesting message based on true events. To surmise, I think the story takes place in New York, where this gentleman was a man of habit. He always caught the same train at the same time on the same route. However, on that particular day he deviated from his routine and he happens to be sitting next to someone who was reading this foreign paper, which incidentally this gentleman could read.
He starts to talk to this chap with the newspaper and it transpires that he had been separated from his wife/partner during the war. When this gentleman asked her name, it so happened that he had met her and had her telephone number, too. He then facilitated in getting them together after so many years. Now, you might ask yourself if that was coincidence or grace?
Well, my experience is nothing like that! Now that I have lowered any expectations to a more realistic level, I shall narrate my experience.
It was November 2017, and with the Divine grace I was embarking on my second visit to the ashram. I had flew down to Amritsar and my cousin Punit had come to pick me from the airport. After spending a few days with him in Jalandhar, I caught the bus to Chandigarh, from where I was picked up by the cousin of my sister-in-law's husband. We had lunch. The taxi driver was to pick me up from there at 1:00pm.
The driver promptly arrived and I informed him that en-route I wanted to visit the wholesale market or mandi, as I wanted to pick up some provisions for the ashram. I picked up some lentils and rice and I informed him that I wanted to pick up some fruits. So he drove the car and pointed to some stalls and said he would meet me there, whilst he found a parking space. No doubt as you're all aware the market place is heavily congested with so much noise and hustle and bustle.
As I stood, casting my eyes on the variety and prices of the stalls, I suddenly felt what can be best described as a gentle brush on the back of my left foot, to which my immediate response was to move forward but my left shoe was stuck and would not move. I immediately slipped my foot out and hobbled on my right shoe. I turned around and saw my left shoe adjacent to a car. I examined my left foot. There was no blood, I felt no pain. There was a slight tear on the back of my sock, which may've been there before.
Suddenly, the whole place erupted. The stall vendors hurling abuse at this young Sikh gentleman: "Are you blind, you should be more careful", "look where you are driving"… The young Sikh immediately came out profusely apologising and asking if he could take me to the hospital. I picked up my shoe, which was miraculously unmarked and I replied that I was fine. He then offered to buy me some balm at least, but I said I was fine.
A few minutes later my taxi driver arrived wondering what all the commotion was about. One of the stall owners informed him that there had been an accident involving me. He came upto me asking what had happened and that how dare this chap drive so carelessly and that I was his responsibility, et cetera. I said that I was fine, I purchased some fruits and followed him to the taxi and we were on our way.
I closed my eyes and thanked the Lord for what could've been a serious incident and I could easily have been in some Chandigarh hospital. I thanked Swamiji for taking care of me. After a few stops, where we had tea and the driver had some food, we safely arrived in the ashram. I was greeted by Mohit and Tejas and I informed them that I had purchased some provisions, I asked them where I could put those. I was informed to place them on the side and that they would arrange for them to be taken to the kitchen and that I should register.
After completing registration and sorting out my accommodation, the next 10 days flew past. I had a beautiful personal audience with Swami ji, which like for us all, always ends in tears flowing, and no matter how hard you try to stop them and try to compose yourself, they flow more.
From memory, I think I was there for 10/11 days as I had managed to get on the Gayatri Sadhana then followed by Swamiji's birthday celebration. The short time I was there flew by. I had thoroughly enjoyed meeting and interacting with such beautiful souls. Soon I was back in Jalandhar and after a week during which we visited ChinthPurni and Jawalla Ji Maas temples, I was back on the flight home.
I safely arrived home. My wife and youngest son Pranav had come to the airport to pick me up. The following morning I was up early, as it takes a few days to adjust to the time difference. From memory, I was either off work that day or it was a Saturday. Pranav informed me that an engineer was visiting his flat and that he was going there and I should rest.
Just to rewind: Earlier that year around April, Pranav had purchased a flat in Birmingham for investment purpose. I had carried some minor redecoration and assembled some furniture in readiness for him to rent it out. Pranav, being a ACCA qualified accountant had decided that for six months he would not rent it as it would be better from a taxation point to assume he was resident there.
Apart from visiting the flat every few weeks to check any posts, et cetera, it was left as it was. On one occasion he was out on some social function in Birmingham and decided to stay overnight. He then found out there was a problem with hot water. I advised him to take out an insurance cover for the electrics which would cover him as electricity was the the only energy supply in the flat. The only drawback with such policies is that you are not allowed to claim for the for the first month. This stops people taking out such policies only when the have a problem. However, in Pranav's case it didn't matter as he was not resident there.
Any case, rather than him catching a train to Birmingham, I would accompany him, I offered. So we took some coffee and milk and I drove to his flat. The engineer had given the time slot of 9:00am to 1.00pm. We arrived in time and the flat was fine as you would expect since no one was residing there.
Once there, I suggested we checked if the heating was functioning correctly. So I moved to a sofa so that I could have a look at how the heater operated. I was squatting on the floor when suddenly the sofa went to the left and the heater, which was screwed to the wall, crash landed with a thud on my right foot.
I was unable to move my foot and immediately tried lifting the heater. However, it was so heavy I was unable to. Pranav was only a few feet away from me and immediately came around to the other side to help lift the heater. We just about managed to lift it a few inches, enough for me to move my right foot.
Again, miraculously the shoe was not squashed and when I slipped my foot out from the shoe it was fine. The heater had landed on the slight protruding bit of the sole on the front of the shoe. Pranav must've asked me numerous times if I was ok and perhaps I should visit the A&E hospital and get it checked.
My foot was fine and as we waited for the engineer, I immediately recalled the similar incident with my left foot in Chandigarh. Once again I profusely thanked the Lord. Soon the engineer came over, he fixed the heating and I asked him to help us move the heater. He then informed us that these storage heaters have about 25 bricks inside which heat up at night when the tariff is cheaper. He then told us that we would need to remove all the bricks and screw the heater into the wall and then place the bricks. I examined the bricks and they were all intact.
I told Pranav and my wife about the incident in Chandigarh, but to be honest, to them perhaps it was a coincidence. I recounted the incidents to my mother whom I am so blessed to have with me, and she too like me believes it was divine protection. I will finish off by this saying:
"To those who believe, no explanation is required, whilst to those who don't believe, no amount of explanation will suffice."
I thank you for taking time to read this, until next time, I hope you and your family keep well and stay safe
.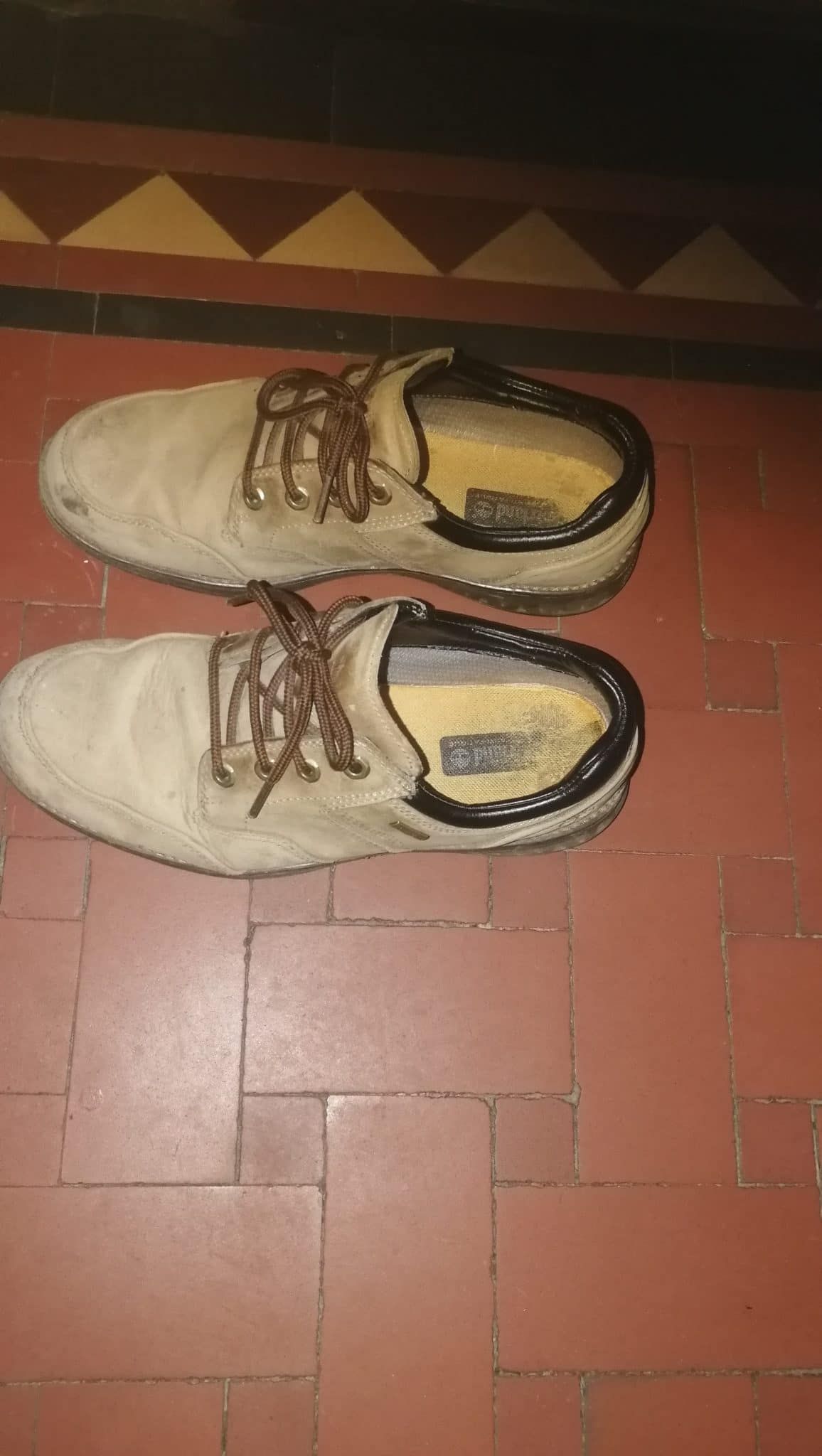 ---