Jai Sri Hari, and a warm and cozy hug to my dearest OS.me family. I am still in Delhi, hoping to head to the ashram on 24 December. Today is the birth anniversary of Sarada Ma, the holy mother. I bow before the mother and pray that she guides my hand as I seek to share a summary of her life with my dear parivar.
The Divine Nature of Mother
The story of the holy mother is best understood by listening to this video by Swami Sarvapriyananda. He starts by asking a simple question. The holy mother spent most of her life taking care of thousands of devotees of Sri Ramakrishna, her own family, and an ever-growing family of monks. He wondered how Sri Ramakrishna or Swami Vivekananda would have reacted in such circumstances. You can hear him giggle as he concludes that Sri Ramakrishna would have flown into immediate samadhi while Swami Vivekananda would have moved to the Himalayas for solitary meditation. He concludes by saying that the most astounding achievement of the holy mother was how ordinary her life seemed most of the time. We can all relate to her life when compared to the supreme immersion of Sri Ramakrishna or the towering intellect of Swami Vivekananda. 
The greatness of the holy mother is demonstrated in the following interaction she had with one of her close women devotees. The lady commented that she had seen Sri Ramakrishna and the holy mother and felt that Sri Ramakrishna loved them more than the mother. The Holy mother smiled and said there is nothing to wonder. Sri Ramakrishna selected his disciples so carefully. He would accept only a few of them after so many tests. She added, "He has sent me a queue of ants, and he took all the giants." This, in my opinion, was the holy mother's greatest achievement. She initiated people in the shrine, in her room, on the road, in a railway platform. A railway porter saw her and burst out crying. He wailed, "Oh mother Janaki, how long I have waited. Where are you all these days?" The mother was not perturbed at all. She smiled and initiated him on the railway platform. 
Another episode highlighting her compassion is when three devotees approach Swami Bramhananda and ask for initiation. He took one look at them and refused them since masters take on the karma of devotees when they initiate them. He sent them to the holy mother. 
Mother took one look at them and said, "Children send such fine gifts to their mother. However, look at what Rakhal "Swami Bramhananda" has sent me. The devotees were shocked when the holy mother refused to initiate them. They begged a couple of times before she took pity and granted them initiation. When the story reached Swami Bramhananda, he just muttered, "Grace Grace!! What poison would have reduced us to ashes, the holy mother takes it in." Her compassion for her "children" knew no bounds. The price of taking on such a heavy karmic debt had a significant impact on her health towards the end of her life. 
Note: All the incidents shared below are sourced from Sri Sarada Devi – The Holy Mother by Swami Tapasyananda.
The Promise of the Holy Mother
The Holy Mother said that Sri Ramakrishna had promised her that he was personally responsible for every person she initiated. Mother always said that if she initiated someone, this was probably the last lifetime for many of them. Swami Nikhilananda was puzzled by this statement because many of her devotees seemed ordinary compared to the giants initiated by Sri Ramakrishna. Swami Saradananda explained that in many cases, it's true, but for others, it may take one or two maximum lifetimes. The holy mother said that if the devotees she initiated practiced mantra sadhana, they get liberated. She emphasized desirelessness as the key to liberation. She often told her devotees to leave esoteric values like detachment to stalwarts like Swami Vivekananda. She asked her devotees to focus on Nirvasha (desirelessness) and see the truth that GOD is the only reality. Everything else is mithya. 
One of the simplest examples she gave for Japa chanting was people's behavior when they felt cold. "Do you wait to feel warm before going to the fire? Similarly, most of you don't chant because you feel you are too caught up in the world or are not good enough to chant the name of god. The chanting itself will purify you." 
If this story sounds beautiful, esoteric, and perfect, you have not grasped the essence of the divine mother. I have shared some of the beautiful moments of her life without taking you behind the scenes to witness the challenge she faced every single day. Her compassion, her love, her devotion grew despite these challenges. 
Let's dive deeper into her life and witness how the holy mother became one of the most towering saints ever to grace our wonderful country. 
The Early Years of Her Life
On 22 December 1853, the Holy Mother was born in Jayrambati. Ever since she was a little girl, she helped with various chores. She had simple habits and worshipped clay idols of Kali and Lakshmi. She was slightly older than five years when she married Sri Ramakrishna in May 1859. Sri Ramakrishna's parents had been looking for a match for years, and he had rejected every single proposal. Finally, he got tired of their efforts and said, "Vain is your search in this place and that. Go to Jayrambati and there, in the house of Ramachandra Mukherji, you will find her who is marked out for me." Sri Ramakrishna's mother, Chandra Devi, had borrowed jewels from their neighbors to deck Sarada Devi, who loved the sparkling ornaments. Chandra Devi wondered how to take the jewels from the child when Sri Ramakrishna came to her rescue and removed the ornaments when Sarada Devi was sleeping. The five-year-old Sarada Devi woke up and started weeping when she noticed her ornaments were gone. Her uncle saw this and took her back to Jayrambati. 
Sarada Devi – Wife of Sri Ramakrishna
Sarada Devi came to Dakshineshwar in March 1872, when she was 18 years old. Sri Ramakrishna had already decided the terms of her relationship. Firstly, he would educate her in the high ideals of life, which mirrored his philosophies of life. Secondly, he would use this opportunity to test his belief in being established in the Brahman. He implemented his master Totapuri's teaching that any person who had a strong distinction between sexes may be a good aspirant but was very far from realizing the Brahman. A true seer would never see the difference between man and woman. His behavior would not come out of any moral education but simply from the experiential realization that everyone has the same divine within them. Ramakrishna felt that the presence of his wife at Dakshineswar was, for him, an opportunity to test his attainment in this respect. 
The Elevation from Sarada Devi to The Holy Mother – Shodashi Pooja
In 1872/1873, Sri Ramakrishna decided to conduct the Shodashi Pooja. The events of this ceremony are described in detail in the Gospel of the Holy Mother. Sri Ramakrishna asked Sarada Devi to take her seat set apart for the deity. The master sprinkled her with holy water and then chanted a prayer. Then he identified the Holy Mother with the deity through the ceremony of Nyasa, which consists in touching the different parts of the body with appropriate Mantras and placing them in mind with the different parts of the deity. After that, he offered her worship with sixteen items, as one does before the divine image. In the course of it, he applied red paint to the sides of her soles, put the vermilion mark on her forehead, dressed her with a new cloth, and gave a little of sweets and betel leaf in her mouth. This ceremony made her a vital part of Sri Ramakrishna's mission. The energy of the divine mother now flowed seamlessly in her as it did in Sri Ramakrishna, and she would use it to fulfill his mission for more than 30 years after his maha samadhi. 
The Parting of Ways
The Divine Mother and Sri Ramakrishna parted ways 13 years after joining him in Dakshineshwar. Sri Ramakrishna was suffering from throat cancer. He had lived a faultless life, but after taking on the karma of so many devotees to fulfill his mission of spreading Sanatana Dharma to all corners of the world, his physical body could no longer sustain itself. 
The Holy Mother could not see his pain and went to the Shiva temple in Dakshineshwar. She lay before the deity without food or drink and asked for a divine remedy for Sri Ramakrishna. During the second day, she heard the sounds of pots smashing. A few searing questions burned into her mind. "Who is the husband?" "Who is the wife?". "Who are the relatives?". "Why am I killing myself?" A great sense of detachment flooded her whole being, and she felt refreshed. Sri Ramakrishna left his mortal body in the early hours of Monday, 16 August 1886. When the holy mother was removing her ornaments, he appeared as a vision and instructed her to keep them on since he never truly left her. The holy mother left for a pilgrimage on 30 August 1886 since Sri Ramakrishna had asked her to visit all the shrines they could not see together. She visited many shrines, including spending time in Brindavan, before returning to Calcutta in August 1887. 
The Struggles of the Holy Mother
The year after she returned from Calcutta were the darkest periods of holy mother's life. About a week after she arrived in Calcutta, she started for Kamarpukur. She walked the final sixteen miles of the trip because she did not have one rupee to pay for the transport. The temple management led by Dinanath, the chief manager of the temple, and some of Holy Mother's relatives had conspired to stop the seven rupees allowance she received. She was now a widow without any independent income. While many devotees, including Swami Vivekananda, pleaded with the temple to restore her allowance, the plea fell on deaf ears. 
When the Holy Mother reached her village, there was an uproar of criticism among the village women, who felt scandalized at the sight of a young widow wearing bracelets and a red-bordered cloth. 
The mother lived a life of utter loneliness and poverty for the next few months but never forgot her devotion to the divine or her master. Towards the end of his life, Sri Ramakrishna had said to her," After my time you go to Kamarpukur, live upon whatever you get – be it mere boiled rice and greens – and spend your time in repeating the name of Hari." Since the mother did not have any money in hand, she dug the earth to cultivate some greens to go with her daily food. Until the greens sprouted, she made rice out of the paddy in the granary, offered it to Sri Ramakrishna, and ate it without any accompaniments.
The story of her suffering remained hidden from the outside world. Ramlal, the eldest son of Sri Ramakrishna's elder brother, was a priest at Kali temple and hostile towards her. While the younger brother was affectionate, he could not help her, and their sister preferred to live with her brother in Calcutta instead of giving mother company in the village. The holy mother often asked herself that she was a young widow without a child with no one to call her own. The master finally appeared in her vision and said, she will have so many jewels of sons that she will get tired of being called the mother. Finally, the word reached disciples of Sri Ramakrishna, who raised enough money to invite the holy mother to live in Calcutta. 
Swami Saradananda and the Holy Mother
Swami took on the primary responsibility of taking care of the holy mother in her latter years in Calcutta. He was one of the twelve young disciples of Sri Ramakrishna who left their home and studied to serve their great Master in his last illness. He preached Vedanta in England and America (1895), and a few years later (1898) was appointed the secretary of the Ramakrishna Math and Mission, a position which he retained till the end. The holy mother loved him deeply, probably more than anyone else around her. As she put it," I shall have no difficulty so long as Sarat lives. I do not see anybody else who can shoulder my burden." She used to speak of him as her Vasuki, the mythical snake, who protected her with a thousand hoods. In her last days, she remarked, "I am tired of this life. I shall now depart, taking Sarat in my arms and carrying him wherever I go." It is said that the Swami Sarandana wept like a child on hearing this.
The End
On 13 December 1919, the anniversary of her birth, she got fever and suffered. She initiated so many devotees that their karma was now taking a toll on her physical body. Her fever shot up, and she had difficulty eating food. Swami Sarandana was the only one who could feed her. She took samadhi on 20 July 1920, when she was 66. She had lived for 34 years without her master and continued to guide and support his mission till her very last breath. 
Some Lessons from Her Life 
We all can take some lessons from the holy mother's life. As I researched this piece, I realized a few key points. 
There is no point in singing her glory or praying to the goddess if we do not see the divine in the women around us. We cannot treat women in our life as second-class citizens and hope to achieve liberation. The true sign of feminism succeeding is not only when women have equal opportunity for work or pay but also liberation(mukthi).
Mother was happiest when she initiated devotees and asked them to chant the holy mantras. She always said that people complain that they don't experience the divine, yet they do not chant. She would wake up before dawn every day to chant for her "children."
She endured unbearable suffering but yet continued to have faith and work on the divine mission of Sri Ramakrishna. Let's compare our lives to hers the next time we find an excuse for bad conduct or ignoring spiritual practices. 
Conclusion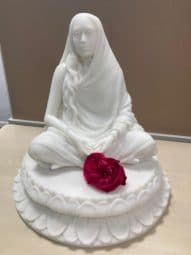 The image you see here is a statue of the holy mother that graces my office desk. I keep it there to remind myself of our commitment to the spiritual path after taking Deeksha from Swami. 
Happy Birthday, Dear Ma, on your 168th birth anniversary. I cannot thank you enough for entering my life, showering it with so much grace and affection that I feel overwhelmed.
Jananeem Sharadaam Devim Ramakrishnam Jagadgurum Paada padme Tayo shritvaa Pranamaami Muhur muhuhu
---