The journey starts with someone who is ours and has taken good care of us, from the moment we came and took the first bath.
("जिंदगी का क्या है ? आ कर नहाया, और, नहाकर चल दिए ।।") Life is such won't take long, won't stop, won't slow down neither will take a reverse gear. 
Fixing ourselves in present has so much profound effect on daily activities and people surrounding me. Would just share a major incident of my life, I feel you all do care for, with the outcome. A little long story…here it is.
Back in April 2018, my In-laws were visiting India from the USA and were stationed in Gujarat (home town), vacation was for a couple of months. We requested them to visit us here in Durg, Chattisgarh (Central India) where our father has been working for few decades and my childhood place.
Happily, my in-laws agreed to visit, But they mentioned only for few days, (ladki ke ghar jyada nahin rah sakte), My wife's happiness had no bounds, you know what it does to a kid for her parent to come and visit her. We had feasts and lots of jubilant activities, as this is their first visit to sasural of beti. We took them to our favorite eat-out place. Limited days, many places to visit and have fun with daughter & grandkids.
The next day, early in the morning (around 5:20 am) my chronic diabetic, heart patient father-in-law slowly walked up to me, in the living area, his hand was sort of rubbing his chest, said "Not feeling quite well…, cannot breathe properly.." I was all ears, high thought current started flowing, he was perspiring and short of breath. I made him sit there for a moment, rushed to pick up my wallet, and made few phone calls, remembered Swami Ji.
Woke my wife and mother-in-law up and rushed him to the nearest hospital, 5.45 am In the hospital, the resident doctor made few phone calls and asked him to be admitted to ICU. I was shocked and shivering (internally), what has happened. My father-in-law said he had a similar situation once in the USA and had to be hospitalized, then he was given an extra organ in his body (a pacemaker). I knew the sensitivity of the situation, the only thing I could do was rush him to the best Doctor in town at that moment and I prayed to Swami Ji.
He was admitted and was attended by a team of doctors. The arrhythmic beating of the heart got into extra action, due to extra fluids in the body, lungs. Hence the breathlessness. I went through so many documents reading about the entire case. I was glad that, the Best Heart Specialist and his team were in that Hospital at that time.
On the wallpaper of my smartphone, Swami Ji which I was continuously watching and talking with him. I was staying late nights, and coming early, seen his health go haywire in ICU. I was asking only one thing to Swami Ji, show me your presence and/or just give some signal that you have heard me. In the hospital where you smell only Phenyl and or a typical sanitizer smell, I could smell the fragrance of fresh flowers especially at times, when the doctor came to me and mentioned, next 24 hrs are critical. Well no words to explain that. I smiled, cried, I don't know, what all emotions were there. That fragrance was my assurance of his gracious presence. I was heavy in mind, my heart was sinking, but somehow I felt, all will be ok.
The story is Long, I am going to cut it short a bit, He was in the hospital for the next 7 days ( 5 in ICU and 2 in recovery). He was discharged, healthy, and safe.
The story continues, they wanted to go back as soon as possible to the USA so that no other big issue happens at their daughter's place. You know what they were thinking. After a week, we got their tickets booked. (Stay was of 7 days at our place, already extended to 21 days), after the Discharge,
A couple of days later, early in the morning (around 5:30 am) my father in law slowly walked up to me, in the living area, his hand was sort of rubbing his chest, said "Not feeling quite well…, Holy …XXXt, I was scared to death, what is going on, I prayed to Swamiji and took him to same hospital, the same routine, into ICU. Now I was very terrified, he experienced 2nd Mild attack in the last three weeks. I just prayed to Swamiji, the same image…..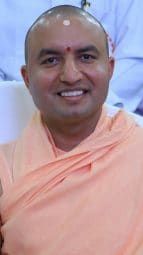 (from Os.me)
He stayed there for the next 12 days ( 10 in ICU and 2 in recovery). Very tough times, with complications in kidney, diabetes, heart, lungs, sore hand (due to injections), but his GRACE was there too. He was discharged, healthy, and safe.
Currently, he is in the USA , a few arthritis issues now, but a stable heart situation, I have been praying for his well-being and health.
You know Swamiji has never given me any darshan yet in dreams, but
I know, I can feel his presence, especially in the times when going is tough, tears flow without reason, his grace I feel.  Through the eyes of my few near and dear, I see his eyes looking at me.
You are closer to me, when in distress or when sad. – Om Swami (paraphrased)
जो कह दिया वह शब्द थे ; जो नहीं कह सके , वो अनुभूति थी ।।
Koti Koti pranam to is Grace and sincere obeisance. He is the savior and lord.
Jai Shri Hari
---