Vanakkam friends,
Hope you all had a great Navaratri and festival treats. Some of us fasted while some others feasted during these nine auspicious days.  Fasting on a satwik diet is always good considering it as a preparation of the digestive systems for the change of seasons.  
Swamiji in his book ''The Wellness Sense'' said how we are during the beginning of any season determines how we will fare during the entire season. Always keep in mind to welcome the new season with a cheerful attitude, and a healthy mind and body. So lets us kick start a healthy winter season right from the beginning.
What about learning to make a simple jeera rice, and dal fry combo today? This menu might look quite ordinary and simple for someone who cooks regularly. This post is about someone who is just a beginner in cooking who wants to cook at home for health and also to save money. Recently a young man from Uttarakhand who is a bank probationary officer came on rent in my flat. Initially, he was taking tiffin from a nearby restaurant. After a few days, he started cooking on his new induction stove learning recipes from Youtube. Today I saw a lunch bag in his hand in the morning. Probably cooked by himself. How wonderful! I felt happy for this guy.  This recipe is dedicated to him and many newbies in cooking like this young man. With this handy recipe, anyone can secure a healthy meal with minimum ingredients like dal, rice, tomatoes, ginger garlic paste, and some spices. If you want to eat a delicious jeera rice or dal fry meal from a good restaurant, it can cost you something like 500 rs plus taxes. If you know cooking, with the same amount of money you can make healthy, super yummy dal rice for a month in your own kitchen.  Think about it!
JEERA RICE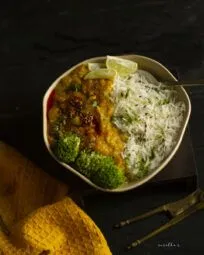 Pic by Surekha Chandrasekhar 
INGREDIENTS :
Makes 4 bowls
1  cup long-grained rice. (Basmati rice, try to get old rice which is more seasoned for cooking.)
1 tsp  jeera (cumin seeds )
A pinch of salt 
 A few drops of cooking oil.
2 tsp Ghee
PREPARATION:
Presoak the rice for twenty minutes. Wash and clean. Boil five to six cups of water in a thick pot. Add the rice. Add a pinch of salt and a few drops of cooking oil (olive oil is the best ). Stir and cook in boiling water for 8 to  10 minutes. Sieve the cooked rice in a colander. The few drops of oil you added will make sure the grains are not sticking to each other.
Heat ghee in a kadai and roast the cumin seeds. Take rice in a serving bowl. Pour the roasted jeera over it. Garnish with finely chopped fresh coriander sprigs.
DAL FRY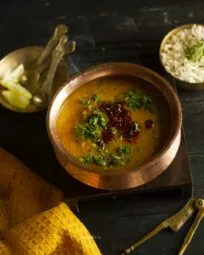 pic by Surekha Chandrasekhar
INGREDIENTS:
( Makes 4 bowls )
1 cup Tur dal
1 small onion
1 tomato
2 to 3 garlic cloves
1 tsp ginger garlic paste
½ tsp turmeric powder
A pinch of hing (asafoetida )
1 tsp Kashmiri chilli powder
1 tsp coriander powder
1 kanta lasoon masala (or kitchen king masala ) optional
2 tsp kasuri methi
Some fresh coriander sprigs.
Tempering:
Mustard seeds, cumin seeds, ghee, dry red chillies.
We were pondering on the benefits of lentils in our previous blog.
''Toor dal is rich in protein that might help avoid type 2 diabetes. It is found that in patients with diabetes and cholesterol, regular intake of toor dal may lower their blood sugar and cholesterol. It may decrease in total cholesterol and LDL (bad cholesterol) due to its antioxidant activity and high fibre content.''
Soak the dal for a minimum of 30 minutes. Sometimes I soak dal overnight also. Soaking dal is helpful in making mineral absorption easier. An enzyme called Phytase is activated when you soak the dal. Phytase helps in the binding of calcium, iron, and zinc present in the dal. Soaking also helps the dal to cook easily and we get a smooth creamy consistency after cooking.
PREPARATION
Wash the soaked dal and pressure cook up to four whistles in two cups of water. You can add the salt and a pinch of turmeric while cooking.
Heat kadai and add 2 tablespoons of cooking oil or ghee. Add the mustard seeds, and allow to splutter.  Add a teaspoon of cumin seeds,  and a pinch of hing. Add the finely chopped onion and saute till it turns light brown.  Add finely chopped tomato, green chilies, and ginger garlic paste. If you like the flavor of roasted garlic add a few finely chopped garlic cloves also. Cook well on a slow flame. Once the tomatoes are well cooked add the spices and cooked dal.   Add salt as needed.  Always mash the dal well before adding to the spice mix. And crushed kasuri methi leaves. Kasuri methi is a flavor enhancer, it is optional. Give the dal mix a good boil.  Garnish with fresh coriander leaves.  Normally tempering with ghee is added on top of dal fry. If you want to reduce calories you can skip it. We have already given tempering in the first step.
PS: don't forget to add a pinch of jaggery in the dal to make it extraordinary yummy 😋 💕
Enjoy your  Jeera rice and dal fry.  You can add salad, papad or pickles to make it yummier. I have added some boiled and sauteed broccoli to make my buddha bowl  😊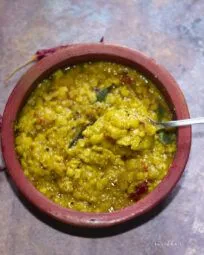 Pic by Surekha Chandrasekahr
Read the recipe for the popular  Mango Dal (Mamidikkya  Pappu )here.
Get your copy of " Harper Collins India The Wellness Sense: A Practical Guide to Your Physical and Emotional Health Based on Ayurvedic and Yogic Wisdom" here 
Cover Photo Credit Pexels.com 
---