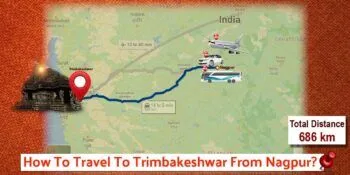 India is considered to be a great and holy country in Asia. Also, the identity of India has become famous because of the religious temples in India. There are some sacred shrines in India. One of is the Jyotirlinga here. If many people do not have the experience of going to jyotirlinga.
We will help you with this, today we are going to talk about one such Jyotirlinga. That is the Trimbakeshwar Jyotirlinga at Nashik.  There are a total of 12 Jyotirlingas in India, out of which Trimbakeshwar Jyotirlinga is the talk of the town in India as well as outside India. The crowd of devotees coming here are innumerable. There are various routes in India to reach Trimbakeshwar, such as roadways and railways.
There are 4 main routs to reach Trimbakeshwar Jyotirlinga. You can come to Trimbakeshwar according to various services like flight, train, bus, car etc.  The easiest way to get to Trimbakeshwar is by railways.
How to Reach Trimbakeshwar By Train?
While travelling by train, you have the main 3 trains available from Nagpur Ajni railway station.    Mumbai-bound Lokmanya Tilak Terminus, Maharashtra Express, and Vidarbha Express, you will be able to travel easily by this train.  The approximate travel distance of the train from Nagpur to Nashik is 571 km. It's. It may take 10 to 12 hours to reach Nashik.
How to reach Trimbakeshwar from Nashik road railway station?
One has to come to Nashik CBS by bus or auto rickshaw from there after coming to Nashik railway station. Several buses are available from there to trimbakeshwar.  It takes about an hour to reach Trimbakeshwar from Nashik railway station. Its cost can be as much as 100 to 150.  And if you are going by bus then from Nashik to old CBS you will get plenty of buses to go to Trimbakeshwar.
How to Reach Trimbakeshwar By Bus?
If you are travelling from Nagpur to Trimbakeshwar by private bus, then it may take you 13 to 14 hours.  This distance is about 686 km. While travelling by bus, you take 2 roads from Amravati. You will get to see a famous Grishneshwar Jyotirlinga while coming via Aurangabad city and Aurangabad city is also discussed as a tourist. The city of Aurangabad has been associated with ancient history. People from different countries who come to this city visit the tourist spot. Ancient caves have been carved at Ajanta and Verul. The temple is close to the Grishneshwar Jyotirlinga -Verul caves.  It is one of the 12 Jyotirlingas in India. The temple is located near Verul village on the banks of the Ilaganga river. This temple is south-facing and is made of purple stone. On the roof of the temple, there are pictures of animals, birds, dancers, archery hunters, etc. This temple was built by Krishnaraja of the Rashtrakuta dynasty. It is learned that the present temple was built by Malharrao holkar's wife. Every year on Shivratri, a yatra is held here. This time there was a big crowd. After arriving at Nashik bus stand you have many city buses available from here to go to Trimbakeshwar and some private cars are also available. You can also travel on it.
After coming to Trimbakeshwar there is a complete arrangement for you to stay and eat there. There is a temple ashram near Trimbakeshwar. You can book it online here. And the other is still the complete arrangement to stay here in Gajanan Maharaj Ashram. It costs you Rs 300 to Rs 1000.
There are also hotels near Trimbakeshwar which cost Rs 500 to Rs 2500 for a day's stay.
There are a lot of restaurants at Trimbakeshwar and there are also excellent dining facilities here. The cost of food at the restaurant here is 100 to 150. And as a result of this, you can have a meal at a Dharamshala or ashram located in Trimbakeshwar which costs you 40 to 50 rupees.
Trimbakeshwar Jyotirlinga Shiva Temple
The natural atmosphere at Trimbakeshwar is very pleasant. The first thing you get to see is the Kushavarta Tirtha at Trimbakeshwar before going to the temple. Enter the temple only after bathing here. The Kumbh Mela is held here every 12 years. Which is about 300 m from the temple. It's in the distance. The shahi snan is performed on this same pilgrimage by the Shiva Akhada. It is believed that bathing in this shrine leads to the attainment of salvation. And on going from there, you will see the main temple of Trimbakeshwar. Which is one of the 12 Jyotirlingas. When you go to the temple, you will get to see the Shivling of Lord Shiva. Devotees throng here from 5 am to 9 pm to have darshan.  It is from there that we get to see the Brahmagiri mountain nearby. The Brahmagiri mountains are 3.5 km from Trimbakeshwar. It's in the distance. On this mountain lies the origin of the River Godavari. The next place is Anjaneri Mountain. Anjaneri mountain is the birthplace of Lord Hanuman. You can also see the footprints of Lord Hanuman here.
Best Panditji inTrimbakeshwar
Some important pujas take place at Trimbakeshwar. They are done by Trimbakeshwar Tamrapatradhari Panditji from Purohitsangh Sanstha.Poojas like Narayan Nagabali, Kalsarpa Dosh Nivaran, Tripindi Shradh Vidhi, Mahamrityunjaya Mantra Chanting.
1) Narayan Nagabali Puja: One of the significant pujas performed in Trimbakeshwar is Narayan Nagbali Puja, the Shanti puja performed for the self-peace of the fathers. Narayan Nagabali Puja at Trimbakeshwar is a combination of two different pujas. Which includes Nagbali Puja and Narayan Bali Puja. Both these pujas are performed together by the Purohit Sangh Guruji at Trimbakeshwar. It is not known for certain what caused the death of one of our ancestors. Therefore, such ancestors are wandering among the people of death as a result of which they have to face Pitrudosh, in this ritual process, the name of the person or the pronunciation of the gotra is forbidden.  This puja is performed only in the Trimbakeshwar Jyotirlinga area in India. Where Lord Brahma, Vishnu and Mahesh are awake in the form of Jyotirlinga. Narayan Nagbali Puja is of great importance here. Because this puja is performed only in the Trayambakeshwar temple area all over India. It is believed that doing this puja destroys the Pitrudosh. The religious rituals here are of great importance.
2) Kaal Sarp Dosh Puja: Kalasarpa Dosha Puja performed at Trimbakeshwar is an important puja. If a person's birth chart has Kalasarpa Yoga, then there are various kinds of problems in his life such as business, education, job, marital problems, dissatisfaction, unhappiness, frustration, quarrels with relatives or disputes with family etc. That person has to face many issues. As soon as this defect is found in the birth certificate, this Kalsarpa Shanti Puja should be performed at the Trimbakeshwar temple. This helps the person get rid of all kinds of issues.  This puja is a puja performed if you find faults in your horoscope. There are a total of 12 types of kalsarpa dosha.
3) Tripindi Shradh Vidhi: When the ancestors of three generations of a person have died unnaturally, tripindi shraddha puja is performed for the peace of soul of such a person. Tripindi shraddha is performed to give sadgati to the ancestors of the six families. Tripindi Shraddha is a Kamya Shradh, which is offered in the memory of one's dead ancestors. For three years, the Tripindi Shradh is not performed by the descendants to bring peace to the souls of the ancestors, but the dead become violent, so the Pind Daan ritual is performed to pacify them.
4) Mahamrityunjaya Mantra Jaap Rituals: One can chant this powerful mantra at any time, but the Guruji here has suggested that mahamrityunjaya chanting rituals and the morning of Brahma Muhurta at the Trimbakeshwar temple in Nashik are advisable. The Trimbakeshwar temple is a sacred place where all the rituals are performed in a religious manner, and it is also counted as one of the 12 Jyotirlingas.  Trayambakeshwar is the main shrine of Lord Shiva, chanting the Mahamrityunjaya mantra here removes negativity from our lives.
Therefore, Trimbakeshwar is considered to be a sacred place of worship.
---