Dear Friends,
Today the story is about my Idli Indulgence.
As I write this the electric stone grinder is whirring away in the background giving me a cozy feeling. An expectation of hot steaming yummy breakfast warms my heart.
 The crackle of the stone grinder gave me feelings of nostalgia. In my childhood, I was very fond of the heavy stone grinder which had a permanent seat on the backside veranda of our kitchen. In the evenings, Subhadra worked on this grinder sitting on a wooden stool and grinding away soaked urad dal to the softness of a fluffy cloud.  She will scoop the fluffy dal batter into a big aluminum vessel and slowly start grinding the raw rice.  Rice is comparatively difficult to grind.  Using her right palm rhythmically to push the spreading batter back to the grove of the grinding stone, with her left palm, she rotated the mortar with ease.
 Soaked in sweat, she wiped off beads of sweat from her forehead with the back of her palm. No words were spoken! It was a kind of dynamic meditation at work!
I crouched near Subhadra and watched this adorable sight.  I dreamt of sitting down on the small wooden stool and grinding the Idli batter someday when I grew up.  Ha! Dreams come true sometimes! I am grinding the idli batter now, but not on the romantic stone grinder using my hands.
Idli is one of my favorite comfort food.  It is a weight loss food unless you are a glutton for soft steaming idlis. Good food is all about balance. Idli when combined with dips like sambar, coconut chutney, or spicy lentil curry is all about nutritional balance as well as a balance of flavors.
 Not to forget the idli podi combination, a darling of food photographers.
There are healthier idlis with millet, colorful idlis with beetroot, and soft Kanchipuram idlis.
Idlis are so versatile!
Idli is one of the most popular foods in India. But the origin of Idlis is known to have come from Indonesia. The cooks employed by the Hindu Buddist Kings in Indonesia made ''Kedlis'' something very similar to idlis. The food historian K . T . Achaya believes the traveling cooks who followed the royals of India might have brought this recipe to India from Indonesia. Achaya says there was ''Iddalage ''  mentioned in Kannda language during the920 CE. There is also mention of ''Iddarika'' in Sanskrit text by King Someshwara 111 of Deccan in 1130 CE.
That makes our favorite Idli very ancient!
On a hungry morning after a good workout and shedding some sweat, if you are offered a slice of yummy chocolate cake and a plate of hot idlis served with chutney, which one would you pick?
For me, Idli is a choiceless choice.
 Idlis made from fresh batter are incomparable to anything, these rice cakes are without any sugar or additives and are healthy and filling. The two ingredients of Idli are raw rice and Urad dal (Vigna Mungo or Black gram ) 
Black gram is the most favored dal in the southern regions of India. Idlis and a variety of dosas are made with the urad dal and rice combination and are quite popular all over India. Another popular item on any south Indian menu is Urad dal vada. While in north India, the much sought-after dal makhani is made with black gram.
Good food is all about balance. Idli when combined with dips like sambar, coconut chutney or spicy lentil curry is all about nutritional balance as well as a balance of flavors.
We need the right proportions and ingredients to make the perfect idlis. My measure for a perfect batter is 1: 4. It need not be very exact like baking. For 1 kg of raw rice, put a little more than 250 gm of urad dal.
Black gram is rich in proteins, fiber, and carbohydrates. It also contains high levels of potassium, calcium, and iron. It contains essential amino acids and folate.
Let us see how Idlis and Kadala Curry is made in my traditional kitchen.
IDLIS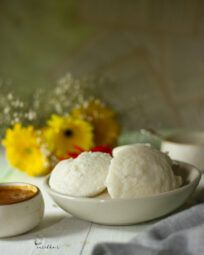 INGREDIENTS:
(Makes 20 to 25 idlis)
• 3 cups idli rice/parboiled rice
• ½ cup Urad dal (black lentils)
 PREPARATION  :
 
Soak the rice and dal separately for 6 hours.
Use a mixer grinder or a stone grinder to grind the
Urad dal to a thick and soft batter, adding small amounts of water.
Now grind the rice in the same way. Don't make the
batter watery. Mix the batter together with your hand and add salt.
Keep for fermenting overnight or for 6 to 8 hours.
Pour a ladle full of batter into the Idli stand and steam them for 8 to ten minutes in an Idli cooker or any other steamer.
Open the lid and insert a toothpick into an idli to check if it is well cooked. If the batter is not sticking to the toothpick idlis are well-cooked.   Remove the stands from the steamer. Sprinkle little water on the edges and slowly remove the idlis using the flat tip of a spoon. Serve hot.
KADALA (BLACK LENTILS CURRY)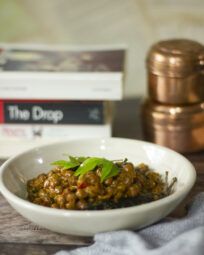 INGREDIENTS : 
•         250 gm lentils (soaked over-night)
•         1 cup fresh coconut milk
•         1 cup shallots
•         1 small onion
•         2 tomatoes
•         1 small piece of ginger
•         3-4 garlic cloves
•         2 green chilies
•         ½ tsp turmeric powder
•         1 tsp Kashmiri chili powder
•         ½ tsp garam masala
·         1 /4 tablespoon baking soda
•         Salt to taste
FOR  TEMPERING :
•         2 tsp coconut oil
•         1 tsp mustard seeds
•         2 chopped shallots
•         2 red chilies
•         Curry leaves
PREPARATION
Cook the lentils in a pressure cooker with 1 tsp salt, two cups of water, and a pinch of baking powder up to 4 whistles. Allow the cooker to cool.
Chop the shallots, green chilies, ginger,
garlic, and onions into thin slices.
 Take a thick-bottomed pan and do the tempering with coconut oil, red chilies,
chopped shallots, and curry leaves. Sauté the shallots,
onion, ginger, green chilies, and garlic. Onions should turn
slightly brown. Add the spice powders and sauté till the raw
smell is removed. Add the cooked lentils along with the stock. Mix well. Add some more salt if needed.
Boil the curry for another 5 minutes on a medium flame. Add the
coconut milk and simmer for another five minutes.
 Kadala curry is ready to serve.
Why we should indulge in Idlis for the breakfast?
 
·         It is easily digestible because of fermentation.
·         It is a steamed food low in calories.
·         Rich in fiber and protein, helps us remain fuller for a longer time. This helps in weight reduction.
·         Regular eating of Idlis can help us get the iron and calcium content needed for the body.
·         Idlis are very versatile and subtle. They can be combined with sambar, kadala curry, coconut chutneys or gunpowder (podi ) to make mouthwatering treats.
We can also add some vegetables like carrots, French beans, and green peas in idli to make them extra nutritious and balanced.
Who else loves Idlis? Let me know in the comments.
Happy  Cooking 🙂 
---