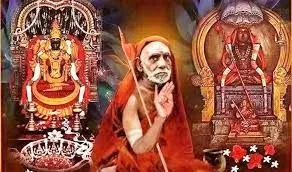 The sage of kanchi, 'Mahaperiyava' had just then started the Devi puja in the kanchipuram math. The usual crowd thronging to meet him was not there. Only the math inmates and the Swami's attendant were present assisting him in the puja. The Swami had started the abhishekam for the small devi idol. 
A lady with tattered saree and blouse with unkempt hair came to the entrance of the math and shouted in Tamil ( சேலை கொடு)  'give me saree' , 'give me saree' and went on creating a tantrum, repeatedly requesting a saree. The math attendant and others came to the entrance and asked the lady to leave and stop shouting as the abhisekam was underway. 
She didn't  give a fig to the attendants and went on screaming directly looking at the shrine where the sage was continuing the ritual. 
The sage turned and looked at the lady outside and gestured his attendant to give her a saree which the devotees donate to the math on behalf of the temple. The attendant was reluctant as it was a new silk saree and why it should be given to a poor lady as it was donated for Devi in the temple. He looked doubtful if the sage would reconsider but he was firm. 
The attendant gave the saree but with a heavy heart. He was curious too, as to why a new saree,  the sage was always strict with provisions and what the devotees donated, as the math was struggling to make ends meet. Intuitively he had a doubt.
Therefore, after giving the saree, he followed the poor lady from a distance. She went onto the outskirts into the woods and disappeared. The attendant who followed got a tight slap with no one around and fell down unconcious.
After a while, he regained conciousness and returned to the math. The sage had completed the devi puja. The sage smiled at him and chuckled, "Did you get one nicely?". "Who do you think the poor lady was, it was none other than Devi herself" , "Did you notice the saree she was wearing and the saree we draped the idol, both were tattered the same".  The sage meant, since we had draped an old saree for quite a long time for the little idol. The  cloth was torn and shredded, Devi had come to get a new one for herself. 
The attendant and others stood bewildered at the sage's reply for they mistook the Devi for poor lady.
So, let's  beware when someone asks for something, maybe a penny or a little morsel, it might be the divine in disguise to test us, whether our compassion and kindness is as true as  we proclaim ourselves to be.
(P.S : This is a true incident narrated by the sage's attendant to the press reporter who published the sage's  life incident in kalki tamil magazine) 
Jai Maa!!!
---