I offer my obeisance to you Rev. Sri. Sri. Om Swamiji. Wishing you love peace and great health with Divine Sri. Maa's Grace 🙏🕉
Thank you so much for your ever beautiful presence and your kind  guidance in making me do the Sri. Suktam Saadhna . It would not have been possible without your Grace.
Where do I begin from… It was elating to read when you announced the ritual day of Sri Suktam Saadhna . Once I read the details mentioned in  the post , the first thought felt like , just near to impossible, for it required patience in time management , and was bit elaborate. Also  owing to my weird health that can aggravate at any given point , I felt so unsure to pursue it. I guess this human mind just plays up with excuses first and then sits back and contradicts its dilemma too.
A day went by and then again I scrolled through your post and strangely now, I so wanted to take up the Saadhna . My mind was thinking of  how to manage my monthly funds, and it somehow again felt near to impossible.  The inner churning was on. At night I was so restless that I finally sat down that very moment  jotting the ingredients needed for Sri Suktam Saadna on a piece of paper. Almost couple of hours on my phone I had ordered much of the Pooja Vidhi ingredients, the Hawan Kund to sandalwood sticks , samidhaa  online on Amazon and some other required offering ingredients on Big Basket store. The heart was overwhelmed with joy to gather everything possibly required as soon as possible , though there was this deep fear of online delivery delays  too.
But have to thank the  online stores so much for making everything possible for many of us ordering so comfortably . I knew I had exhausted much of my funds for the month, but I only had a smile on my face which knew I would be well taken care of by Mother Divine.
The only thing left was the mango wood sticks. With just 3 days left in hand it was a very short time to expect getting that quick a delivery reg mango sticks or sandalwood sticks on Amazon.
I so needed all of it before time so that I could peacefully sit for my Sadhnaa. Thankfully a dear friend ( my neighbour ) and my house help Bhagyashree made it possible and managed to get the mango wood sticks for me from the local Pooja shop.
One of the  biggest problem with me is this weird habit of mine that I have… I barely step out of the house at all unless required . For years in all my prayers each day the most important thing that I deeply pray to my Divine is  that He does not make me ever go out of my place and that  everything is made possible for me right at my door step with His Grace. And that's what has happened most of my life.  I remain ever grateful to the Lord for His love and Grace, and listening to this silly prayer of His child always🙏🕉
Right on Diwali day and strange as it may sound, when the chanting got over I got the news of my daughter in law falling sick all of a sudden. She had just delivered a baby girl a few weeks ago ( during Navratri) and this was worrying. It did not stop there…One thing after the other just lead to something that wasn't too pleasing to the heart. So much so that after hardly three days of my Saadhna, I was so saddened that I  felt like giving it up completely.
I prayed to Mother Divine that it would not be possible for me to pursue the Saadhna when my children are in much trouble. It's so unlike me , as I have never given up on my vows taken  ever in life  But at this given moment  my heart was all there with my children ( my son and daughter in law are in the U.K. with their two kids) who were now suffering so much.
But it seemed Maa did not want me to do that and it felt Her Divine presence kept leading me to stick to my Saadhna. A week later my granddaughter who is barely 4 years of age got Covid. My son Karan is on indefinite leave ( him being a doc, had to report back to work  after three weeks) and has been running around like crazy looking after his ailing wife and now with his little one falling sick it did overwhelm him. He is a very strong boy and has battled through many ordeals in life , which many of us do, but some incidents truly shake you terribly.
And though  he held himself strongly its been too traumatic for him  to see his home all scattered with such untoward moments. As a mother I could feel his pain, miles apart I felt so helpless for I could do nothing and only prayed for him and his little family. 
Another couple of days and now my son Karan is down with Covid. It's been almost the third week , with his dear wife still in hospital along with the new born baby girl , and the elder daughter and him down with Covid….
Wonder how was my Saadhna possible!! Trust me I have no clues about it. But looking at the deeper side , it was only sheer Grace of Devi Maa and you Rev. Gurudev Sri Sri. Om Swamiji that I was able to complete the 16 days of  my Sri. Devi Suktam Saadhna. Bhool chuk maaf kareiyega🙏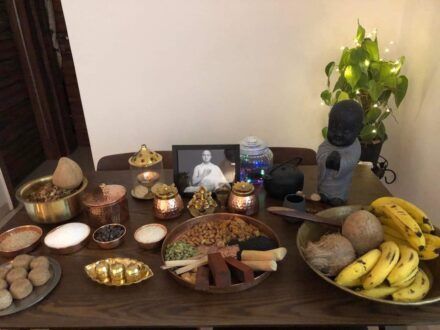 The last day of Saadhna made possible by Divine Mother's Grace and my Guruji Om Swamiji's guidance and love 🙏🕉 It was an emotional 16 th day … 
Every time I kept your words in my mind ..
'Chaos, circumstances, obstacles may be external but conflict is always internal. When you know how to resolve your internal conflict, all external factors bother you less and less. And how to be at peace internally, how to resolve that inner conflict? Be mindful in all states, work on self-purification and learn to listen to yourself'. 
True, Life overwhelms many a times…
Looking at life at large …it's seems like the biggest holy trip one embarks on to since the time of birth where you only have to keep turning inwards, by not rushing through the inner, intense  conflicts and their conflagration but rather pausing, dealing with it in all calmness that reaps and showers much balance and peace. The good moments are indeed plenty in life, cherished with Grace. But in times of crisis appearing in all shapes and sizes, emerging out of nowhere we still cannot excuse  or postpone  our feelings of  experiencing The Highest Divine  presence and Flow that is so deeply embedded in our heart and intent! Life has to be lived keeping a daily sacred discipline of Him alive within to purify the Self. 
We just have to keep going with a deep faith in all that Mother Divine wills.
You know what's best for me and my loved ones Maa🙏🕉 Jai Maa🙏🕉
Swamiji Bless my little family and may they come out of every ordeal. Thank you for guiding me.  Thank you for being there in all the moments🙏 
Divine Mother Bless you all my OS family and kind readers🙏
Narayani Nomostute 🙏🌺
Jai Sri Hari 🙏🕉
Siddhika
The main pic above of dear Rev. Om Swamiji is black and white in colour but when I clicked it it seemed that the light of the lamp reflected its deep orange hue effect on it .. I am dazed. Jai Sri Hari 🙏
---