I think it was 2016 or 2017 when I started journaling and it has been a total game changer. I was going through one of my journals from 2018 and it was a wonderful feeling to just go through it and see what I had written. Wanted to share a few with you.
I realized some of the things have stayed the same for me. And some have changed. I wonder how I have been able to continue building devotion and l love for the divine and whether it is irreversible.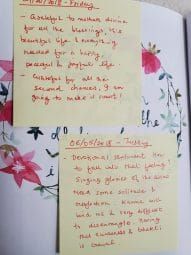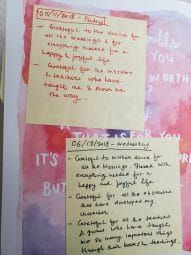 Once I started to write my gratitude's consistently, I couldn't think of what else I was grateful for. I remember thinking about the challenges and obstacles and being grateful for them because those are the things that have helped me develop my character. I have seen this play out on many occasions. I have enjoyed my journey of developing faith and growing it but when I had challenges my faith was tested. But I think that's what's helped me to have that shift in perspective. Challenges will come, I am grateful for them too since I have always gotten closer to the divine during those times. 
Mother divine if you are listening, I am grateful for the challenges but please don't think I am asking for more 🙂
The other thing that has happened in the process of writing journals and especially gratitudes, you run out of ideas. It makes you think of things you would not usually think about. I remember being able to think of my teachers growing up, my relatives, friends and strangers. Fond memories and also being appreciative of what they did even though at the time I wasn't able to see it. 
Writing my journal, writing gratitude and thinking about them has only led me to be happier. It's not a to-do list thing on my calendar, although it began that way. It has lighted up my path with joy, happiness and a lot more. 
As Rumi said, gratitude is the wine for the soul. Go on get drunk.
Related Q&A
Chanting the Lalita Sahasranama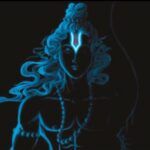 Suchali L
asked in Spiritual Journey 1 year ago
1. What were your personal experiences after chanting the Lalita Sahasranama.
2. Does it take a lot of time to get the pronunciations correctly of the whole Lalita Sahasranama.
Thank you.
A
replied 1 year ago
Dear Suchali, I can with all honesty say to you that the sacred LS is truly miraculous! Its power and potency to transform cannot be fully expressed here, but from my experience I can say that listening to it and then subsequently chanting it has completely transformed my being in every way. The more you delve into it the deeper it will take you into your own being. I will share just one instance because I feel an inner guidance to share this. I had always suffered from severe asthma since childhood and I used to use a puffer every day like 6 times and If I left anywhere without my puffer, I would suffer almost a panic attack over fear of getting an asthma attack. Even If I laugh loudly, I used to get severe asthma.  Ive been regularly chanting LS for a while now and I must say that before chanting LS, I truly did not feel any connection or true love for Devi. The goddess felt more like a concept than a reality. However, after I started chanting LS, I started to feel slowly like I know Devi and I started to feel a connection with her and eventually love! One day maybe after 4-5 months after I began chanting the whole thing, somehow I was able to grasp a subtle inner truth that opened a deep clarity about my Devi's oneness with everything and everyone.  At that moment I don't know how or why but I just felt that when I suffer from asthma, it is actually Devi who suffers through my body because she is one with all beings. I felt deep empathy and compassion not for me but for her. Remarkably, from that day, my asthma that had been my companion for more than 30 years just went away. Ive never used a puffer since that day! It literally miraculously went away in one day! Maybe it was just all just a sheer coincidence? You decide. Key point is that LS chanting forged a deep bond of love between me and the divine. To me it has made me connect with Devi like no other mantra before and for me it has created within me what feels like a real personal one-one relationship. Hope this helps.
In terms of how long it took, I would say about 4 months or so to memorize the whole thing. Also, dont worry about making mistakes in chanting her names. If you focus on getting the heart right, Devi will help you with getting the names right 😉. Heart is more important.
Why i see that I'm killing demons and devil's in my dream.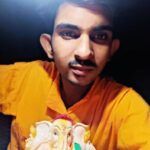 Apoorv G
asked in Spiritual Journey 11mo ago
Namaste 🙏
From few nights I'm suffering from a wierd phenomenon that in my dream  i see that I'm killing demons and devils in my dream. Sometimes i wake up suddenly in the night because of fear of bad dream. Kindly help me in this issue. I am doing meditation of god but why i see these types of things in my dream. 
Thanking you 🌻
Yash
replied 11mo ago
Dear Apoorv ji, most of the dreams are like karmic cleansing. Don't give much importance to them, if some dream is of significant importance, your inner voice will tell you. On spiritual path, through meditation, we bring deeper layers of mind on surface. See, there are a lot of images stored in there, by lot I mean LOTS AND LOTS. Sometimes, some images come to surface as dream, it's fine, it's just a cleansing process. Stay calm and watch, it will eventually pass. Please don't form unnecessary positive or negative thought process or theory out of those dreams unless it's really your inner voice, unless you are guaranteed that your inner voice is guiding and not your limited and conditioned mind. If you form too much thought process, it will create unnecessary distractions. Just keep walking your path persistently. Don't be afraid. 
It once happened with me that I had terrible nightmares, intensely terrible ones, the worst ones of my life, for few days. I have never had more frightening nightmares than those. Let them come and pass, whatever it is, good or bad. Once it is cleared, your meditation will deeper. 
On a side note, it's good to have bad dreams, believe me. For example, if a dog bites you in dream, then pain felt in dream is same as pain felt in reality. So the karma which you were going to experience in real life as dog bite, you experienced in dream. And so, one karma gets cleared so easily. Remember, most of the dreams help in karmic cleansing. Some may even be some guidance, ask yourself, try to listen to your heart.
Take care, ensure that you take good sleep during days of intense dreams. Hope this helps🙏
Can you buy Punya with money?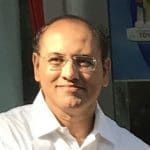 MANISH OM
asked in Spiritual Journey 1 year ago
Like you do some bad karma and then do some virtuous acts to get rid of the guilt, does it work? 
A
replied 1 year ago
Dear Manish, according to me, both punya and bad karma at the end of the day are still binding in their essence.
To use a currency analogy, they both cause you to accumulate debt in one way or another. The true goal of spiritual sadhana is to be completely free of all debt be it good/bad. In my experience, I have found that money sometimes can also be used to bring down your karmic debts and move towards freedom. However, most peoples egos will very strongly fight against what I am about to suggest.
Please consider this question truthfully within yourself and you will start to see the binding nature of even good karma. 
Lets say you would like to donate 10 lakhs to a temple or towards feeding the poor or helping some underprivileged children with schooling. Would you be willing to donate it anonymously without any recognition?  Can you help someone with your money but the catch is that they can never know who helped them or who you are or give you any sort of personal recognition for it except maybe wishing you well in their mind alone? All of us are capable of offering a small amount of money or a small gesture of kindness anonymously, but when it comes to larger amounts or larger gestures our mind craves some personal recognition doesn't  it?
When you are able to donate money or offer your services without looking for personal recognition, in such circumstances, I have personally for myself felt that the result of that action goes towards your freedom as opposed to initiating further karmic consequences, even if they are good ones. 
Goal is to be free...keep that in mind always 🙂 
Do you guys believe that karma is a boomerang? or What is a karma boomerang?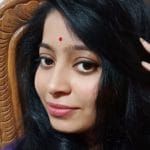 Venika S
asked in Spiritual Journey 5mo ago
What does 'Karma is a boomerang' mean? I often come across this phrase and I wonder in what context do they use this phrase? Karma is a term described as "deserved reward or punishment in the next life or rebirth." It's also used to describe one's worldview. So, what does it mean for Karma to be a boomerang? Does anyone know? Thank you
A
replied 5mo ago
I think what it refers to is that the consequences of your actions, which you put out into the world will one day come back to you. This is the so called Boomerang effect acc to my understanding. 
What do you think having a pure heart means?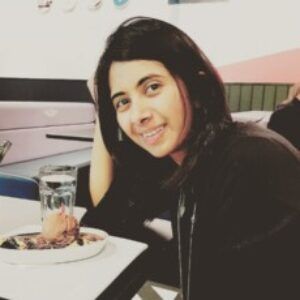 Komal Om
asked in Spiritual Journey 1 year ago
God resides in hearts that are brimming with purity.
It's a question that has been on my mind for quite some time, so let me ask you beautiful people, what does purity of the heart mean, according to you?:)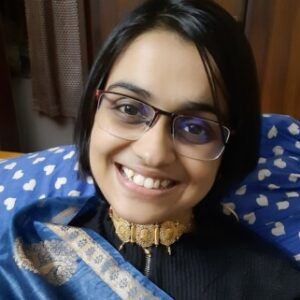 Ahana B
replied 1 year ago
For me purity of the heart means being child like. Being quick in finding joy in something as simple as a 1 rupee candy. And just as quick in moving on from hurt and anger and not harbouring any feelings of hatred or grudge towards anyone. Children are hurt easily, they forget easily and they rejoice even more easily. Just playing along with the world.
AUTHOR DETAILS
San Francisco, US
I am a seeker of truth on a spiritual quest. A finance professional by background, I enjoy learning new things and try interesting projects here and there. Writing on os.me has given me an avenue to discover and explore much more about myself and the Universe. Mantra for life - "Live, Love, Laugh".
---