Ram Dass was born as Richard Alpert in 1931 in Boston, Massachusetts, United States in a relatively well-off family. He went off to have degrees from Stanford University and finally became a professor at Harvard University. The book – "Being Ram Dass" enumerates his extraordinary journey from being Dr. Richard Alpert, PhD. to Ram Dass – from his childhood till the time he merged into the Infinite in December 2019. It has been co-authored by Ram Dass himself and his lifelong friend – Rameshwar Das. 
It all started with his discovery of LSD (a drug said to induce extra-sensory perceptions) along with his colleague Timothy Leary. Their experiments were not liked by university management and they were ousted (read freed) in 1963. Thereafter his journey began.
The book is divided into 5 parts:
1.       Learning and unlearning – the beginning of his journey
2.       Pilgrim of the Heart – his journey to India
3.       Service Center – his humanitarian projects
4.       The Wheel Turns – him getting old
5.       Ocean View – the finale
The book is dedicated to Maharaj-ji, Ram Dass's Guruji – Neem Karoli Baba, whom Ram Dass met in Kainchi, Nainital in 1967. That was another great turning point, in the life of both the disciple and the Guru. In fact, the name – "Ram Dass" was given by Neem Karoli Baba to him, after Samarth Guru Ram Dass of 17th century, who was Guru of Chatrapati Shivaji Maharaj.
Ram Dass has authored several other books. His most famous being "Be Here Now", which became a cult in the United States in early 1970s. While he was leaving for US after his first visit, Neem Karoli Baba had mentioned him of this. At that time Ram Dass was clueless about it.  
Some excerpts from the book "Being Ram Dass":
Fear keeps you alive, but it also keeps you from letting go into your soul, your true inner self. (96)
Just be. Here. Now. (165)
The guru knows the journey is an illusion, his job is to get you to see that there is nowhere to go, that you are part of the One. (199)
The less attached you are to your own desires, the more you can hear what other human beings need, and the less you project your own needs. (295)
The form is the form of the formless; the formless is no other than form. (401)
The book is quite thick (>400 pages) with a lot of pictures too.
In true sense, the book is much beyond being extraordinary. It is one of the books which has compelled me to return to it, especially to read about the final days and hours of Ram Dass's life. May be I read it again and again to remind myself the impermanence of the popup of a life that I am living. or may be to remind that we all are in fact permanent, beyond the meagre world and its distractions. Ram Dass's entire life is a message for us. 
Links (please do visit in free time):
Neem Karoli Baba Ashram, Kainchi, Nainital, Uttarakhand, India
Neem Karoli Baba Ashram in Taos, New Mexico, United States
Windfall of Grace – A Documentary on Neem Karoli Baba (Youtube)
Windfall of Grace (Official Website)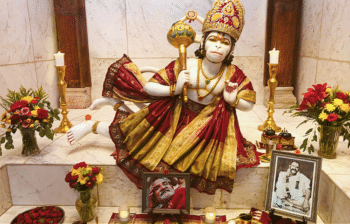 ---