Last night, I received news that my favourite uncle had passed away peacefully in his sleep surrounded by his children and grandchildren. For a while I sat numb not knowing how to react. I knew he was bedridden and unwell and was suffering. But somewhere deep down, I felt he would always be around. How can someone who has been integral part of your life journey suddenly be gone? The thought had never crossed my mind.
Everyone dies. That bit I know. But accepting it when it happens is a different ball game altogether.
We all deal with loss differently. And sometimes grieving continues for years without even realizing. In many ways, grief is like an old blanket forgotten in a trunk somewhere below all your lush bedding. One day when you empty the trunk and this blanket tumbles out, all hell breaks loose.
In 1996, my father visited my tiny apartment in Hong Kong one last time. We bonded over books, deep conversations and vegetarian dim sums. One week into his trip he suddenly told me he wanted to go back to India. No amount of convincing worked. Flights were full and he was not willing to wait. With a lot of difficulty, I managed to get two tickets and my parents flew out the next day inspite of my protests.
That night I dreamt that my father had passed away sleeping in his bed in my home in Mumbai while I was by his side. I woke up very upset with myself not knowing what to make out of the dream. Next morning my sister called and said that my father had been admitted in the hospital and I should come home as soon as possible. I took two days to sort out unpaid leave and flew home. He had been discharged and was back home by the time I arrived. He looked like a shadow of a man who had visited me a week before. Something inside him had died.
My sister had to travel and so I extended my leave and decided to stay back for few days. That evening my mother went out for groceries leaving me alone with him. We spent the entire evening talking about life, death and everything in between. Sharp at 8pm he slept on his bed, complained of chest pain, gasped for breath and raised his hand to say goodbye. Just like that he was gone. I did CPR for 35 minutes until the doctor arrived. But he was gone. It all exactly happened like I had seen in my dream. He transcended to the life beyond the body on October 16.
Everything that followed was very methodical and practical.
How do you keep the body?
Who will bring the ice?
Which relatives to call?
Who sits with the body all night?
Do we delay the funeral until everyone arrives?
Who will make tea and food while people wait?
Can we eat with my father still in the house?
Where to host the prayer meeting?
How do we change his clothes?
Can I hug him?
Of course, I had no experience. But I fumbled my way through most decisions with the help of amazing friends and family who had my back. My sister arrived next day and then it was all over in few hours. Flesh, blood, and bones were reduced into a fistful of ashes. A gentle reminder of what remains in the end.
I stayed in Mumbai for a month, helped clear his things, spent time with mom and then flew back to Hong Kong to live my life. Once I landed and reached my apartment, only to discover that since my parents had left in a rush many of my father's things were still around.
Sitting in my cramped matchbox apartment, clutching his khadi white shirt I cried for the first time after he was gone. No one was watching. I didn't need to be brave.
I had to get back to work immediately. I put on my uniform. Applied make-up. Smiled at passengers and lived my life with utmost normalcy even though I was crumbling within. I thought if I shoved all these feelings under the carpet, they would disappear.
Over time my father's death became one of those events that always remained in my consciousness, and the aching pain became dull with each passing year. I thought it was all good. I had finally dealt with death. How wrong I was.
Years later when I was going through a dark phase in my personal life, I tuned to sugar. For no apparent reason I would eat sweets randomly. Somehow my life started to seem better around cupcakes. It went on for a while until one night I was so disgusted with myself that I broke down not knowing what was wrong with me.
As I sliced through the layers of guilt and random thoughts, I finally realised what was going on. I was grieving for the death of my father. I was angry at him for not being around. I was upset that I had to live through these tough times without him. I was deeply remorseful for having taken wrong decisions, and not having his guidance when I needed it the most. I was lost without him and I didn't know how to find my way back.
I was sobbing for who I had become and what I used to be when he was around.
That hollow part of my life that no one sees but continues to exist deep within my soul. The grief that still slithers in my body when no one is watching. Even after all these years I am still grieving the loss of my father and I didn't even know it.
I am now reinventing my relationship with myself. It is clear to me that emotional healing has to happen for me to go on living. I must let my father go. I must forgive myself for all the mistakes I made. I now must live my life as if he were still alive. Time gone by will not come back. What matters is I am in a happy place today. I am thriving. I am here. And my father is right behind me.
Some questions still remain.
Could my father have been a cat lover?
Will he like the hot air in this city full of sand dunes?
Would he love my husband like his own son?
Will he be proud of how far I have traveled to grow roots?
Shadows of my past now need go up in flames, engulfing what remains of my grief.
I must rise like a phoenix and live my life to the fullest.
Tomorrow is another day.
My life journey must continue.
My father would not have it any other way.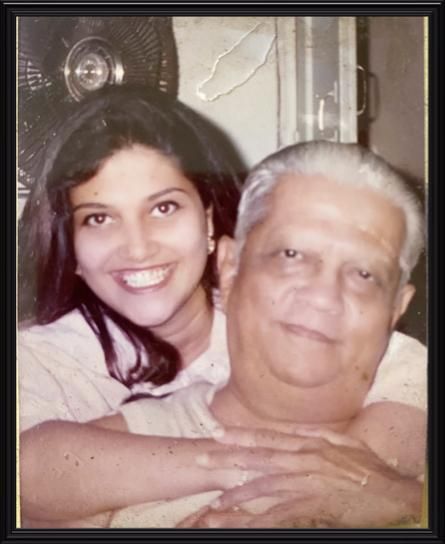 ---