Click here for part-1
---
The things I am going to write may not be considered as life hacks, in fact they may be considered more like common sense, but in the end they are going to be of some help in your life, hence the title of this post. (I am too lazy to come up with an appropriate title…just kidding…)
Do this while transferring money online
Around a month ago, a tuition kid's mother (labourer) came to our house with Rs 4000 in cash and requested us to transfer the same amount online to her brother living in a different city.  
After talking to her brother, I figured out that the only way to send money was through Account number and IFSC code. So, I asked him to send the required details. While talking to him, I also informed him that I will first transfer a small sum of Rs 10 to his account and he should call me back to confirm the receiving, so that I can transfer the original amount without any mistake or hassle.
The benefit of using this approach is that if you by mistake send the small amount to wrong account number, you can correct your mistake and do the transaction carefully next time. Another advantage is that your loss will be minimised i.e. in this case, 10 rupees is relatively small sum as compared to 4000 rupees. And if you get the transaction correct in first time itself, then you can send the original amount without any worries.
Taking a turn while driving/riding
There are some things that you can only learn while riding, and successfully navigating a turn is one of them in my experience.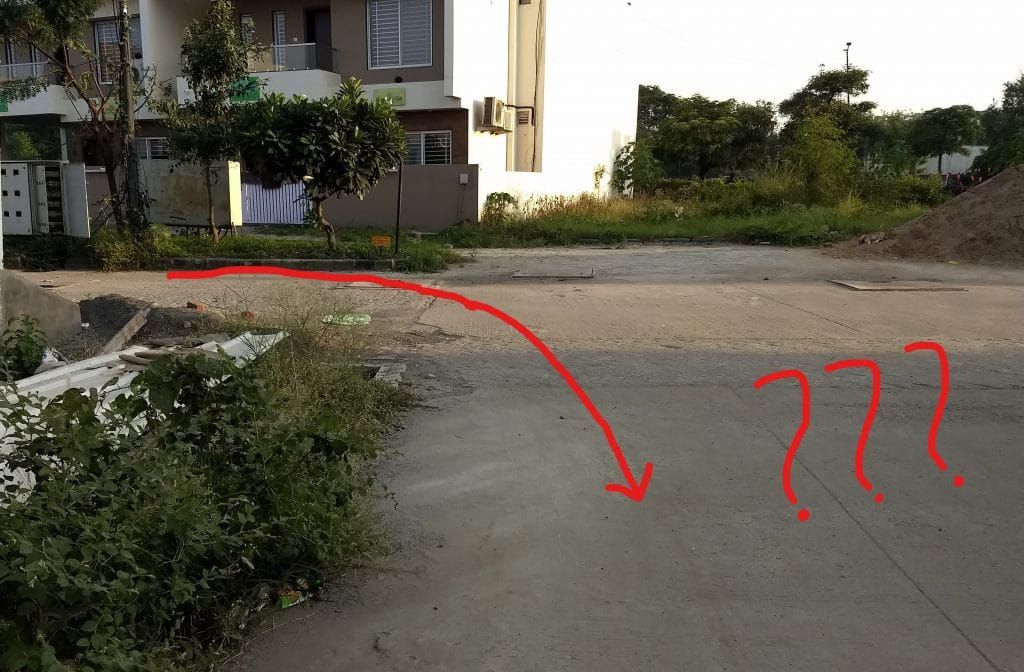 (A photo of a turn in my society)
While approaching a turn on our vehicle, we are quite vulnerable, because we don't know who is coming from the other side.  
In my observation, majority of people are too careless while approaching a turn. They approach the turn at speed and then apply the brakes just before turning as if no one would come from the other side.
Few years ago, I was in this category too. I would approach the turn without slowing down and then put on the brakes. I had a number of close shaves too, where me and the oncoming rider would both apply the brakes at the last moment to avoid a collision.
So I thought there is something different that I need to do while approaching a turn and guess what, I figured it out only while riding.
While approaching a turn, the action is to first reduce the speed from the normal speed and then blow the horn couple of times. Doing this procedure will save you from haphazardly pressing the brakes, thereby minimizing the risk of collision and it will also make the oncoming rider aware of your presence, so that he may also slow down and approach the turn in safe way.
The purpose of this post was to remind you of the things you already knew beforehand and if you didn't know any of these things, then congratulations, you are now aware of something new that you can use whenever you find yourself in these particular situations in your life.
Thank you for your time. 🙂
Image Credits -:
Feature image- Photo by Amanda Jones on Unsplash
Post image- clicked and edited by the author.
---