Ever since my childhood, I have had a huge attraction for following professional sports. Until a few years ago, I used to follow a bouquet of sports, from motorsports to tennis, from football to cycling, and, of course, cricket (being an Indian, it's our staple diet).
But here's the thing, I hardly watched it for relaxation or for having fun. I have been obsessed with the plot and subplot that every game, every sports season and every player has on offer, day in day out. Be it any sport, I never turn on my TV until there is a story unfolding. I have skipped many "big ticket" games since there weren't any subplot in it.
My quest for these plots is learning something new about life. Professional athletes put themselves through so much training and pain to perform at the biggest stage. They are the ones who are at the peak of their skills. I watch the sport to see their lives unfold in front of me. Why? So that I can take a few learnings away from their experiments and implement or communicate to others in a similar situation.
Many of us get carried away with our loyalties for a team or an individual and sit hours supporting or arguing to prove them the best. I believe that is of not much use. Instead, why not observe each page of sporting history unfold in front of you and extract the nectar of life lessons for your use?
Although I have many events etched in my mind, I felt like sharing this one particular incident with the os.me family. I am a big David vs Goliath scenario fan. I love watching underdogs bring out their best and match ace to ace against the best. The hunger of hardworking "underachievers" against champions is a feast in itself.
Without getting into too many details about the scenario (and diverting myself into sports journalism) let me share with you 5 top learnings from what eventually panned out in 2015 Cricket World Cup Finals.
If you have a dream, then work hard in the direction to achieve it.

If you do step 1 then universe will conspire to manifest your dreams, come what may.

Once your dream manifests, It is important to not lose sight of the fundamentals that lead you to achieve the dream.

Eventually we are humans, so its ok to mess it up.

In the grand scheme of things nothing matters, no point in crying, so just laugh it out.
Below is the illustration of the plot that I am talking about, from Baz (Brendon McCullum, then Captain of the New Zealand Cricket team) himself.
Generally, we love to see heroic moments and victorious celebrations to take lessons. In the below picture the guy in yellow celebrating is not the protagonist of this story. It's the other guy, who looks very disappointed, who eventually decided to laugh it out.
So, don't worry if you messed it up lately, just laugh it out, move on.
Pic Courtesy: ESPNCricinfo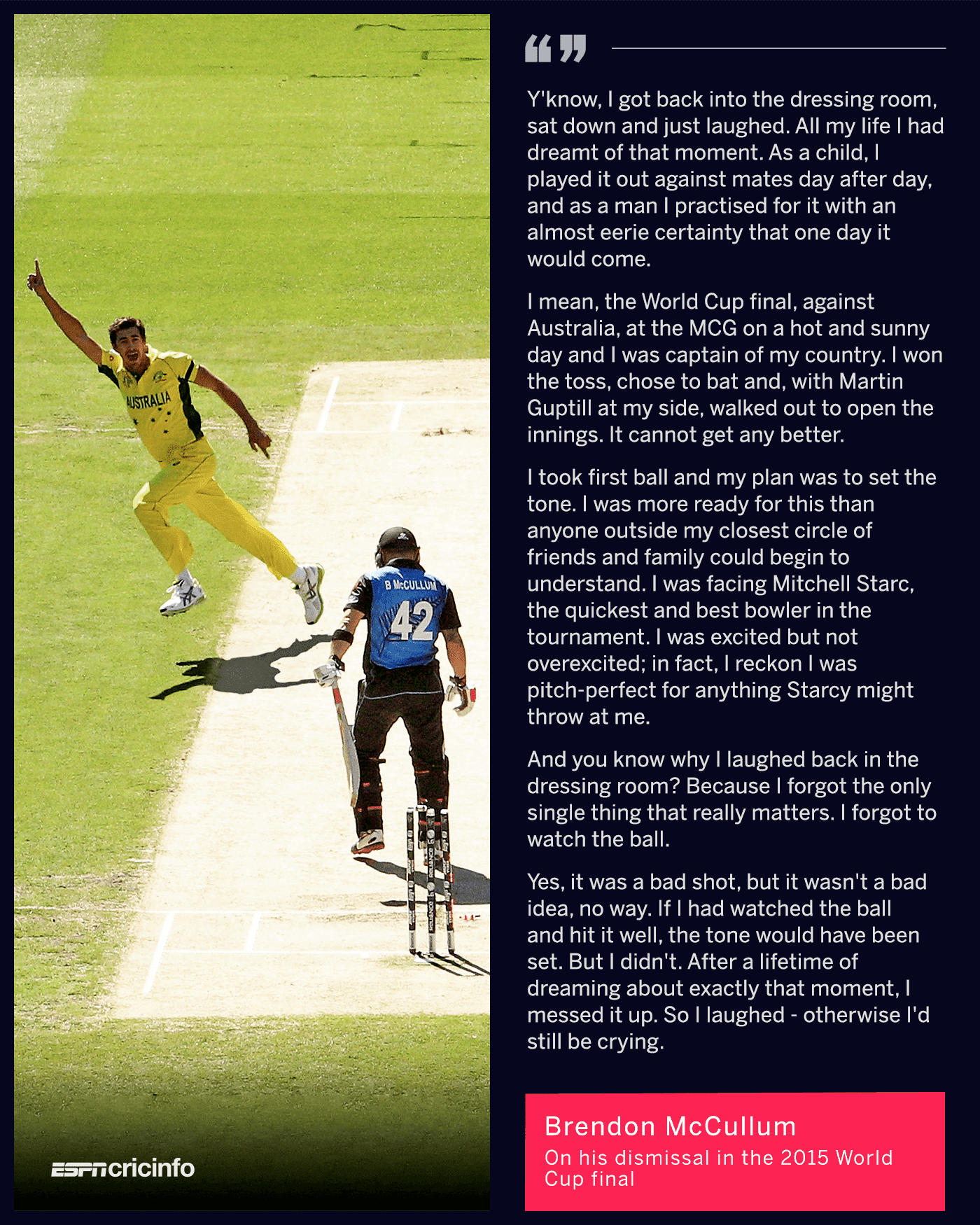 ---