Jai Shri Radhey Shyam!
Jai Shri Hari!
I offer my obeisance to the lotus feet of Shri Gurudev.
When ever we come across our childhood pics a huge tsunami of memories comes with this too. Same happened yesterday. Sunday, a day when we clean our house seriously.. hahahahaha seriously I'm saying this because in working days we don't clean almirah and all other cupboards which are having a material of great value….. My Mom was doing the cleanliness operation and in this operation we got photographs of Manali… I don't know whether her operation, operation of cleanliness, was successful or not but for sure it was successful for me as I got those pictures.
Seeing those pictures was a different experience, I was seeing the little Abhishek who was innocent, cute, sweet. (P.S.: I'm still the same. Hahahahah While seeing those photographs I remembered our routine of Manali. In the Chilled Morning of Manali we wake up early in the morning about 05:00 am and doing all daily routine we leave for Vashistha Temple, hot water springs, at 06:00am. After taking hot bath in hot water spring of Vashistha we feel blessed. Now I'm realizing that I was blessed. This was the place where Rishi Vashistha came from Ayodhya, a long story is there. And in front of Vashistha temple there is temple of Shri Raghunath ji, Ram Sita Lakshman And Hanuman Ji are there. After taking bath we used to visit that temple. In 2005 I'm telling you I touched those deities with these hands only And I offered flowers to them, but when I visited Manali in 2019 I was not allowed to take bath in Hot water spring due to some maintenance work and also I was not allowed to touch the deities of Shri Raghunath temple, yes I was sad but I'm okay with that. Atleast I touched them in my childhood, now Hari will touch me. 
See the difference in Manali of 2005 and Manali of 2019. Everyone will tell you difference of development and that's fine but I'm telling something different.
Now after visiting Shri Raghunath temple, in childhood we used to visit Hadimba temple and let me tell you in my childhood I touched the feet of Hadimba Maa which are marked on a rock, but when I visited in 2019 I was allowed to see them from a distance only. I'm okay with these niyams, I understand. And after this we used to go to Jagatsukh Village in Manali where the Temple of Maa Gayatri is situated. This place has a diiferent vibe which I can feel in 2019 too. In the back side of Gayatri temple there is a temple of Mahadev and the idols there are very ancient. There  a lady used to do seva. When I visited this place in 2019 that lady was telling us about the temple, (I'll call her Amma), at the end Amma was blessing our group of friends, my friends was taking her blessing, Amma said : "Mahadev Kalyan Kare" to everyone but when I touched her feet and seeking for her blessing: " She got a kind of different energy and said: "Beta Bhawani Sada sath rahe tumhare". That time I was like to everyone she gave blessings by the name of Mahadev but why so for me. I don't have answer but I have a gratitude to Maa Bhawani that she's blessing me continuously. Although there is no difference in Mahadev and Bhawani but still. I'll share the picture of the temple and the Amma.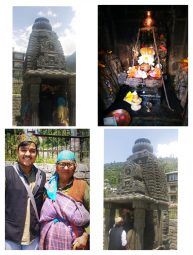 I must say there is a huge difference in Manali of 2005 and 2019 but yes there is no difference in the divinity of the place.
That's all for today.
Thanks for reading.
Jai Shri Radhey Shyam!
Jai Shri Hari!
---