Sometimes, when I want to motivate myself to meditate better and harder, I use Swami's quotes from his books as motivation. I use them to tell myself that it takes time, but it is possible with patience, and most importantly, to push myself and not get complacent.
I made a poster of one of those quotes, and I'm sharing it here hoping maybe it'll be of some use to you too!
Another quote that I love is: "It took me years to get here, a stage where I could sit in one posture for as long as I needed without affecting the lucidity of my meditation or the sharpness of my concentration."
Personally, I love these quotes because they motivate me by helping me focus on the process and not the end goal. Sometimes I can look at the end goal (i.e, what Swami has achieved) and think to myself, can someone like me get there too? But looking at these quotes tell me that if I can continue to walk the path with patience, I can get there one day. It's not going to happen overnight, but some day, surely.
To be honest, I'm sharing it also to express my joy in having made it, like all artists are happy to have other people look at their work. If this is not the forum for this, I can take it down. Please do let me know!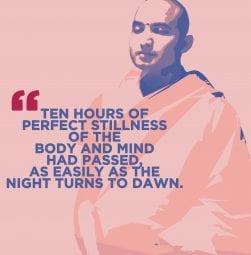 ---