Disclaimer: I am not a sebi registered financial advisor so whatever i express here is my opinion based on my observation, understanding and limited experience and may not suit anyone else's financial and personal life and hence may prove counterproductive or even harmful to their personal financial journey. So please take whatever I say with a pinch of salt. Your money your call.
Continuing from the last post… 
 After earning a decent income, save 6-12 months of your expenses as Emergency fund.
Its an individual preference really. My younger brother who is 30 years now was having cash almost 18 months of his expenses sitting idle in his bank account. I gently nudged him to invest some in equities to which his reply was he was not feeling very secure financially and wanted to save 2 years of his expenses as an emergency fund and then start investing.
Let us be clear, this fund is only for emergencies and every 3 years or so when you feel that your expenses have gone up, adjust the emergency fund equally. Park these funds in eMOD deposits in case of SBI, money multiplier deposit in case of ICICI bank, etc. Incase you don't know, the fixed deposits that I have mentioned above are linked fixed deposits i.e. you can withdraw any amount from that deposit in round figures of 1000/5000 and rest will continue to earn Fixed deposit interest rate for the duration of the deposit.
https://sbi.co.in/web/personal-banking/investments-deposits/deposits/mod
https://www.icicibank.com/Personal-Banking/account-deposit/savings-account/moneymultiplier.page
Although you must have a clear idea what an emergency is ( like health issues, job loss,God forbid any accident etc), let's be clear what's not an emergency.
Latest model iphone or any other fancy gadget, your dream vacation, marriage, window shopping cravings etc .
If the emergency fund gets used up, then please take due care to replenish this fund at the earliest once things settle down for you.
Buy an adequate Term life insurance. 
There are few important things about Term life insurance that you must know. 
First, if you have people who are financially dependent on you or will have in future (e.g. in case of marriage or children) , only then you need life insurance, else not. If you are interested to buy a life insurance it's always prudent to buy one as early as you can because the premium is less and it remains mostly fixed for the entire policy term. 
Second, when buying life insurance, it's always beneficial to declare your past and current health details truthfully and accurately so that there is a very minimal chance of rejection in case of eventuality.
Third, always think thoroughly about who you want to be the beneficiary of your life insurance and thus declare your Nominee. When unmarried, parents can be your nominee although later you can change it to your spouse or even minor children, who are financially dependent on you. 
It's beneficial to add accidental death and disability and critical illness rider, if it's not too expensive for you. If it's already included in your plan by the insurance provider even better. 
Please remember insurance is not investment. Don't expect any return from it, thus don't go for unit linked insurance plans, money back policy etc. The premiums will go up significantly (almost double! ) for the same coverage amount and the return would be 3-4% max or no return at all. The extra premium that you pay for these bogus plans could be used as investment and earn much better returns. 
We (me & wife) don't have life insurance or Health insurance because we have limited money, no dependents and no regular income source. It's not that we are special but we just fell so much in love with the idea of being financially free so early in life that we simply minimized our lifestyle and she gave up her job ( which was not of much interest to her, anyway and I didn't have any job ever) with the sole intention of having time to ourselves to pursue what matters to us the most. You can call us crazy, even we do too.😆 But that's what we are! Materialistic and family ambitions took a backseat. Not that we will change the world or anything, but we won't die with regrets either for the life we wished to live but didn't. Let me tell you the secret, it took very little planning, disciplined execution and infinite grace. Infinite gratitude and obeisance at your lotus feet, my Gurudev & Shri Hari Bhagawan. 
Please have adequate health insurance and as discussed earlier do not go overboard on them, basically for three reasons.
Health insurance premiums are too high even for a reasonable coverage amount which won't even be enough to cover the costs of many illnesses. 
The insurance premiums are adjusted annually and increase more and more as your age increases. 
It's very difficult to select good health insurance as there are many health insurance providers who will entice you through out of the box marketing strategies but will be very prompt in rejecting your claims when you need them. This can be very frustrating and emotionally draining when you/your family members are having a health emergency and the company whom you trusted to stand with you is just putting you through unnecessary shit. Please be very prompt with your documentation of hospital bills if you really want your claims to pass through. 
If your company offers health insurance, that is good. Although I have seen claims of state government employees( my cousin in this case) getting rejected by third party service providers who in the name of verifying your claims will put you through an endless process of documentation and then cancel your claim. 
Currently, Max Life Smart term plan is a good Term life insurance. But this is just an honest opinion not a recommendation because these products go from good to ugly very soon. 
Sorry to say that I cannot give my opinion and pinpoint a correct health insurance because of the various categories involved. I don't want to bore or confuse you further. ( although I may have done enough already 😒) 
Sadly, that is the state of affairs as far as insurance is concerned but it's not all dark and gloomy out there. After I had spent a lot of time in the investment arena fruitlessly trying to figure out things for myself, I finally chanced upon very authentic people who do exactly the due diligence that is required to pick the good from the rotten apples in the field of finance. They are my first point of reference for any financial knowledge since the past 5 years. 
The only thing is it's a paid service that takes care of all the insurance and investment requirements of an individual. 
https://advisor.moneylife.in/welcome/
The people behind Moneylife are Mrs. Sucheta Dalal and Mr. Anurag Basu. Although you may not know them, does the series " Scam 1992″ ring a bell? It's based on their book ' The Scam'. Mrs. Sucheta Dalal is the one who unfolded the Harshad Mehta scam and has been awarded Padma Shri for journalism. 
The pricing details for annual subscription to their flagship service 'Moneylife advisory services( MAS)' is as below where you will get recommendations on
Equity mutual funds
Term life insurance
Health insurance
Fixed deposits
Liquid funds, Short-term debt funds, long term debt funds, arbitrage funds etc.
Included in the above service are an accident insurance cover of 2.5 lacs and a weekly online financial magazine. 
I have attached the screenshot for your reference where I have selected all the above options and excluded the Lion Stockletter ( their stock recommendation, because it may not suit every individual and I will write about it later, when we discuss stocks! )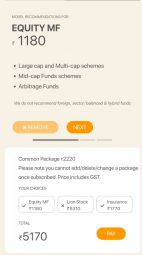 Please note that I am just a subscriber to their services and have found them useful and hence referring to them here. I am not associated with the owners personally, or compensated in any way, cash or kind, for this reference. 
That will be all for today. Will continue about expenses and savings in the next post. 
---