Jai Shri Radhey Shyam!
Jai Shri Hari!
I offer my obeisance to the lotus feet of Shri Gurudev Bhagwan.
In one of my post I posted about my soul's birthday now this post is on my body's bday, hahahahaha, Body's bday.  You may think what kind of person I'm  celebrating so two two birthdays but I'm okay with this.
Yes, yes, yes, you read in description is true now: Abhishek is not a teenager now. Entering in to the new stage of life and I'm seeking for your blessings.
My bday was on 24th April. On your birthday you can see a charm on your face but if you  want to see charm more than yours just see your parents face… If we do good then we can see a charm on our parents face all time, but on the our birthday their face's charm increases just like the charm of moon on full moon night. I don't know what I did because I think I have to do much better, but yes I saw a small charm on Mumma Papa's face….
Let me tell you one thing. I was born on the night of 23rd April 2001, the day was Monday and the night was the new moon (black) night. May be Hari was knowing this thing that this jeevatma is black from inside so to show his real colour I'll send him to earth on this night.
Well that was the story of my birth.
Now, I'll tell about preparations of my 20th bday. So, one day before my birthday we collected all the food items and clothes for myself and for dresses of deities, (I'll share the picture my deities at last). So the day begins as usual waking up early in the morning about 04:30 am. Doing all my work and chanting I used to go to my Shri Bhagwan's room to do all their snan(bathing), shringar(decoration) and Aarti. But that day there was something different which I can't express.
I got a lot of calls from friends and relatives… So many stories, gifts etc. But I was expecting a wish from Shri Hari and also a present from him, as a return gift I'll offer myself to him, but still I didn't got my present, Oh Krishna I'm waiting please come soon, I wasted my 20 years in this world, now I want you. Please come Krishna… I don't want these gifts wishes I want you, I want to hear your flute, I want to see you curly hairs, I want to touch you, I want to be with you… If you don't want to give me this then please accept me as a servant.
From this, I'm remembering the lines of Meera Bai, I'm sharing them
चाकर रहसूं, बाग लगासूं नित उठ दर्सन पासूं
बृंदाबन की कुंज गलिन में तेरी लीला गासूं
श्याम मने चाकर राखो जी,
चाकरी में दर्सन पाऊं, सुमिरन पाऊं खरची
भाव भक्ति जागीरी पाऊं, तीनों बातां सरसी
श्याम मने चाकर राखो जी,
मोर मुकुट पीतांबर सोहे, गल बैजन्ती माला
बृन्दावन में धेनु चरावे मोहन मुरली वाला
श्याम मने चाकर राखो जी,
मीरा के प्रभु गहिर गंभीरा सदा रहो जी धीरा
आधी रात प्रभु दर्सन दीन्हें प्रेम नदी के तीरा
श्याम मने चाकर राखो जी
In these lines, Meera ji is telling Krishna to accept her as servant in his palace(i.e., Vrindavan).
Krishna says: Meera there is no work in palace for you. What will do there?
Then  Meera ji says: Being as a servant I'll plant the garden, a beautiful one, and every morning I'll see you and that's enough for me and I'll sing your glory in my words in this Vrindavan. My job is to get your darshans and payment which I'll get is the memory, memory of your love and addition to this I'll get your bhakti and the combo of these three is my everything.
Now to praise Krishna, Meera Ji says: Krishna your peacock feather crown, the yellow clothes, Vaijayanti necklace, all these are beautiful and in addition to this you are playing flute while doing gocharan is making my heart to melt.
And that's what I want as a present from you on my birthday…
Thanks for reading.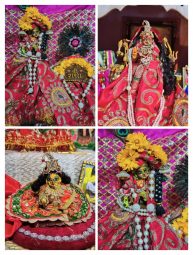 ---