Being 24/7 surrounded with own thoughts
Raks act as few minutes escape from that chaotic, unmindful me .
RARE is a beautiful framework of black Lotus and within it the RAKS section is most impactful.
Random Acts Of kindness are Like instant mood lifters as
performing them not only introduces emotion of happiness in me but also in people affected by those acts ( raks).
I always got so positive response in return and it brings a gift of smile on the face of both…..
Sharing 2 beautiful experiences
where 
Just a simple act of rak brought so many smiles and positive comments –
1) It was 5 January ,2021 starting of 3rd month of my 1st year b tech. And Instagram was quite trendy among us( friends) .
We all met just 2 months ago and there was excitement to know each other.
The assigned Rak of the day was to
' compliment a friend' .
So a thought arrived to let my new friends know what I learned from them !
As Albert Schweitzer said
"At times our own light goes out and is rekindled by a spark from another person. Each of us has cause to think with deep gratitude of those who have lighted the flame within us."
This small act of kindness #rak of complimenting my friends by mentioning them in insta Stories
Developed joy of giving and emotion of happiness within us  bringing a priceless gift of smile on our faces .
2) Spread kindness and increase your own happiness in the process
Black Lotus Trailblazer contest
18th December,2020
Past 2 contests, the third one was
#to_spread_the_kindness  by writing about kindness act in Insta story then tagging black Lotus.
At 4 pm I saw black Lotus story mentioning
@peace_of_mind_simplified ( Saloni Grover) didi, who had logged 14 acts of kindness in a day.
Inspired from her act and black Lotus story , I felt an urge to participate in the contest.
This lead me to perform 15 raks the following day and mentioning them in insta story tagging bl which proved to be cheerful and great experience.
Amelia Earhert says
" A single act of kindness throws out roots in all directions, and the roots spring up and make new trees. The greatest work that kindness does to others is that it makes them kind themselves."
Thus this act planted seeds of kindness in me along with 15 others impacted thorough this contest.
( Grateful towards black Lotus)
In this way,
Raks provides opportunity to be someone's Sunshine by cheering others through
Simple Selfless Acts ….!
Thank you is the least i can say for introducing Raks in my life .
@black_lotus and Swamiji
Jai shree hari 😊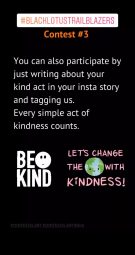 ---