Whose a true fan?
And whats a true follower-ship like?
Are fans of rockstars of Bollywood actors or sportspeople allowed to claim themselves as real 'fans' ?
Yes, many of the followers of politicians in Tamil Nadu might also be considered in the category of 'fervent fans', with their passion no less than the previous league of fans. In such a case, is it possible to be fan of an Indian classical music instrument player? 
Surely yes, if we go by my love for Indian classical music and my 'madness' to attend a live concert, whenever possible. Life is defined by some of the craziest things we do and how proud we feel about it. There was one such thing that I did and I will mention later in this article. But, firstly, let's talk about Panditji.
Pandit Shiv Kumar Sharma, the maestro of Santoor, an instrument that mastered it and entertained audiences globally for  six decades , was a renowned legend known for his perfection of his art. While his son has already displayed his skills and is following in his footsteps, it would be tough act to follow Panditji.
My very first memory of Panditji is of my childhood days. It would be bold on my part to claim that I remember hearing him, but my parents did take me to attend his performance at the Rabindra Nath Tagore Hall in Bhopal. This was  part of events organised by a group called, Abhinav Kala Parishad, lead by Tated uncle, who did a commendable job in getting many renowned artists to perform in our small town back in 1980s. 
My first real and most memorable opportunity to watch Panditji live was in the Prithvi Theater, Mumbai in 1998. He was performing with another legend, Tabla player Ustad Zakir Hussain. Their Jugalbandi, apart from the ones between Panditji and Pandit Hari Prasad Chaurasia ji was something that people would go miles to listen live to. Of course, the Shiv Hari combination made a huge impact on Bollywood with their collaboration starting with the movie Silsala, around 1980. 
Back to Prithvi theatre. The smallness of the theatre and me being in the second row seat meant that I could actually see the legends perform from 5 feet distance and it was a memorable sight to see them play with such finesse and the expressions on their faces as their instruments kept pace with the tempo. Not known to speak much when they are there on the stage to perform, Panditji started with the introduction note. Apart from introducing Zakir ji on Tabla and someone on the Tanpura, he mentioned, " and in the audience we are joined by many mobile phone and pagers with funny tunes !!!" The audience erupted with laughter. These were the days when these gadgets were relatively new and people had to be reminded to turn them off or keep in silent mode.
Before my very last opportunity to see Panditji perform, I got a chance to watch live and listen to his handsome and equally talented son, Rahul Sharma, perform in Gurgaon in April 2018. It was indeed great to see how well he had embraced the art of playing Santoor and also had his dad's charming looks.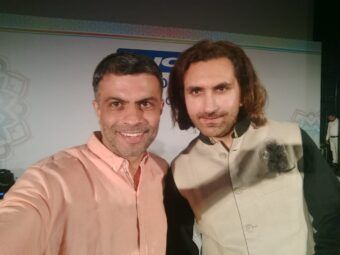 While I was never lucky to get a photo-op with Panditji, was fortunate to get one with Rahul after the show in Gurgaon.
And finally, this was Jan 2019. I hurriedly finished my last meeting at work by 4:00 pm to be in time for the 5:30pm flight from New Delhi Indira Gandhi Airport and landed at 7:30pm at Sardar Vallabhbhai Patel Airport in Ahmedabad. Called my friend to confirm that I will be in time for the 9:00pm start of the concert. As I reached the entrance by 9;15pm, he informed me that it was open seating and a friend of his had held a place for me close to the stage and I had to rush there, while he will come in from another gate. 
As I grabbed the pass and walked through the crowd, I could see the performers tuning their instrument on the stage. And as I reached to the place where my friend had blocked for me, I was satiated by the image of seeing Panditji and Zakir Hussain ji on the stage 15 ft away, 20 years since I had last seen them perform. Needless to say, I was speechless and mesmerised for the next 90 mins, seeing the magicians do their act. This was part of the "Saptak"  Mahotsav, held every year in second week of Jan in Ahmedabad. The pic at the top, as you might have guessed, is from that event.
While heading back to my friend's house for a short nap ( I had 4 hours to rest before getting back to the airport for then 6am flight, which would get me to Delhi in time for the 9:30am meetings at work, it was a weekday, mind you!), he told me that his son had decided to miss the event for me, and I was touched by my friend's generosity. 
🙏🙏🙏🙏 Panditji is no more, but his music will remain ringing in our hearts for ever. May he rest in peace. Om Shanti 🙏🙏🙏🙏
---