What comes to our mind when we have to travel–okay what if i say first international travel….okay what if it is a beach destination
i do not know about you guys but i was thrilled like a 5 year old when i first got an opportunity in 2009 to visit Indonesia and that too Bali. I was super excited. I had to first visit Surabaya, commercial centre of Indonesia and then i had planned a week long vacation to Bali- the most favorite and affordable beach destination.
And like any usual first time Indian traveler , i had a long list of what i will do in Bali, how many dresses i will pack with matching accessories, and what not…i leave it to your imagination. 😉
I reached my Hotel Matahari Terbit Bali and Resort Spa in Nusa Dua and was mesmerized by its natural beauty and location. It was a lovely resort with big cottages either facing the pool or the sea and the best part was they had a private beach, from where we could also walk to an island which appears when the water recedes. 
I had a comfortable stay and once i was well rested, i took out my to-do-list in Bali. It included many visiting many other beaches, parasailing, snorkeling and many other things which google had suggested and i had sincerely made note of them.
I was eager to finish all my planned activities asap so that i can relax at the beach with my books and beer. So within 2 days i visited many places and completed many tasks (i call it task because i now realise that i had eaten more than i could chew, literally because i suffered from severe diarrhea and was supposed to be hospitalized just 2 days before my departure …..another blog post idea 😉
So after a tiring day when i was chilling at the beach with some good food and beer, i got an opportunity to interact with a lovely couple from Germany who must be in their 60s. I asked them so what all you have visited or seen here (i was making sure that i am not missing on any important site)
The lady smiled and said nothing. I thought they must have checked in today, so i suggested few places to them so that they can visit. They both smiled and got back into their beer and books. (how childish i was even at age of 23 and that is why i admire these young kids here at os.me)
It was bit surprising that the next day i saw them again in the resort chilling on the beach…i said are you not planning any trip today. the lady was so nice, she called me and asked me to sit near her wooden bench, where she was taking sun bath.
She said we are here on vacation to enjoy. i said yeah i am here for the same. She said no, we are here only for the vacation with stressing on the word VACATION.
Then she told me her idea of a vacation which has stayed with me till date.
She said, we are here in this resort from last one month and will be staying here for another 2 months. we have visited some places here and there but we just want to relax. We saved for two years to afford this peaceful and relaxing vacation.
That gave me enough food for the thought. I was exactly doing the opposite. I had made my vacation a tiring job.
While making the most of our time away–especially when visiting exotic locations is important, most people over-pack their schedule and overwhelm themselves with busyness which results in more stress and less rest. And i was suffering from that.  And this technology and social media has over-promoted and normalized sharing every experience we have–especially while on vacation. The saying, "if you didn't post about it, did it really happen?" drives our current culture to document and share EVERYTHING.
And then i realised what that wise old lady wanted to convey.
I do not know if this post made any sense to you guys but i have learnt my lessons.
Now post that incident, i enjoyed all my vacations as i travelled light, i buy local dresses, not much accessories, i keep my luggage to minimum. I do not plan a big travel itinerary , few historical places and few famous spots to visit is enough for me (that's why many people doubt that if at all i have travelled to those places when i tell them about my visits)
I also limit my phone calls when overseas (in my first Bali trip my phone bill was 16000 indian rupees, in 2009…that's bad i was with money, timing and information)
I eat local and stay happy during my vacation and my husband was the happiest with this change because he got a non demanding partner who simply likes to chill staring at sky or enjoying her books.
I do not post any update of my travel on any social media. (because i  cannot sacrifice the quality of the trip for the quantity of posts or likes)
So that German couple changed my perspective of vacation and i can now say that i fully enjoy all my travels, except the fact that i am not a very travel friendly person…i have issues with height, suffer from sea sickness or worst will definitely fall sick when vacationing and only i know how my husband handles me during all those trip to exotic beach or mountain locations.  But i still love to travel.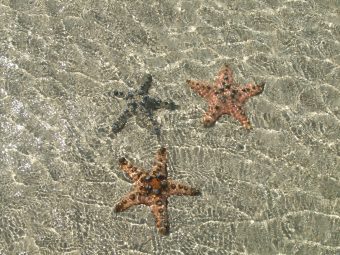 star fish at the island that used to appear in the afternoon out of nowhere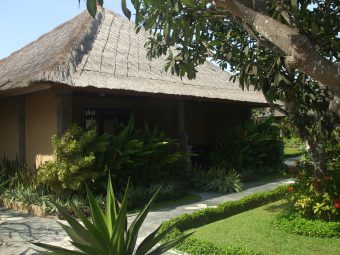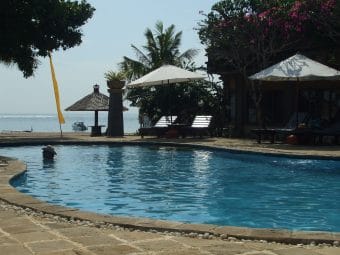 my cottage and the pool
Thanks for reading.
---