This post is a realistic look at my feeble attempts at performing two Gayatri Sadhanas. I am a flawed woman who is trying hard to figure things out. My writing style simply reflects my chaotic & colourful life. It is not a reflection on the sanctity of the Sadhanas or my gratitude towards my Guru.
You can read the Part 1 of my journey here.
A day before the Purnima, in the evening we must take Sankalpa before starting the Sadhana. It seemed daunting to my novice eyes, but I had prepared myself. I had already read the typed document several times, taken a bath and sharp at 8:30 pm set up the makeshift altar to begin my Sankalpa. I was raring to go.
Those of you who have read my earlier posts and know a bit about me, will know that I am the crazy cat lady that people usually gossip about in the neighborhood. Cats rule in my world. But on this occasion, my cats had to be banished from the office to maintain the sanctity of the altar. So, after a lot of drama that resembled moments from Meena Kumari's Pakeezah, my favourite cat Apple finally left the office. Once I was alone, I followed the steps for Sankalpa with ease. In my mind I already started to feel better about the whole thing and the fake confidence grew to the degree that I felt I could easily climb Kilimanjaro. Three rounds of Gayatri Mantra chanting during Sankalpa seemed very easy. But here is the thing, when the reality hits you, you know your real place.
It was anything but that.
During the first round of chanting I thought about cooking, selling my car, moving to Thailand and calling a friend. While I was going through the second round, I suddenly remembered what I wanted to watch on Netflix when I was done chanting and during the third round I had epiphany that I was a reincarnation of Shekhchalli in a woman's body! That is when I realized how hard this was going to be for someone like me. I am a chronic multitasker. My mind races faster than a formula 1 car on a normal day. During the chanting my mundane thoughts seem to double up. There was no way I was going to be able to chant ten rounds every day without thinking of Gulab Jamuns or Aamir Khan. I knew I was setting myself up for failure even before I had started.
I was disappointed in myself. All this drama, preparation, support came down to my mind simply behaving like a monkey. I was also amending some important rules followed during the Sadhana to suit my way of living.
Firstly, sleeping in the same place where I took Sankalpa was not possible as my office has a desk and bookshelves. Secondly, I would set up the altar every day and then after the chanting place it back in a drawer so may cats won't touch anything. I find it hard to sit crossed leg on the floor and so I was going to sit on my chair and chant. Too many liberties were being taken. But I remembered what Akshay had said, bhaav and devotion is most important during the Sadhana. I was hoping that Swamiji and Maa would be able to see my efforts and forgive me.
Then it began.
I would wake up at 4 am. Take a bath. Pluck a champa flower from my garden, do the purification, light the lamp, and attempt to start chanting.
The first few days were hard on me emotionally and physically. My body was not able to sit still. I sweated a lot and then for some reason my feet were cold. Lips were dry. My head hurt. I thought of books, places I had visited, my old life, movies, chopping vegetable, forgotten friends, rescued cats……..
I won't bore you more, but you get the picture.
Yet I followed one rule from day one. If for whatever reason my pronunciations were not clear or I rushed through the chant, I would chant the mantra again to compensate for the mistake. The first day I took three hours and forty minutes to finish. My husband was found pacing outside my office when I finally emerged thinking I had probably fallen asleep while chanting. Unfortunately, my mind could not be tamed. The first five days I was all over the place. I was everywhere but where I was supposed to be.
On the sixth day, I started chanting the way I did previously. I was prepared for more mundane garbage to spill out of my head. Instead, half way through something shifted within me. What I experienced is too personal and sacred to be written here. But I can tell you when I opened my eyes after what felt like few minutes, three hours had passed, and I had not even realized. I was in a state of euphoria and so so happy. I had finally cracked the code (or so I thought). I shared what I felt with my husband, Akshay and my sister. I shared with some friends my chanting routine. It seemed like I was showing off a bit. Little did I know that I was walking into a trap. Sharing details of your Sadhana is never recommended. In retrospect I can tell you I was behaving like one of the women from Ekta Kapoor's serial, high on drama. Even though Swamiji has mentioned again and again about not sharing your personal experiences of Sadhana, I decided I was enlightened enough to bypass his advice. Akshay has also written about it here. But yours truly ignored it.
Needless to say, I spent the last three days of my Sadhana agitated as I was trying to replicate my experience of day six. But it didn't happen again. Instead, I dreamt of eating mooli parathas while dragging my feet for ten rounds of chanting.
On the last day I felt victorious that I had stuck for 9 days of chanting inspite of all the mistakes. But few valuable lessons were learnt along the way.
1. The biggest lesson I learnt was that sadhana is sacred and not a piece of heritage jewellery that needs to be displayed to one and all.
2. Secondly, YOUR experiences are YOUR experiences. They are NOT for everyone. Treasure them.
3. Just enjoy the experience but don't hold onto it. You may see and experience things. They may or may not be true. Your imagination can play up. See everything but don't be attached to anything.
4. Bhaav and devotion can be developed with a little bit of discipline. Stick to a routine.
5. Everyone is capable of walking the path. Just don't think it's a marathon. Walk at your own pace but walk with the right attitude.
6. Do the sadhana because YOU want to do it and not because someone is doing it.
7. And lastly, thinking about Mooli Parathas while chanting won't help much. You have to actually knead the dough at the right consistency, add masalas, grate the mooli to remove the bitter water, fry parathas on a hot iron tawa at the right temperature to grill them to perfection. Only then can you eat them.
This analogy also applies to your spiritual journey. It is an amalgamation of several factors that will prepare you for that one final journey that we all are born to take. So be patient. No one gets it right the first time. I didn't.
The first Sadhana would not have been possible without Akshay's guidance and my husband Nassim's support. For that I am ever so grateful. I am happy that I discovered Swamiji while watching a random video on YouTube few years ago. Though I have not met him, I know I tumbled onto his video for a reason. My journey is about discovering what is that reason!
The lessons I learned from my first Sadhana were valuable and gave me courage to undertake the second Sadhana. That is another long story reserved for a third post that will land in a few days after I am finished cooking my favourite Mooli Parathas!
Thank you all for reading my ramblings and encouraging me.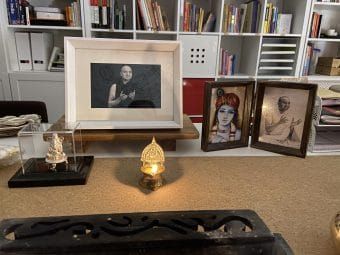 This is my temporary altar on my writing desk
 Apple's bed was shifted outside my office before every chanting session, so that she could wait for me to finish!
---