In this part of the archives, I am here to share with you Swamiji's message on the occasion of Toronto Maharuda 2013. I found this message in a 4 paged pdf from the web archives shared by Pavini Om on May 22, 2013.
---
---
---
With His divine grace, may your Maha Rudrayajna benefit the
humanity. lt is with much warmth in my heart I write to you
with blessings of the greatest siddhas so that your
Maha Rudrayajna should successfully come to
conclusion. Often people get so busy in living that
they forget the source of life altogether. But no
matter how much you care for each leaf, if the root
of the tree is unnourished, it perishes one day
soon.
The deeper the roots, the stronger the tree. Vedas
are the roots of our religion, of virtuous living, of
righteous conduct. The divine sounds of Vedic
chants nurture and nourish the tree of life, of
wisdom and virtues. Just like music is known to
change listeners' moods, just like soothing music
can help flora and fauna flourish, Vedic chants
represent some of the purest sounds in our
Universe.
They strike a chord of human soul and existence.
Vedic chants have a deeply purifying and calming effect
on the mind. This has been my personal experience on
countless occasions. ŚrīRudram, sprouted from Krishna
Yajurvēda, is no ordinary prayer. Comprised of Namakam and "a
Chamakam, the eulogy is designed to appease Lord Shiva so that
he may relinquish his terrifying form and return to his natural state
of peace and bliss. lt is no coincidence that even DasaMahāvidyā,the
ten aspects of Cosmic Mother, starts with Kālī, the wrathful aspect. Any
true sādhanā begins with complete control over one's anger. Here anger is
not just a term used to indicate getting mad or shouting, it is agitation of the
mind. When the mind is agitated, it is restless, no self-inquiry is possible. An
agitated mind is polluted by default.
ŚrīRudram, when done with utmost devotion, helps one understand one's true nature
so one may progress on the spiritual path. Once the internal Shiva is calm and pacified,
the whole creation gains from it. Just like an ocean is made up of drops, each entity —
living and non-living — makes a contribution in the operation and sustenance of His
creation, Full of complete range of phonetics, intelligently placed, chanting verses in
ŚrīRudram channelize the ten energies in human body and they promote harmony in
the environment.
This is just from doing ŚrīRudram correctly, what immense benefit may Maha Rudra
bring is beyond words. This is a truly noble effort. From the core my heart, I pray to
Lord to accept your worship, devotion and prayers. I would encourage you all to be
as meticulous as possible regarding the pronunciation of ŚrīRudram.
Yours
Om Swami
www.omswami.com
---
---
---
Wait for a little here for the images to load.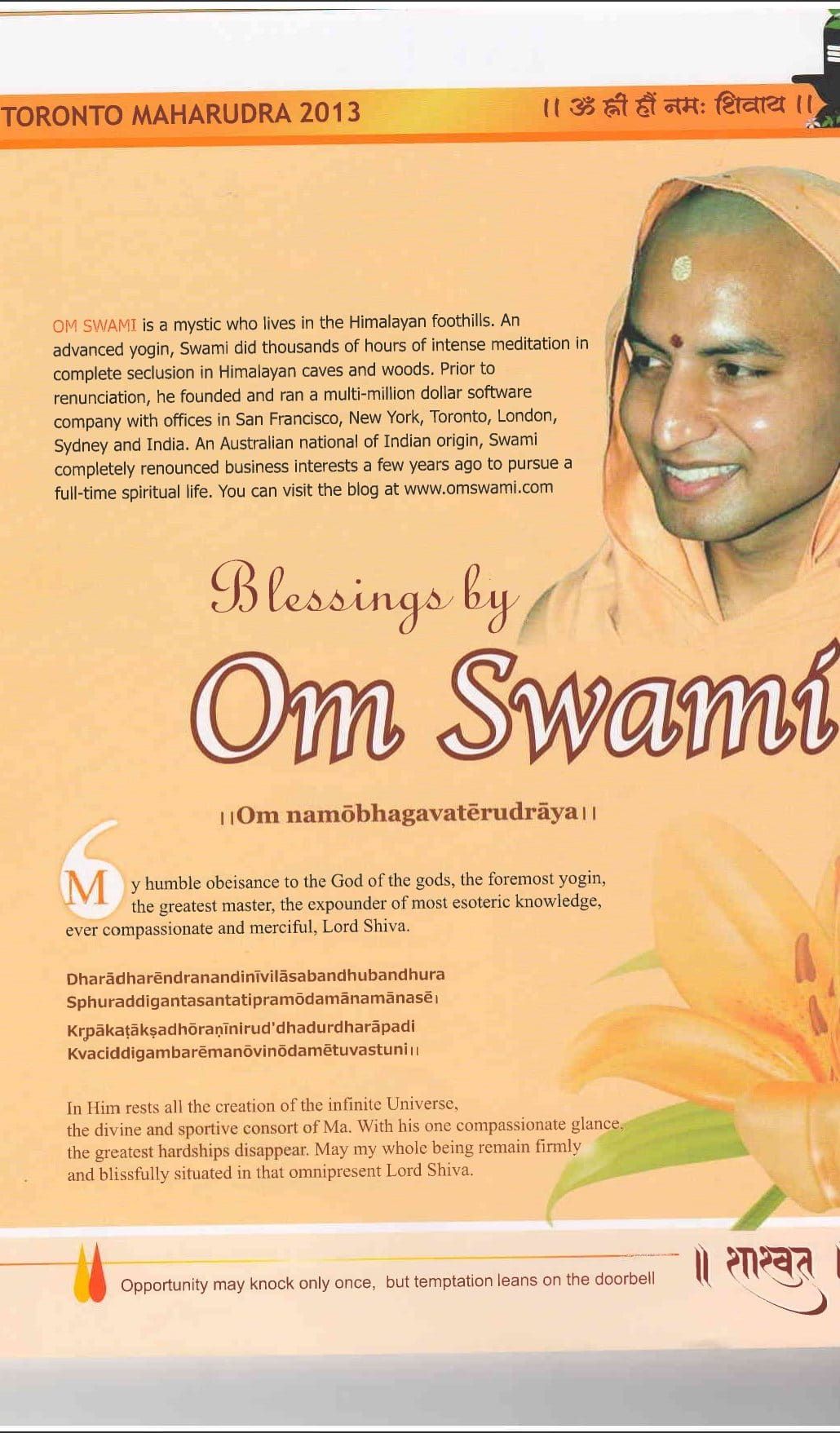 ---
---
---
Wait for a little here for the images to load.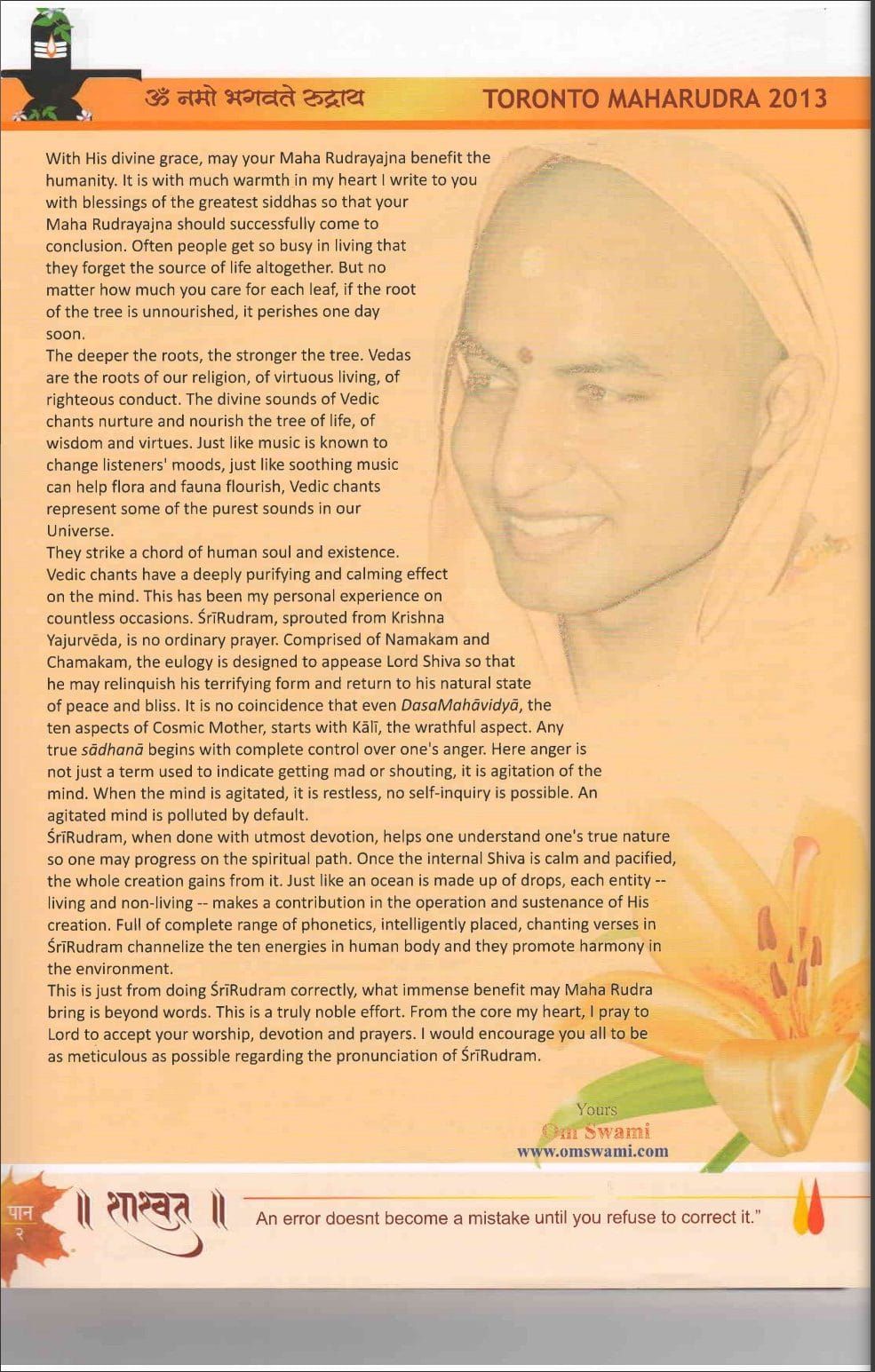 ---
---
---
P.s. : Click on the images to get a full-screen view.
The full 4 paged pdf is here.
Original source page here.
#TheWriteChoice
#TheWriteChoice
Earlier Posts :
---