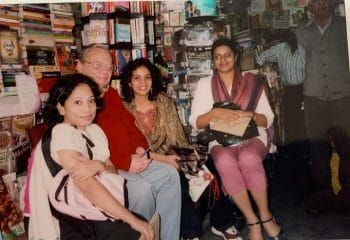 Recently my dear friend, Anubha, shared an old photograph of the three of us (my besties and I) with the writer Ruskin Bond. The photo was clicked in May of 2005-2006 at the Cambridge Bookshop in Mussoorie. It was Mr. Bond's routine to sit at the bookstore in the evenings, meet his fans and tourists, and autograph books for them. It's very amusing how we had ended up meeting him. I had met him twice earlier. On this very day, when the picture above was clicked, we were ambling on the streets of Kulri Bazaar. While passing by the Cambridge bookshop, pointing out a large cut-out of Ruskin Bond, I had told my friends, "This is a favourite haunt of the author. Someday if one is lucky, they might bump into him at this shop."
"Really! You know, I think a man—who looks quite like the cut-out—is sitting right behind it," Anubha had remarked, in a matter-of-fact manner.
Now, these were innocent times before the advent of smartphones: information was not available at the swish of a finger. Many authors, certainly Mr. Ruskin Bond, preferred a life of anonymity. He poured his heart out in his writings. On visiting Mussoorie and Dehradun, you felt that these towns were known to you. The reader in you carried the smells and sounds of Kulri bazaar, the scents of pine needles as you walked along the woods leading to Char Dukan and sister's bazaar; all this sensory detail being the gift of Bond's writing.
Back to the story. We scurried into the shop where Mr. Bond had been sitting placidly sporting a Buddha smile. Not many people knew how he looked, at that time. So, there he was, the presiding deity of Mussoorie, enjoying a quiet moment before three youngsters broke his reverie. Extremely polite and unassuming, he greeted us and signed our books.
I, being a die hard Ruskin Bond fan wanted to talk more, listen more. During a certain phase in youth, when I was crestfallen, I had once written a letter to him that I never posted. I wanted to tell him how much his writing had spoken to me. But as it happens in such moments, I really did not know what to ask. The perfection seeking attitude, as a youngster, does not allow you to speak your mind just as is. You want to appear knowledgeable.
"Sir, I have seen Lal tibba, and sister's bazaar, but could you let me know where is Pari tibba?" I remember asking him.
Tibba is a local word for 'hill' in Uttaranchal and Ruskin Bond often mentions Pari Tibba (the hill of the fairies) in his writings.
For a moment he appeared serious and then said "Oh, don't go there. The fairies will take you away." Then he broke into a smile. All my seriousness was punctured in a jiffy. A writer can flit seamlessly between the real and the imaginary and make both these worlds seem just as credible. I think he did give me some location; however, by that time I had completely drifted away. I saw his animated face, his lips moving as he gave me precise details, but I registered nothing. Fairies and will of the wisps were sometimes spotted on 'Pari tibba'. The idea and imagery was beautiful. Did it really matter if it was real or not?
Ruskin Bond is one author who has soaked Indianness in his writing. Growing up, I had found most Indian English writers pretentious and distant from the Indian reality. Their descriptions of villages seemed inspired by Bollywood. I remember loving R. K Narayan for the ease with which he described everything Indian, and then I fell in love with Grandfather Bond. Not only was his writing authentically Indian; it also espoused hope and promise. My friend, Anjali, being the most prudent and worldly-wise of our pack, requested a photograph. Mr. Bond obliged. So, there it is now. An old pic with a chubby, genial author flanked by three youngsters. A beautiful moment seized in time. That's what photos do: they freeze a moment, a memory. Sometimes, a seemingly mundane thing of the past becomes beautiful due to sheer nostalgia.
Even though it makes little structural sense, I do wish to end with a small poem by Ruskin Bond.
Remember the long ago when we lay together
In a pain of tenderness and counted
Our dreams: long summer afternoons
When the whistling-thrush released
A deep dark secret on the trembling air;
Blackbird on the wing, bird of the forest shadows,
Black rose in the long ago summer,
This was your song:
It isn't time that's passing by,
It is you and me.
---