Attention please 
Train no 14567 is just arriving on platform number 5 .
Dhyan dain ( Hindi )
Yatri kripya dhyan dein GARI no " EK CHAR PANCH CHE SAAT " platform number panch pai aa rahi hai .
Tyaan deo ( Punjabi )
Yatriya nu beenti keeti jandi hai ki Gaddi no
" EK CHAR PANJ CHE SAT " Platform tai aa rahi hai .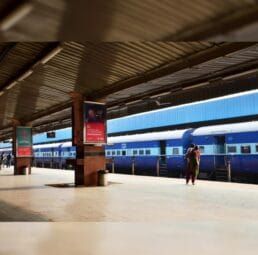 So are you familiar with this voice everyone , I am just a fan of these lines. Whenever I travel from the ludhiyana Railways this voice is heart touching .
Haha …. 
Yesterday I was at Jalandhar railway station. I went to receive my mother and my sister. They were coming from Panipat and I was very happy to receive them .
Me and my father were waiting at the station, the train was coming on platform no 5 and we went there . 
My father says -" Luv Hum andar chalte hai "
I say – Ok dad ! 
We went there , saw the beautiful trains and listened to the voice of the speaker who was spelling all this information .
Then Train came and my mother and sister came out.
We took their luggage and went to our car .
When we were coming back i listened to that voice thrice , my dad said- Luv  Came bacha we are already late , its 10:30 and i have to sleep .
I did not have any options and I went back to the car . While I was walking I saw 2 dogs there who were playing with each other , Plugging each other's faces and playing in the sand. 
There were 2 buses of Armed forces there as they were checking out from the station for their respective areas. 
Then we went back home . While going back home we talked a lot and we enjoyed it after a long time .
We all are so busy in our lives that we should plan a trip in 2 months so that we can spend not a lot but a little happy time with our family members. We went home at 11:30 , went to our rooms and went to sleep .
From this story I want to tell you that life is too short. My friends don't waste it , it's too short yaar plz don't waste it , enjoy it to fullest. We humans are not for the money, money is for us . Just think about that , i am not saying that you always enjoy and enjoy but from my experience , i came on conclusion that try to get some time ,  
A time for you, A time for your child
A time for your parents and A time for our lord who made us . Always thank God for giving all the luxuries in our life , Love you all , God bless everyone.
With great respect for my readers , 
Live , love , Laugh 
Thankyou 
Author – Aaurhi Om 
---