#TheWriteChoice
Rangoli is made from colors at the entrance of house and temple. It is way to welcome the visitors and please their hearts and to bring joy into homes. I never thought of why do we make rangoli and what's its significance. It goes like that when Sita fell in love with Ram, she grounded some rice and prepared rangoli and prayed to the Goddess Gauri (wife of Shiva) to grant Ram as her husband. Since then rangoli is made at door to welcome the visitors and it has a calming effect on the minds of the visitors and Gods. When in Ashram I had ample of opportunities to make rangoli for our beloved Swami ji. I would most happily and Joyfully make the rangoli along with few other devotees to help me. Colors have always pleased me and I play with them with much excitement. I am so immersed in making rangoli for welcoming Swami ji in scorching sun when the sun rays are just on my pretty face. But neglecting this I keep on making big big rangoli's and I was told to make something smaller but everytime I say I think of but chota banta hi nhi. So they happily praise my effort and once I am done I would go back to room to get ready for discorse, while sitting in discourse during that time my back will pain like anything due sitting long hours for making rangoli. I never share it with anyone because if I tell they will not allow me to make rangoli and I will make back to back rangoli for days while hiding my pain. But alas! I love making rangoli for my beloved Swami ji and please his core.
Here's the pictures of room rangoli that I can find.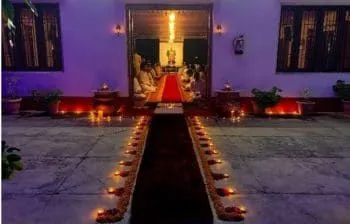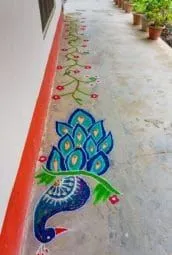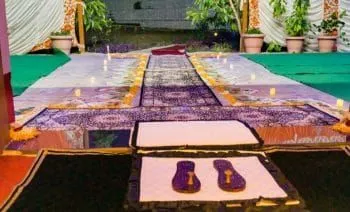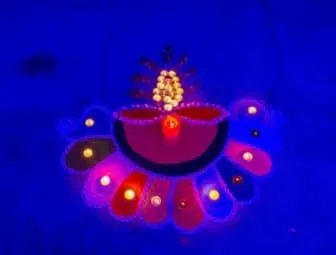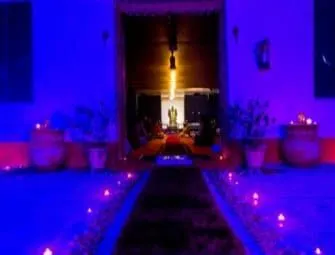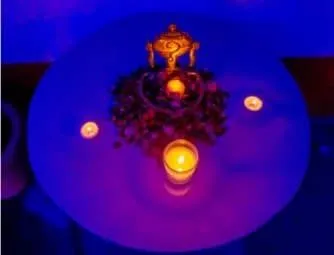 there are many but could find only these. hope you liked them.
Jai Sri Hari 🙏🌸
Love💖
~Neelam Om
P.S. Thank you os.me family for reading and encouraging me. It really fills me with warmth and confidence. keep encouraging. 
Related Q&A
What are the 3 things you are grateful for today?
If we all can start our days every day with an attitude of gratitude, our quality of life will take a quantum leap forward!
If anything,  I feel like just reading this thread may inspire you to take a pause and take account of what you are grateful for just today. Every day if you choose to enter in your gratitude logs either here or in your own journal,  over time when you read them you will be so pleasantly surprised by just how much you have to feel grateful for and how blessed your life is exactly as it is! 
Here are mine for today,  I am simply writing down the first 3 things entering my mind.
1. I am immensely grateful that I have a family
2.  I am grateful that I have a strong spiritual thirst within me
3.  I am grateful that my basic necessities in life have always been taken care of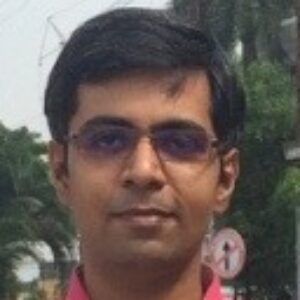 Prahalad
replied 5mo ago
A, it is truly an honor to post a response to a thread created by you.
Three things I am grateful for today.
1. For being alive.
2. For the awesomeness that is os.me
3. For my home, for providing me with shelter  and protecting me from the sun and rains.
Will you join me in a Prayer for Swami? - 7 AM IST - 7th Feburary
We have all read Swami's post on the loss of his father and how gracefully Swami dealt with it. We were at the Ashram during Christmas, and he blessed and initiated so many people.
https://os.me/make-hay-while-the-sun-shines/
I struggled to figure out how to express my love and gratitude to my Swami.
The only thought I had was of Shivpreet's Singh's bhajan.
"What kind of lamp can I light for the one who lit the sky with stars? Oh, Nanak, light the lamp within."
Raghunath by Shivpreet Singh (feat. Rajhesh Vaidhya) - YouTube
The answer came like a flash. Let's all meditate at one particular time and pray to Mother Divine to shower her energy on Swami. Swami is the divine, but he wears a mortal dress, which also needs periodic care. I hope mother will transmit all our love and care to our beloved Swami and tell him how much his children care for him.
Details: Monday 7th February: Time 7 AM to 7:15 AM IST.
Action: Simply meditate on mother divine in whatever form you like, showering her love and grace of Swami. Focus on mother's divine light completely covering Swami.
I wanted to share because I know many of us feel helpless as we see our Guru pour his life into making his children and Sanatana Dharma prosper. I thought this would help us channel our energies at the same time.
Disclaimer: Just want to add that this is simply a volunteer initiative. The ashram or the BL Team is not involved. Just our way of praying for our Swami.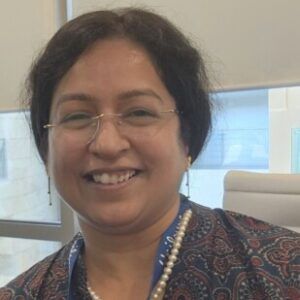 DivyaV...
replied 1 year ago
Thanks Akshay sharing this beautiful thought and initiative. I will definitely join in 🙏🙏
What simple rituals can I perform for my ancestors during pitru paksha?
I want to perform some simple rituals for my ancestors to express my gratitude and help them in any way I can for 1 week until mahalaya amavasya. While giving suggestions, please elaborate on the steps of the ritual. My family does not believe in rituals so I am not aware of even the simplest of rituals. Also, please keep in mind I won't be able to make elaborate offerings like pindas or anything (again because of family reasons). I want some ritual involving the simplest of things like some water or candles or something. Or some mantra or stotra that can be chanted. Thank you for giving me your precious time. 😊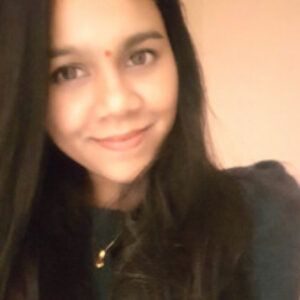 ananya
replied 5mo ago
Dear Ahana,
I had the same question in mind few days back and when I saw Sadhana app's IG post on Shradh , I asked a fellow devotee for suggestion. I wanted to do something simple, yet soulful and what he shared appealed to me. It is as below:
"Close your eyes
With full devotion, thank Bhagwan/Ma
Then thank the saptarishis
Then your ancestors
Do an act of kindness and pray that it reaches your ancestors
Ask them to accept this offering as your gratitude towards them and thank them that you were born in their family. "
Hope this helps.
Best wishes!
#MaaAschen 🙂
A Date with God- Who all are in? :P ( Concluding 21 Days)
This is a simple yet fun (I believe) game stretched over 21 days, which is not invented by me, I would like to give him the credit 😛
The challenge is simple, for 21 days you have to spend 11 minutes on a date with your Isht/Guru. (Not the 21st century kinda date 😝) You can simply tell him/her how your day went, or anything you else you want, without the fear of being judged. Just a normal conversation would do, you can also chant/ meditate. But in my personal experience chanting or doing sadhana becomes much easier once you fall in love. 
The aim of this game (oh that rhymes! 😂) is to make our bond with our Isht stronger and more tangible.
Will pen down a little incident to boost your morale (consider this a Josh talk from your captain!) A few weeks before I was traveling by metro and it was the peak time (9 am) Luckily, I got a seat but there was still half hour to go and I was getting bored. So I asked Shiva to come sit with me and saved him the seat next to me. More and more people got in as we passed stations but none of them even looked at the seemingly empty seat next to me let alone sitting on it. I talked for thirty minutes non stop and he kept listening with a smile. And this is just one of many such countless ones. So yes, trust me when I say, he listens to everything.
Before you feel that this is a game of imagination, then look around you. What isn't? Everything we see today, everything man made was once an imagination in someone's head. Wasn't it ! 😛
Game starts on Sunday, the only rule is, everyday 11 minutes, you can't miss a day! Will be posting updates here Every 7 days and at the end of 21 days let me know who made it. Good luck you guys ❤️
Mudit S
replied 9mo ago
I am already in. If Swami Ji comes to you then pray to him that I am also in the queue. 😝 
Will You Join Me Global Prayer – Celebrate Swamiji's Darshan of the Divine Mother
Thank you for your resounding participation in the last Global Prayer. Multiple people reached out individually and suggested we do it again for key occasions in Swami's life.
Global Prayer –  Celebrate Swamiji's Darshan of the Divine Mother
13th February – 7 AM IST to 7:15 AM IST
13th February 2010 was when Swamiji had his first Poorna Darshan of the Divine Mother. He wrote about this in a beautiful blog post titled "My Truth". He also describes the experience in his autobiography and in a YouTube video titled Vision of the Goddess.
Join us in this global prayer to celebrate this occasion because we all discovered the divine mother through Swamiji.
Details: Sunday 13th February: Time 7 AM to 7:15 AM IST.
Action: Simply meditate on mother divine in whatever form you like and thank her from the depths of your heart for gracing all our lives.
This is not an official event sponsored by the Black Lotus of the Ashram. It's just an expression of love for our Swami.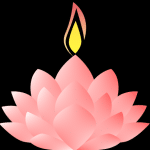 Sri Devi
replied 12mo ago
Feb 13th in 2018 was when Swami (through his actions) confirmed my Darshan of the Shiva-Shakti. My Darshan was on Feb 6th, my mom's birthday.
Also, Feb 13th in 2018 was the first time Swami decorated Sri Hari as Shiva-Shakti (for Maha Shivaratri).
So, I'm super-duper excited about this event... Thank you very much for doing this, Akshay! 🙏🏼
---