Sastang pranam at your lotus feet Swamiji.
This post is to express our gratitude for the sequence of events that unfolded before Samil's first birthday and how Samil co-operated with us to successfully celebrate his birthday despite not being well.
We plan many things. We do meticulously. But the execution, at times, becomes way too different than planned. I remember one of Shalini Pandey Om ji's post in which she described how she had planned to celebrate her marriage anniversary, but how events took turn to baffle her completely destroying her plans for the day.
On first birthday, generally babies become cranky. It may be because of various reasons like wearing uncomfortable dress (which generally parents buy for the occasion), seeing so many unknown or lesser-known people for the first time, being in the focus when everyone is trying to have some interaction with the baby, the place of celebration, lighting effect and the spot lights which are set up by the lensmen to cover the event (to create memories) etc. We had some inklings of these factors (after all, we are experienced parents 😊; thanks to Sahil.)
To avoid getting disappointed owing to the possible phot0 bombing by Samil due to the uncomfortable situation in which he was about to be in, we decided to have a photoshoot for him one week before with several props, toys and cake bash. Sanghamitra, contacted the photo shoot professional and fixed the date and time of 24th Dec, 2022 at 2 PM. We had the impression that, Samil would be happy and would nicely pose for his pics. But things took serious twist when Samil contracted seasonal cold and fever on 22nd Dec night.
On 22nd night at about 2 AM, we suddenly discovered that Samil was feeling uncomfortable, his nose getting chocked and he was running on high fever. His fever gave us shiver ☹. We gave him one dose of Pacimol (an antipyretic for babies). The fever was reduced and we were a bit relaxed. But it was short lived as the fever returned again during daytime. Sanghamitra got a call from Samil's creche. After office time we picked him up from the creche and went straight to the doctor. The doctor checked Samil and suspected some ear infection. She prescribed some medicines which we promptly started administering Samil.
We were anxious about the next day's photo shoot. One thing about babies is if they fall sick, their activities deteriorates very fast and they become dull. If the baby is making nuisance, throwing things around and making noise etc., one should be grateful, because it is very painful to see your active baby being dull and just sleeping with a red face, lost appetite for food and interest in any activity what-so-ever. (bachha shor machaye toh problem, but bimar pad jaye toh severe problem!)
We thought we could outsmart the birthday's commotion by having a photo shoot earlier, but Samil's sickness outsmarted us! Moral of the lesson: things may get out of control even when planned perfectly. So, there is nothing called 'perfect planning'. With a heavy heart we waited for the photographer to arrive. Upon seeing two guys in their early twenties, we became even more frustrated as we assumed that these young guys would be of very limited patience and a cranky Samil would drive both of them crazy. For sure, we were looking forward to a disastrous photo shoot 😞.
To our bad luck, Samil just fell asleep ten minutes before arrival of the photographers. After 15 minutes, we tried to put one of the dresses on Samil and he woke up. The photographers started their work and all of a sudden, Samil became jovial, his facial appearance changed and there was a glow. Below are some of his pics from the photo shoot. It turned up much nicer than expected. Can you really identify that he was unwell? And we were taken aback by the level of patience showed by the two young chaps during the photo shoot. They took active role in making Samil smile and posing in various manners for them to click the shutter! All glories to Swamiji for gracing his baby.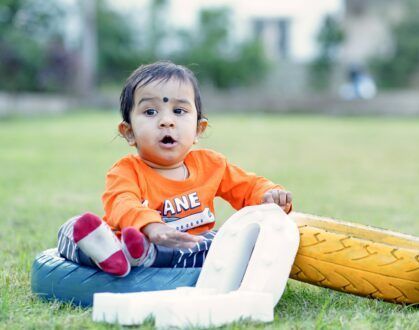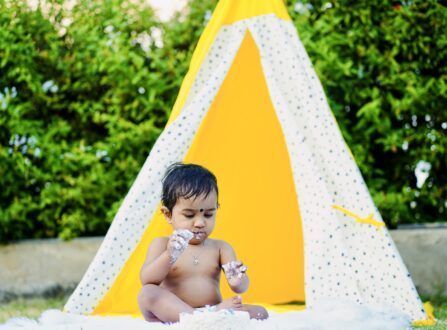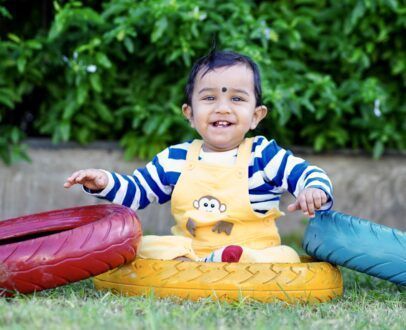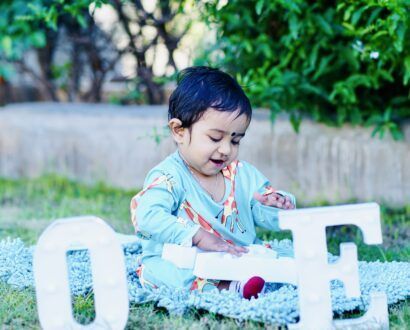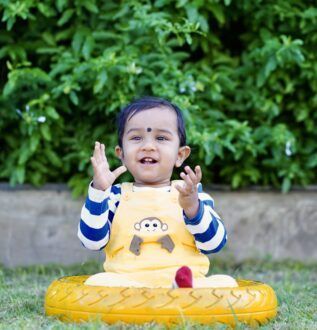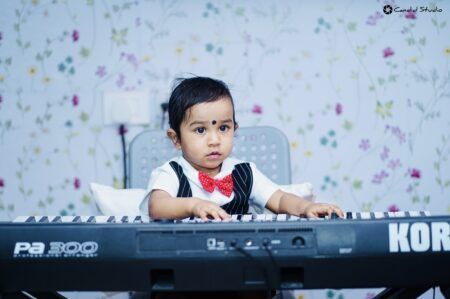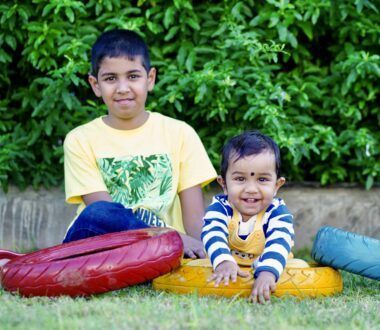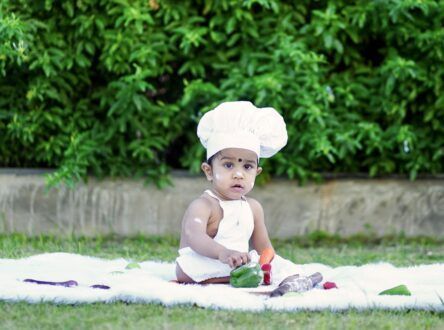 The photoshoot was a great one. We were relieved that even if we fail to have good pics of Samil and our family pics on the day of his birthday, these pics would be enough for lasting memories. But again things took turn and on 28th night, Samil again had fever. His body was so hot that our blankets also became hot. We were in shock. The next day was the D-day, we had invited all the guests, ordered the cake, made all arrangements. And for whom all these arrangements were done was not able to sit upright even. How the event would be pulled off?
At 10 AM in the morning on 29th, we started for cutting cake at Samil's creche. We carried the cake and other eatables for the creche members along with Samil's doctor prescription.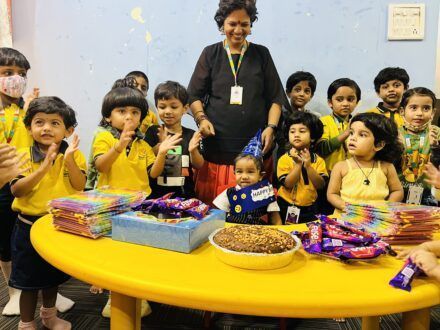 After celebrating Samil's birthday in his creche where he is the most liked baby, we visited the doctor on our way back home. As Samil was wearing a nice birthday dress, the doctor was also surprised, who in the world dresses the baby this nicely while visiting a doctor for consultation? We appraised the doctor about his birthday. She also was a bit worried and prescribed some other medicines.
Now our focus shifted from having an enjoyable and memorable first birthday celebration to just let the evening pass with all guests being properly treated. A couple of weeks before, we attended the first birthday party of a baby girl. The way she started crying that her parents had to cut the cake and the guests could not interact with her. They had to hand over the gifts to the relatives of the baby's parents off the stage as the parents were occupied with pacifying the baby. Even the birthday dress could not last for more than half an hour as the baby was feeling uncomfortable and appeared in comfortable one-size dress after a while still crying.
We imagined something similar was about to unfold. But yet again, Samil proved us wrong. He started posing nicely for the lensmen. He was with us while we cut the cake. He was with us on the stage while the guests blessed him one after another with the traditional akshyat chawal. Yes, he took some breaks in between and spent some time watching his own videos on smartphone. But overall, he was very much co-operative and pulled off the event nicely. To our surprise, only 2 plates were left out of the 150 plates ordered. Such was the level of accuracy of the estimation. The food was nice and everyone enjoyed the gathering to the maximum extent. The following are some of the pics from his birthday party.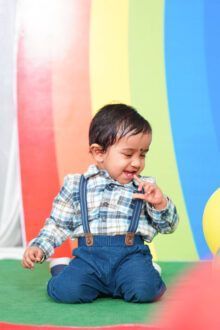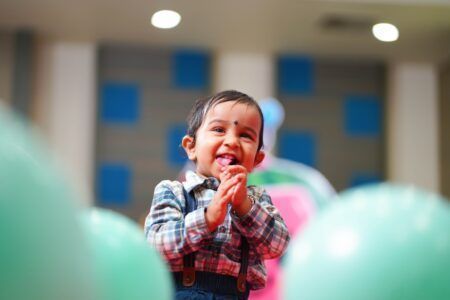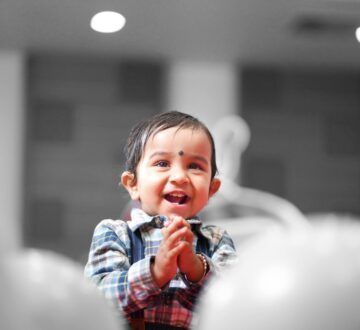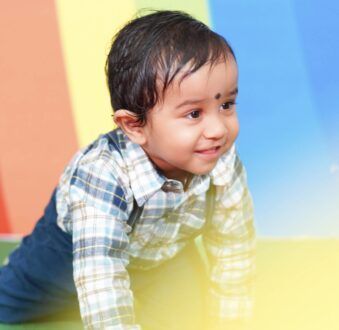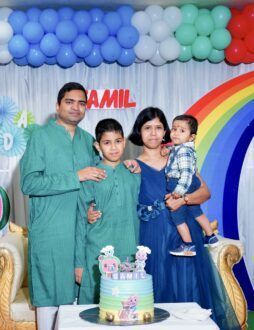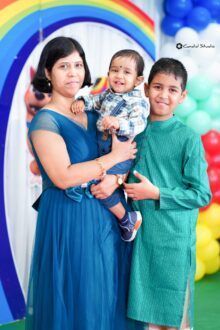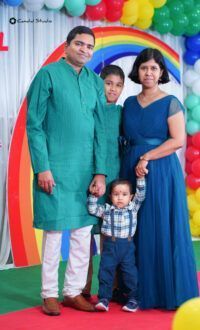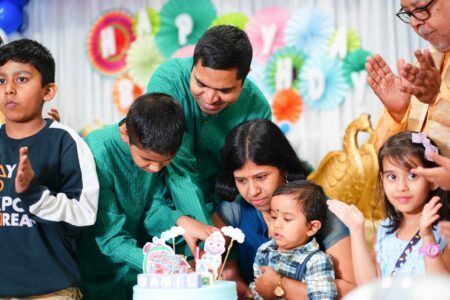 We are really grateful to the universe for helping us out to conclude the event the way it concluded. Though, Samil had to visit twice more to the doctor afterwards on 31st Dec and 2nd Jan, we are grateful that now he is completely OK. We were really surprised to get the doctor's call on 5th Jan. While enquiring about Samil's health, she expressed her concern about Samil. This is the first time ever, we got call from doctor enquiring about Samil's health though the same doctor has been treating Sahil since his birth in 2011. We thus concluded the following
We may plan a lot of things, but we don't have everything in our hands or under our control. Things can turn out to be quite different.
Irrespective of events, we can always find reasons to offer gratitude.
A little change in our perspectives can do wonders to change our life. And the effect can be positive or negative depending on which side we perceive. If you want to cry, your mind will pick up the 1 percent negativity embedded in 99 percent positivity and amplify it to make your life hell.
Things done with good intention and a pure heart never disappoint.
Fighting the odds and not putting down weapons do help!
Thank you for reading the blog. Jai Shri Hari…
PS: When Samil was having the cold and fever due to infection, I was praying Swamiji "Oh Swamiji, please transfer the symptoms of Samil to me and reduce his symptoms." I think Swamiji listened my prayer and blessed "TATHASTU"! Since last 3 days, I am having severe cold, nose block, throat pain and mild fever. Just kidding 😉 about Swamiji's "TATHASTU"
---