I was relatively young in my career when my manager had a life-changing 1-1 meeting with me. The venue was a conference room in Houston, Texas. I remember it like it was yesterday. She smiled at me and gave me some advice that changed my life.
When I ask a question in the room, I know you will have the best answer. However, the problem is you know this too, and how you respond leaves no room for anyone else to have an opinion. It's not enough to have the best idea if you are the only one who is going to work on it. We are in a team sport, and you must let other people participate.
I nodded wisely as if I understood every word, but it took me years to truly understand the depth of her words. In those years, I worked with many people, enjoyed the company of most of them, and hurt a few with my attitude. The story I am sharing today would have hastened my professional development by leaps and bounds. I hope you enjoy it. A higher resolution image is available on Linked In. It got compressed when I uploaded it.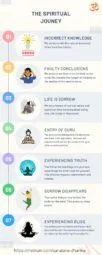 You can read the rest of this post on Linked In. Please like, share, and comment to help us share the power of Sanatana Dharma with the rest of the world.
---