The last day
The next day I got up a bit late, i.e. at 4 am. The bathroom had a line, so I had wait for 20 minutes or so to get it. Then I realized why Vinod sir had asked us to get early. There was no aarti happening today, so I slept more.
I reached the temple at around 4:45. To my astonishment, there were around 50-75 people busy in the courtyard, singing the mantra – 'Hare Krishna Hare Krishna, Krishna Krishna Hare, Hare Rama Hare Rama, Rama Rama Hare Hare'. There was no dance happening, but some devotees were on their feet, were moving to and fro in slow motion. I had expected a lesser headcount. The Lord was still asleep.
At around 5, I realized that the gates of Lord's altar were about to be opened. I moved towards the front. The Supreme Personality appeared, dressed in bright white, same as that of full moon, but without any spots. All the devotees had moved towards the Lord to welcome him on the 8th day of brighter moon (Shukla Ashtami) in the month of Jyestha! Radhaji was smiling beside Him! 
Since there was no aarti, all the devotees hailed the mantra in full voice to welcome the Lord. After some time all the devotees did the same in front of Lord Narsimha and Lord Jagannath. The mantra singing went on and on and in between it used to become really fast. I was just clapping and looking at the sublime and eternal Lord of this world! 
After some time the doors of the altar were closed. The kirtan continued and I came out at around 7 am. I wanted to go to the kitchen and help again, but sensed as if I had to do something else. I started walking towards the Chaitanya Mahaprabhu's statue beside the lake. Actually the lake was in two parts. I called home and started telling my Maa the details of New Vrindavan and also beauty of Shri Krishna. I also told her how Lord Krishna united people from different countries, communities and cultures. I had seen and met people from diffeerent part of India, United States, Europe and of British and Afro-American community. The unifying force was universal here – our Lord, everyone's Lord :)! All of us had found a refuge in the Supreme Leader. 
Anyways after the call ended, I met a devotee from New York. He was a student who had recently completed his degree from Long Island University in New York and he told that he was lucky that ISKCON was just a walking distance from his university. He was a wearing a dhoti and I asked how he handles that. It has been a mystery for me. We talked for sometime and later I met him during the kirtan also.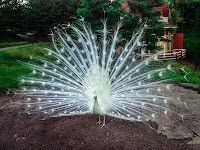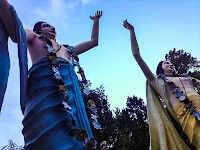 I took some more snaps with my phone cam. 
 After the breakfast, I went for the kirtan again. I knew that it was about to end, hence wanted to enjoy the last bit of celebration. I moved close to the Lord Vasudev's altar. The Lord of the Universe had reappeared and …! I can't, I just can't describe Him. Please, you judge Him! I just know that whenever I looked at Him, He looked better! Well, better than the last time, He is the best! Isn't He? Here's His snap –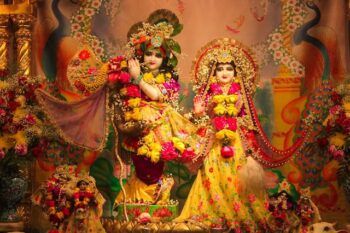 I was rendered speechless, yet again. Whilst the Kirtan was going on I saw several devotees. There was one Afro-American devotee who was taking snaps of all kids.  In children the Lord takes the most innocent and nescient form! True! Later he started to dance with another American devotee and they took snaps. When all the devotees were busy dancing and glorifying the Lord's name, the Lord was watching all of us with a mild but charming smile!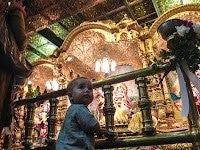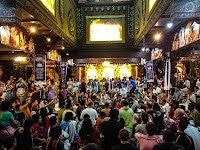 I also saw a devotee, who had both hands raised towards the Lord. She was quite old and had a lot of emotions in her eyes. I felt that she wants to hold Lord Krishna in child form. Later I saw a small American devotee. He must have been 2 years or less. He was wearing a kurta and shorts and was looking at the Lord incessantly. His dad told me that's what he wants to do all the time – Look at the Lord. I could not resist but take his snap along with the Lord, definitely after taking his dad's permission.  I also saw one devotee who was dressed up as Mirabai (I think). She had a doll in her hand, and she made her doll also dance when the kirtan was on.
I moved towards the exit of the courtyard, so that I can take a snap of devotees. It also has Ashish  (in center) and Vinod sir (in the right mid corner). The snap gives a fair idea of the courtyard.
The kirtan ended around 11:30 AM so I came back for packing my stuff. Vinod sir had said that we will leave immediately after the lunch. And so we had get in the line for dinner so that we can run immediately after that. But Shri Krishna had something else arranged. 
Before leaving, Vinod sir introduced all of us to Adiguru Prabhuji. He stood with us and narrated stories about how the New Vrindavan temple was built. he told that two of the devotees tried to propound that Srila Prabhupad was God, and then he expelled them. He accepted them when they offered this land bought from an American lady. I have forgotten the price at which the land was bought, but she wanted to sell it to someone who had some connection with the God. Kirtanananda Swami and Hayagriva Swami (the two devotees) explained her about Lord Krishna and got the land. The land on which the temple is built is close to a place, where 150 (not sure of the number) native American Indians were killed. So, by Lord Krishna's grace that land was purified. Prabhuji even explained how the devotees and volunteers used the build the road and the temple. They all had the same dress for everyone so everyday everyone used to grab new clothes. He also mentioned the first two statues of Shri Krishna and Radhaji that were worshipped at the temple (in the above pic they are still present at the bottom). Out of curiosity I asked him why  we don't have statues of Maa Devaki and Maa Yashoda, because Lord Krishna loves his earthly mothers a lot. He answered that in ISKCON the tradition was to worship the Lord along with Radhaji. But they do have statues of Maa Devaki and Maa Yashoda, that are taken out on Kartik Ekadashi (also called Prabodhini Ekadashi – in November). That is the official time when Lord Vishnu gets up from His Shayan (sleep). Reasonable! When a child gets up from sleep, he wants to see his mother first!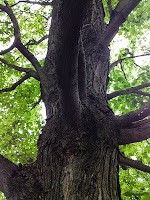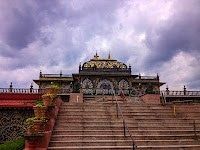 He also told us about the tree under which Srila Prabhupad used to meditate. Later he walked towards the tree as we moved in our minibus. He asked me to hug and like an obedient student, I did that :). We bid him adieu (U Mataji, P Prabhuji, V Mataji, Tulsi and I had already said goodbye to Shri Krishna and Radhaji before boarding the minibus).
The journey began thereafter and while taking the driver's seat Vinod sir asked whether I saw the Palace of Gold or not?   I said I was too busy looking at the Lord's awesomeness, so I have left it for next time. In some time realized that he had forgotten his bead-bag (comprising of his chanting rosary), so he had to return. He asked N Prabhuji to show me the Palace of Gold in the meantime. It was aesthetically build palace, with beautiful colored windows and nice flooring, but taking inside snaps was not allowed. One of the mannequins of Srila Prabhupad was so life like that I felt that he moved. He was sitting and writing something. 
The journey remained silent for some time because the kids (Roshan and Ashish) were tired. I was in back corner again. But the silent was not to prevail for long. Soon they got up and were refreshed. Thankfully U Mataji was there. I asked them the full form of NASA – Roshan answered that correctly. I was surprised. I also asked them about momentum. They were able to explain the concept, but had forgotten the definition. That is heavy for kids of 10 years of age. They were kids from a highly spiritual families and were aware of ultimate goal of human life – Moksha. At their age I did not even know what it is. Obviously they have better grounding, probably from previous births. Ashish even declared that he will return to reside in New Vrindavan after he will finish with his college. Both these kids have a brilliant future for sure. I had some philosophical and spiritual discussions with U Mataji too. 
In the evening, after dinner (that was arranged by N Prabhuji through his special effort, thanks to him for that), I thanked Vinod sir for this journey. He then narrated a story about one person who was trying to find true Lord. That person finally landed on Shri Krishna, since He is the only one who has a flute and in all his pics he is shown as enjoying. So the one who is Supreme Enjoyer is the Lord. The story vowed me.
We reached Bloomington after 00 hrs. The last thing I did was to talk to Tulsi. She had woken up and  was clinging with V Mataji. I asked her is she not getting sleep. She cutely looked at me and then turned and clung harder. I took my bag, said goodbye to all and started my walk towards the apartment, thinking about the divine face of Shri Krishna!
I sincerely thank Vinod sir for arranging this memorable, remarkable and illustrious journey for all of us. The journey was one, that most of us will remember for long. It was a great honor to be a small part of glorification and celebration of the Lord! As my Maa says, we get the companionship of Gurus, learned and spiritual people, through great luck and good karma of past lives. Hare Krishna!
(Thanks for reading these 4 posts. I hope I was able to explain the things as I experienced them. I am sorry, if I have missed anything, which I could have, my senses are obviously limited. All glories to Shri Krishna! Hari bol!)
---