My infinite salutations at the lotus feet of my Guru ji.. Pranaam to all my family members who are always there to give me love and support and encouragement . Without my Master's grace the journey would have been very difficult and boring and most importantly blur.By the grace of Pujya  Prabhu ji i am well .My puppy Walli is also fine though has become very naughty.Today morning he cut the cord of piano pedal. I have to buy another pedal for my piano. After a long gap i am writing something. There are so many wise and beautiful posts here.I am sorry that i can not read all of them .yet i try.A lot to learn, a lot to know , a lot to see before my final day.
Today i am only sharing about a tribe which were called the Vikings. Actually i got inspiration to write about them after i watched the web series  The Vikings , in Netflix.Before that i did not have much idea. I am sure many of you know about them and may be some of you have got the chance to see the series or read about them in history. These warrior tribes were natives of Scandinavia from basically three countries such as Norway, Sweden and Denmark.They were the most dangerous and furious fighters in history.You can guess their fight skill if you have watched movies like gladiator ,thor like movies.They raided different countries with brutality and tortured people. They were also traders and mercenaries. They used bows and arrows,axes,spears and shields  as their weapons. They slaughtered people in the most cruel manner. They also believed in God. Often they sacrificed human in their ritual. They called their God as Odin. They were  seafarers. While watching the series i realized how much difficult it was to shoot the scenes in the series. Sometimes i felt it was really impossible to shoot such scenes with so many actors and actresses with such intensity and energy.Though i must admit that there are such scenes which are difficult to see but one will realize how the Vikings were living the life in the north. Their language was old norse. Gradually they reached  Africa, Russia and challenged their kings. I wonder how could they be so ferocious and fearless?May be they claimed their God to be a warrior and a God who does not believe in peace. What must be the life? 
                                                  In the series i found out that the hero was Ragnar  Lodbrok or Lothbroke.  I got curious and read some more things about Ragnar. History says that most probably he was the most famous king and warrior among the Vikings.He had many sons.Among them Ivor the boneless was a great fighter though he was a cripple. The fighter women were called shield maidens. Surprisingly while raiding at Ingland, Ragnar protected a priest called Athelson and abducted him and brought him to his homeland.Afterwards Ragnar was inspired and took a secret keen interest in Jesus Christ .He even said Athelson to baptise him. In the series the director showed the deep friendship and a beautiful bonding and trust of Ragnar and Athelson. At the end of Viking era his sons died fighting as real warriors and not cowards.Two of the sons survived .They were Ubbe and Hristik. It is said that Hristik converted into christianity and led a pious life after the war. Well, most plots were actually fiction such as the friendship between Athlestan and Ragnar … But we can guess  emotion always sustains.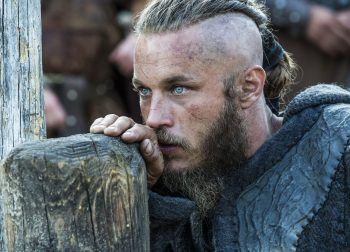 On screen actor Ragnar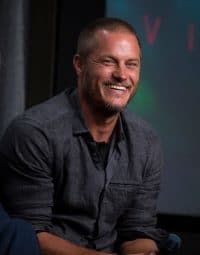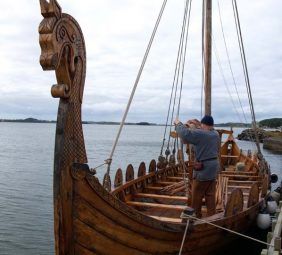 Boats of vikings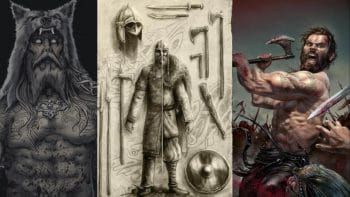 warriors
I have taken all the pictures  from google.
Hopefully my post is not boring and you will enjoy reading it.please forgive for any mistake. I only shared this out of interest . Hopefully i will again get something interesting to share with you.till then please take care of yourselves. love you..koti koti naman at my beloved Master's lotus feet.. I love you guru ji…i am immensely grateful to you for accepting me in your heaven.
---