''Which soup?''  This is the first question and conversation starter around a table in family get-togethers. Soups are not only healthy they are so pleasant and can warm up a tired soul.  You can definitely unwind on a winter day with a bowl of soup and a book in hand, or Netflix. Soups allow you to relax and heal. It is easy to digest and is great for you if you are healing from a cold, cough, or other health issues.  Winter is retreating in Pune, and I have enjoyed a lot of fresh soups this season. So here I am trying to document some of my favorites of the season.
My first choice is always Tomato soup. It is a hassle-free soup and the ingredients are always available. The scarlet creamy texture of tomato soup is soothing to the soul. The beautiful red color of tomatoes is derived from the pigment Lycopene, an anti-oxidant that is good for the heart.   It is yummy, healthy, and hassle-free. Even though this is the most popular soup on our tables, its origin is not from India.  Tomato Soup originated in the region of Andalucia in Southern Spain.  Tomatoes were introduced in Europe in the 16th century from South America and Mexico. They arrived in India during the same period through Portuguese and European sailors and traders. During the 18th century, Britishers began growing tomatoes in India. They are known as '' biliti began ''  meaning ' foreign egg plants' in Bengal.
One medium-sized tomato contains almost 35% of your daily requirement of calcium and 15% of Vitamin A's daily intake. It has 90 %water and contains 35 calories. Tomatoes are also sodium-free, cholesterol free, and high in fiber. This is a great recommendation for weight watchers.
  Currently, the farmers weekly market near my home is flooded with fresh produces. The other day I was browsing through the carts, and one vendor offered me one kg of tomatoes for ten rupees. The tomatoes were fresh red and juicy. I couldn't believe my ears. I asked him '' but why?''
He replied ''  bas, ise hi ''   (which means just like that!). He looked like an emperor dolling out stuff to needy people. Well, he was winding up the brisk business, it was almost 8. 30 pm. I grabbed the loot before he could change his mind. So let us make some Tomato Soup at home.
This soup is made in five to ten minutes.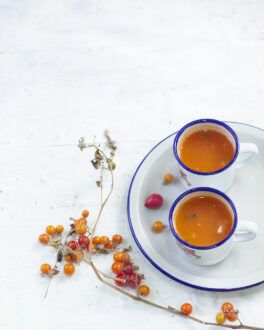 INGREDIENTS:
Makes four bowls
5 to 6 ripe tomatoes
3 cups of water
One small piece of ginger
Few garlic cloves
1 bay leaf
1 teaspoon corn flour
2 teaspoons fresh cream (optional)
Butter
Olive oil or any other cooking oil
Salt
Sugar
Pepper power
A garnish of your choice. (Fresh parsley, bread croutons, fresh coriander, sprouts, micro greens, etc)
PROCESS:
Wash the tomatoes. Make a small cross-shaped incision on top. This is for the easy peeling of the skin later. Boil the tomatoes for five minutes in a pan with one cup of water.
Once the tomatoes are done you will see the skin starting to separate at the cut. You can remove the tomatoes from the stove now. Allow the tomatoes to cool and peel off the outer skin. Now blend the tomatoes and make a fine puree. Keep the tomato stock, you may need this to dilute the soup later. Sieve the puree and remove the seeds and any other roughage.
Keep a thick pan on the stove. Add one tablespoon of butter and one tablespoon of olive oil.  Add the bay leaf. Add finely chopped garlic and ginger and saute on a low flame till they turn soft. Add the tomato puree and three cups of water and stock. Add salt and a pinch of sugar. Sugar will remove the acidic taste of the tomatoes. Bring to a boil. Make a fine paste of corn flour in half a cup of water. Add to the soup and keep stirring to avoid any lumps from forming. Cook for another two minutes. The soup is ready. You can add fresh cream and pepper powder. Garnish and serve hot. The most popular combination is Tomato Soup and grilled cheese.
Here is a video of Classic Grilled Cheese and Tomato Soup I enjoyed watching on YouTube. 
I am also working on my YouTube Channel. I hope to produce some of my own cooking Bits soon 🙂 
There are some more variations of Tomato Soup. They are Tomato Saar ( a Maharashtrian preparation ) and Tomato Shorba. The only difference is these preparations are spicy and don't use corn flour for thickening.  That is for another time 😊 Try and enjoy this simple tomato soup for today.  
Pics are by me 🙂 
---