It has been sometime that I did  write .My trust and devotion to Swamiji never changed a bit in my silence too.He seems the serene calm presence where my healing started .My inner child was touch awakened in to a new light by his words.He was and is my begining point in the search of divine mother .I am no one to speak of such a topic as I am a sand particle and nothing more to utter on Sreevidya.
I felt a need to write this because I wanted to say if born in this sacred land or otherwise if one get a chance to know this great knowledge  and truth embedded in it ,each and every soul should seek it out 
In my experience, If you take one step mother takes a hundred .She will unfold the path way to the chintha mani Graha ,the palace made of divine knowledge. 
When I took Courses of meditations with swamiji I never knew I was heading to the elixir ,the ambrosa the nectar of ultimate truth .He explains kundalini the concept of it in a simple way  ,and no other enlightened being has rendered it as scientific as him.
But mother is kind ,to know her ,means is not just to know ….When you tarry on the path you learn about  yourself, your body mind and soul and its deep connection to cosmos. You learn to decipher the sanskrit language and many hidden aspects that would show the magnanimity of the sages who walked on our divine land .
Where am I in the ocean ….of milk…I still don't know but I am being churned ,crushed , tested .I don't fear as I trust one .the Guru ..then. the Goddess he pointed.
I am keeping my head at the lotus Feet of Om swamiji..that calm soft spoken sharp persona fills mind with unspeakable joy .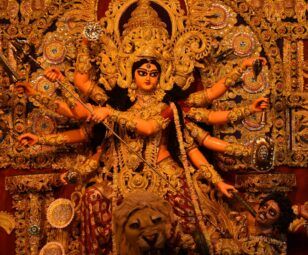 ---