All Glories to Sri Hari. This post laid itself out in my mind.. I had not planned to write it. After much wait, sharing with you all here.
 Wanting to spent some time with Sri Hari I looked at omswami(.)org; out of all events including Sri Hari Anniversary I chose Devi Bhagvatam I could not reason out why that happened. I have never prayed to the Divine Feminine, I have had fasted for Navratri, I had chanted Durga Chalisa on those days and applied mehandi (decorative hand tatoo) during college days.
I did it out of sincerity towards the culture and for the lightness I felt at the ninth day having consumed only fruits and boiled potatoes! Not necessarily out of reverence for the Divine Feminine.
The only Goddess I have been sweetly familiar with is VedaMata Gayatri as we chanted Gayatri Mantra as Morning prayer at our school, D.A.V Public School, KKR.
I loved that prayers especially it's Hindi meaning that we chanted after the mantra.
That's all really, Manjula ji's post on Daring to Love the Fierce One resonated where she mentioned the Divine was revered as Masculine mainly. So was for me! My parents derived that trend from their parents so it's not a complaint. (Now they do pray to the Goddess)
After I signed up for Devi Bhagvatam, I was very cautious and was wondering if I should call admin and cancel so that my spot can be availed by those who really deserve that spot.
You know I read it 50 times on the event's page, it said.. "It will be the first time that Swamiji himself will be the orator of Devi Bhagavatam in Hindi".
That really added to my anxiety because imagine sitting in front of Swami ji with a bhava/temperament which is not of a devotee when He is expounding on the Glories of Mother Divine.
It was an imagination completely out of place and unacceptable.
I could really very well (in my capacity) imagine how serious and big deal it would be especially having heard soul moving expression of Swami ji's love and sentiments for Mother Divine.
Many many times I tried but I just didn't pick that phone and made that call to cancel my spot.
But my anxiety level was above the  mark.
I thought of reading Devi Bhagvatam but I just could not find time as I had to stick to my practice and I have been very engrossed and totally invested in meditative practices.
The kind of unlearning that's needed to really meditate and arrive at a state which is beyond experience and even beyond "a state" is unprecedented.
I have started to explore the 'path' which I defined as "finding full potential of Human body and mind" way back in 2014, though the definition now, of the 'path' is becoming more and more inexplicable. I was not familiar with the term spirituality then.
So, I could not read Devi Bhagvatam.
The day to leave for ashram arrived. There was a joy that one gets to be in Swami ji's Sanidhya/company but I was terribly in-confident and fearful.
I just didn't want to sit loose in front of Swami ji that too in the 'never before and never again' Devi Bhagvatam. As Swami ji said with absoluteness / in his matter of fact tone "na bhuto na bhavishysti" on the very first day during the course of Devi Bhagvatam.
I was not expecting it but luckily for transportation I got accommodated with two other lovely devotees and a little devotee, a sweet child with beautiful smile to travel to ashram just night before we had to leave! I had not arranged for travel hoping there will be a auto cancellation due to lack of preparation!!!
Manoj ji, one of the prime contacts for Ashram Travel arrangements had come to pick us up.
The journey to the ashram was so serene really, read on what beautiful incident happened.
While I was black and blue on one side to attend the event and worried to miss my schedule of meditative practices and the momentum it had gain, at other.
The ambiance of the car was so jovial from listening to amazing and funny stories of the fellow devotees to talking to Manoj ji about the Sages of the Himalayas and what tremendous impact they have on our consciousness and maintaining the sanity in this crazy world presently.
When we were just discussing all this Manoj ji mentioned of a Lord Shiva temple en-route which was the (The Tallest Shiva Temple In Asia – Jatoli Shiv Temple Of Solan) It's beautiful, see it's pristine beauty and even architecturally…
Mutually we all agreed upon visiting this temple. We halted at the temple and little did I know about indispensable presence of Lord Shiva in Sri Yantra. We had Mahadeva's darshan
The temple was indeed scenic and it was beautiful to take darshan. The temple had many little shrines housing meditative cave and other form of Shiva Linga.
Mahadev ki Jai (this one thing I imbibed from Swami ji, He always says Jaikara (hails the glory) to the revered Lord and Goddess or Sages that He mentions during his talks! )
When we reached ashram the first thing I wanted to do was go back. I truly wished some miracle should happen and I should go back as my lack of devotion and familiarity to Mother Divine was just alarming me of impacting the devotional temperament of the katha.
But my prayers were not heard!!!
We arrived a day before katha on Sri Hari's Consecration Anniversary. Lord's birthday. Sri Hari Bhagwaan ki Jai.
That day also marked honoring the Pulwama attack Soldier's family. The day was intense for me. Especially Maa Shamta's emotional outpouring just made us feel the loss all the more.
It was very touching and relieving at the same time.
While it was very emotional but at the same time Swami ji said to the martyred family's young kids that He would help them study further and not to worry about financial constraints, especially mentioning that if they want to appear in PMT – (Pre Medical Test or engineering exam), they can go ahead, they will be supported. An amount of Five Lakhs with many books were handed over to the family.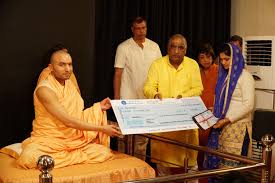 But the sweetest thing Swami ji said was that the martyred is with Sri Hari, at his Lotus feet. That moment I got chills. I also thought to myself, wow one need not chant or pray or be a bhakta/devotee as we know it, to reach Lord's feet upon leaving this body and hence the world. Wow! Just doing one's own duty was all it takes? It was a brief thought else the atmosphere was such that mind won't chatter anyways.
Thanks to all the martyred who sacrificed their lives for the safety of this country's citizens.
Also, I mentioned it was a relief because seldom does a martyr gets the due recognition for his or her sacrifice and a befitting compensation for the family survived by to meet their basic needs. Many times the personnel working in army is the only source of income.
All Glories and Thanks to Sri Hari and Swami ji.
Though the honoring ceremony doused the sense of anxiety to attend Devi Bhagvatam but not for very long. I prayed to Lord to do a Miracle and send me back. In fact, there were people who had to leave amidst the katha!
But I made it to Katha, finally! 🙂
But for sure the nervousness did uplift my alertness in general.. I carried on meditative practices and said to self – ok I am just going to live in the present moment and offer that, if not tears of devotion. And that was my mantra that got me through this Roller Coaster of Devi Bhagvatam – a 5 days event!
What do think…? How I fared during those five days… To find out stay tuned…
---