Wow! A feline beauty on a catwalk!
On the day 10 of the live telecast of Sri Suktam Yagna, a blackish cat placidly entered from the right side of the screen. It was not only a beauty with brains but a charm with calmness. It meekly sat behind Om Swamiji who was doing the preparations for the yagna by placing firewood in the firepit and was humming 'Jai Ambe Hare Jagdambe Hare'. On realizing its presence near Him, a delicate smile appeared on His glowing face. A powerful smile that can eradicate all sorrows, sadness and ignorance from one's life!
The feline took a round and went away from where it had come. As usual the yagna began with the ahutis with ghee. The same mantras were repeated, the same ingredients were poured one after the another, the same monotonous process. I followed Swamiji's instructions. Swamiji poured ghee, I did too. He poured havan samagri, I did too. He offered firewood, I did too. I acted in accordance with Him and performed the whole process like a copycat.
As soon as Swamiji started chanting the 15 mantras of Devi Ma taken from Lakshmi Tantram, I started feeling uneasy.
नमो नित्यानवद्याय जगतः सर्वहेतवे। 
ज्ञानाय निस्तरङ्गाय लक्ष्मीनारायणात्मने ॥१ ॥ 
नमस्ते सिन्धुसम्भूते नमस्ते पद्मसम्भवे । 
नमः सरोरुहावासे नारायणकुटुम्बिनि ॥ २  ॥
क्षीरोदमथनायासफलरूपे मधुद्विषः । 
नमचन्द्रसहोदर्यै नमस्तेऽमृतयोनये ॥ ३  ॥
नमः सरोरुहावासे नमोः नारायण आश्रय 
नमो नित्यानवद्यायै कल्याण गुण सिन्धवे || ४ || 
नमस्ते पद्मसम्भूते नमः कमलमालिनि ।।
नमः कमलवासिन्यै गोविन्दगृहमेधिनि ॥५ ॥
नमस्ते कमलावासे जनन्यै सर्वदेहिनाम् । 
गृहिण्यै पद्मनाभस्य नमस्ते सरसीरुहे ॥ ६  ॥
नमोः निखिलनिर्माणत्राणसंहारशक्तये ।
हरेः स्वरूपभूतायै नमस्ते ज्ञानरूपिणि ॥ ७  ॥
शब्दार्थव्यक्तिरूपायै षडध्वपरिवर्तिनि ।
अध्वातीतावबोधाख्ये नमस्ते हरिवल्लभे ॥८ ॥
परं ब्रह्म परं धाम पद्मस्थे पद्ममालिनि ।
नमस्ते पद्मजे पद्मे गोविन्दगृहमेधिनि॥९ ॥ 
नमस्तुभ्यं जगन्नाथे पुण्डरीकाक्षवल्लभे ।
अशेषजगदीशाने सर्वज्ञे सर्वभाविनि ॥ १०  ॥ 
शुद्धा शुद्ध षडध्वाख्याचित्रनिर्माण भितये 
नमः श्रीवैसभावीन्य भव संताप शान्तायै || ११  || 
नमो नित्यानवद्यायै जनन्यै सर्वदेहिनाम् ।
आधारेशात्मरूपायै शुद्धाशुद्धाखिलाध्वनाम्॥ १२ ॥
नमस्ते सचिदचिद्वर्गसंरक्षणविचक्षणे ।
जगद्विधानशिल्पिन्यै विष्णुपत्न्यै नमोऽस्तु ते ॥१३  ॥
विश्वारणे नमस्तुभ्यं नमो विश्वविभूतये ।
सर्वासामपि सिद्धीनां नमस्ते मूलहेतवे ॥१४॥ 
आदिदेवात्मभूतायै नारायणकुटुम्बिनि ।
समस्तजगदाराध्ये नमस्ते पद्मयोनये ॥ १५॥
The burning sensation around my heart chakra appeared all of a sudden. I found myself gasping for breath. I could not breathe from my nose. It became hard for me to even press the jaggery icon in one of the options on Sadhana App. As the chants became louder my discomfort multiplied further. I was breathless. With great difficulty in breathing from my nose, I opened my mouth for some more oxygen. Was it an asthma attack?
Dear readers, I have updated the auspicious time here, here and here.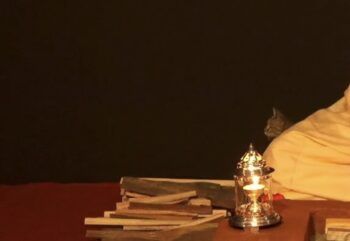 Pic : A cat peeping behind Swamiji.
---