My dad Kishore V Sonpal, was just short of 82, when he breathed his last on June 12, 2020, 01:24am. He built the habit of maintaining a diary right from his late twenties, when he took up his first job with Indian Railways, way back in 1964. His writings have stood the test of time. They are as relevant today, as they were, when he penned them down. I am sharing third of these diary entries. Just like me, hope you will also find subtle meaning in his writings.
Here is the Sixteenth share: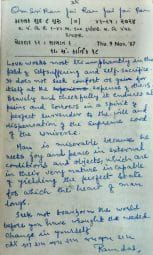 Transcript of the Image:
---
Love works most triumphantly in the fields of self suffering and self sacrifice. It does not seek comfort or gain for itself at the expense of others.Bravely and cheerfully, it endures all pains and sorrows in a spirit of perfect surrender to the will and dispensation of supreme Lord of the universe.
Man is miserable as he seeks joy and comfort in external conditions and objects, which in their very nature are incapable of yielding the perfect state for which the heart of man longs.
Seek not to transform the world before you wrought the change within yourself.
~ Swami Ramdas
---
Another gem from Swami Ramdas' notes.  It closely resonates with the quote that I had shared from Oprah Winfrey's book last week, which talks about how seeking external validation for your thoughts and feelings is worthwhile, till you have resolved one's own internal conflicts and understanding.
---