My dad Kishore V Sonpal, was just short of 82, when he breathed his last on June 12, 2020, 01:24am. He built the habit of maintaining a diary right from his late twenties, when he took up his first job with Indian Railways, way back in 1964. His writings have stood the test of time. They are as relevant today, as they were, when he penned them down. I am sharing third of these diary entries. Just like me, hope you will also find subtle meaning in his writings.
Here is the Eighteenth share: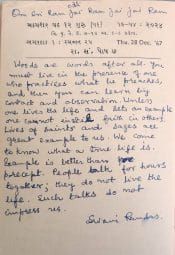 Transcript to the message:
---
Words are words, after all. You must live in presence of one who practices what he preaches, and then you can learn by constant observation.
Unless one lives the life and sets an example one cannot instil faith in others. Life of saints and sages is a great example for us. We came to know what a true life is. Example is better than precept. Some people talk for hours, they do not live the life.  Such talks to do not impress us.
–  Swami Ramdas
---
---