My dad Kishore V Sonpal, was just short of 82, when he breathed his last on June 12, 2020, 01:24am. He built the habit of maintaining a diary right from his late twenties, when he took up his first job with Indian Railways, way back in 1964. His writings have stood the test of time. They are as relevant today, as they were, when he penned them down. I am sharing third of these diary entries. Just like me, hope you will also find subtle meaning in his writings.
Here is the Twentieth share: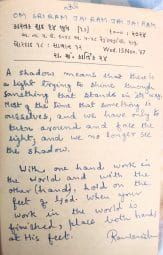 Transcript of the Image:
---
A shadow means that a source of light is trying to shine through something that stands in its way. Most of the time that something is ourselves, and we only have to turn around and face the source of light, and we no longer see the shadow.
With one hand work in the world and with the other hand hold the feet of God. When your work is finished, put both the hands at his feet.
---
---