My dad Kishore V Sonpal, was just short of 82, when he breathed his last on June 12, 2020, 01:24am. He built the habit of maintaining a diary right from his late twenties, when he took up his first job with Indian Railways, way back in 1964. His writings have stood the test of time. They are as relevant today, as they were, when he penned them down. I am sharing third of these diary entries. Just like me, hope you will also find subtle meaning in his writings.
Here is the Twenty-First share: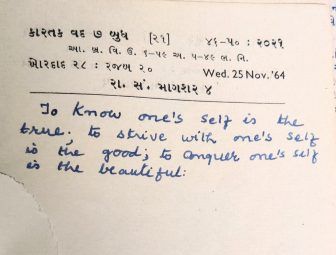 To Know one's self is the true.
To Strive with one's self is the good.
To Conquer one's self is the beautiful.
This is the shortest, but definitely not the least significant of his diary writings. It might also be the last one, as I will need to dig deeper and look for more of his writings. There are quite a few of his notes in Gujarati and while I know the language, I am not so good to be able to do an accurate translation of his writings. I will definitely explore and share more writings.
I guess some of you are aware, but I am in final stages of completing my first book, Dad's biography, 'Against All Odds'. It was slated for release in June, but due to the CoVid induced lockdown, we are now looking at an August release. I hope the os.me community will show as much love and appreciation for dad's biography, as has been the case with his diary writings. 
Once again, a special thanks to my dear friend Ravi Trivedi, who encouraged me to take this up. I will be honest, almost 100% of this content even I might have missed out, has I not taken up this initiative, so its been a phenomenal self learning experience for me as well.
Doumou Arigato Gozaimashta!
---