When someone asks to me, "Why did you choose Bhakti Maarg?" In answer to this, I generally have nothing special to say and that is how I am. Really, I don't know what is Bhakti or its essence but if whatever I do is called Bhakti then it might be Bhakti. Who knows? I don't remember any particular incident which made me a devotee like I read in so many stories where some turning point makes someone start walking towards the divine. And if you ask me who or what is isht; again, I'll be numb. And when I read about meditation at some point, light or something formless, I tried it out and felt nothing. I'm not saying that it's not good, I just intend to say that I don't understand such complexities just like a toddler does not understand money.
Let's start with this special post which I'm writing today. I thought of writing this a long time back but somehow couldn't make it happen. Finally today on Valentine's Day when my Swami blessed me with his darshan in my dream during Amrit Vela, I'm writing this down.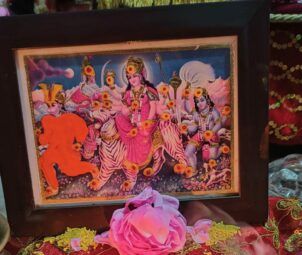 Swami ji (Devi Maa) is my valentine special. 
My father gifted this Picture of Devi Maa to my Mumma when he visited Vaishno Devi, maybe 18 years back. So my Mom used to worship Maa in the form of Vaishno Devi. Back then, I was a child and I used to watch my Mom offering prasadam to Maa after her Poornima fast. I don't know but we keep so many frames of same deities and yeah we can't take proper care of all of them which eventually takes them to some temple or roots of Peepal at the end.
I remember when our joint family got separated without any argument we all were having different altars. This frame was in my Uncle's altar. I don't know whether they worshiped this form of Maa or not. Anyway, leave it.
It was back in 2019 when I was leaving for my hostel after a weekend, I was taking blessings of my Aunty before departing and it was there, where I saw this photo in broken frame, ready to be left for the nearby temple. I don't know what happened inside me. I took the photo from the frame and I kept it safely in my notebook. When I reached my hostel I went to a photo studio and got it framed and from that day on she is always with me.
I worshiped Maa in this frame or form and with time she blessed me and  gave me her darshana in different forms. (not like real darshana but Bhaav Darshana)
Let me share one more incident. It has been a month of worshiping Maa in this frame but I never noticed the rosary in her hand. Instead of Var Mudra she is holding Rosary and doing Japa.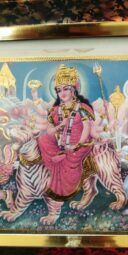 How careless I was! She was telling me to chant the holy names of her Divinity and to me, it appeared to me like She was showing me that she was my guru and when I'm chanting, doing tapa all time then why are you not?
I have seen most of the pictures when Maa is blessing all of us by raising her hand in Var Mudra. But this was something different.
It was in 2020 when she showed me the significance of this particular photograph. Why is Hanuman Ji walking ahead of Her and Bhagwan Kaal Bhairav behind Her?
Who is Hanuman? We all know that he is a pure devotee of Sri ram. He always chants the holy name of His Prabhu. It is said that the one who chants the holy names of the Lord, that person too is purified like in the great pilgrimage sites like in Haridwar and Kashi. Where Hanuman Ji goes that place becomes Kashi in itself and Maa is so precious that she can not go anywhere but only where there is purity, simplicity and devotion. So Hanuman Ji is walking ahead signifying that first we have to be simple and pure devotees and after that Maa will come in our hearts.
Now when Maa will come, she will bless her devotee with anything he wants, she doesn't know what is bad what is good, she is mother and she will bless her child with everything in return and hence, Kaal Bhairav is watching from behind whether this person is ready for this power or not. That's why Kaal Bhairav Ji is Kotwal of Kashi who gives a pass of Kashi to people after testing them.
Both Hanuman Ji and Bhairav Ji are forms of Shiva. I hope you remember Swami Ji saying that Shiva told Maa not to reveal her vidya, Sri Vidya.
Only pure hearted souls can meet Swami Ji. Trust me so many forces are there in his protection. Swami Ji is Maa Jagadamba, he is Sri Hari.
I remember this verse of Ram Charit Manas:
सोइ जानइ जेहि देहु जनाई। जानत तुम्हहि तुम्हइ होइ जाई॥
तुम्हरिहि कृपाँ तुम्हहि रघुनंदन। जानहिं भगत भगत उर चंदन॥
He knows you, whom you bless and as soon as he knows you, he becomes your form.
O Raghunandan! you are the sandalwood who cools the burning heart of your devotee and by your grace only, your devotee can know you.
So our Swami Ji is our Sri Mata and Hari.
Today my Valentine, my Swami, gave me his darshana in a dream. I remember it was 04:03 AM (IST) when I checked the time.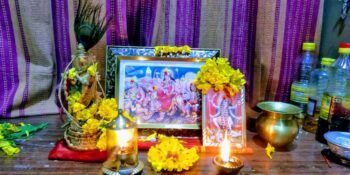 Back in 2019 in my Hostel room.
---