1995. My dad took us on a trip to South India. We were living in Lucknow then so tickets were booked in Madras Express Sleeper Class. The train begun its journey at 3:50pm, in the evening. It was a long-long journey. Even though we were accompanied by 4 other families (from my dad's office), their tickets were in some other compartment, so we were practically alone. Dad used to leave us in between for sometime to discuss the onward trip with his office mates. 
So almost after 2 days of journey we got out of the train at Gudur, before reaching the destination (at the advice of a local Andhra person) and took another train to Renigunta, after which we took a bus, if I remember clearly to Tirumala Tirupati, where Lord Balaji resides in full grandeur. Those were the days when Internet penetration was almost nil and Windows 95 was just about to arrive. So, no hotel/lodge reservations were there. But Balaji arranged something for us. A nigh passed in a lodge, where all guests were staying in a hall. Dads were planning the next days darshan, seeking advice from local people. In the morning we got up early and 2 families, my dad and one other, to buy tickets worth Rs. 50 for Lord's darshan while other three wanted to save the money to have a party in the evening. The party never happened. So, I holding my mother's hand, stood in the Special Entry lane (Rs. 50 one). The Lord welcomed us at around 5pm, but till then, I was exhausted. All of us were exhausted. We wondered if the Special Entry is takes so much  much of time, what will happen to who saved Rs. 50 for the party. The Lord smiled! Later on, we came to know that the darshan for General lane was also from far-off point. That was a lesson learnt for me. 
Fast-forward to 2016. I planned a trip to cover some temples in India. It was a special trip for my parents wherein they took their first flight from Lucknow to Delhi, Delhi to Chennai. It was also the last one for my dad. I gave one tip to my ageing parents, while the take-off happens, just push your legs harder on to the floor. From Chennai, I booked a direct taxi to Tirupati. The stay at Vishnu Nivasam was already booked and Special Entry tickets were also booked, online. Thanks to Tim Berners Lee. In the morning, I got up first and got ready for the trip to see my Lord. Excited. I saw the Lord from the 5th floor itself, and chanted the Vishnu Sahasranaam.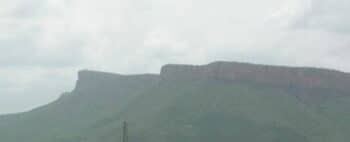 When all were ready, we took a day's taxi to the Tirumala, to see the Lord up close. Since, tickets were already there, we (men) changed our dress to traditional and got into the lane. It must be around 10am. Our mobiles were put away in cabinets, and tokens given to us. Memories returned of the first visit. This time it was more organized. The TTD (Tirumala Tirupati Devasthanams) had done a great job, specially because the number of devotees have swollen in past years a lot.
The lane moved. I was holding my 2 year old daughter. And as usual she was playful. Surrounded by commotion, the Lord smiled. I was separated from others, and I was in the 4th lane, towards the left, away from the center, moving slowly towards the finale. And then, He smiled again. My daughter got distracted by someone behind, I got lost. I just kept looking and walking. Looking and walking. As I reached to turn away, I noticed her looking back. I turned her face towards the Lord. She smiled, He smiled, I wondered, I turned. Lost. I lost those 10 seconds to the Lord of the Universe. I wish I could lose more. I was silent. 10 seconds before, commotion. 10 seconds after, commotion. In between, bliss!
---