Koti koti dandavat at the lotus feet of our revered Swamiji. Life is a big lesson and test comes first followed by the lesson as per Swamiji's own words. Yes, it is that way. Life teaches in a manner which no Guru can teach. After all what is life? As per me it is a collection of memories and experiences and one's response to all that we pass through. This is also not my words. It was the gist of the intelligent os.me family's reply to one of my poem questions.
Now coming back to today's topic, of late, I am seeing a melancholic pattern of tragedy in my writing. Shalini ji may accuse me of plagiarism as these types of writings are her copy righted property 😉, am I right madam ji? Let me tickle all the members a bit with today's googlies. Yes, it is the initial days of our marriage and the funny incidents. Don't get excited Meera Maa, waisa kuch nahin likhne wala hoon 😉.
Our marriage (of course Sanghamitra and me) took place very early. No, not child marriage 😉. We both were 24 years old and our baby-faced appearance was still very much present. Please refer the photograph below for reference and more clarity!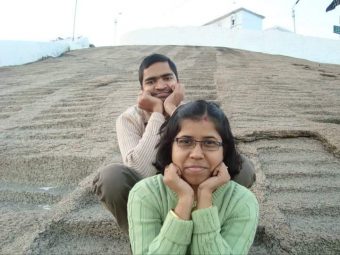 We were searching for rented house and our would-be landlords would take a sharp look at us, specially at Sanghmitra's feet to find out the toe ring for marriage confirmation 😉. Their face was used to be haunted by the question "Are you guys officially married or is it a movie style bhag away?" Finally, we came to such a situation that, we had to carry our Identity Cards issued by our employers and our marriage registration certificate for instant proof 😉. Bachha Party (Yash, Nalin, Taahira, Anant Meera, Ashu and all), for your information, Aadhaar Card was not there on the horizon! May be govt was mulling over it!
Anyway, Sanghamitra's courtesy, we got a rented house of one of the Bank Customers. But that was not the end of the story! When some salesperson would visit our house and we would tell them that we did not require the item, the salesperson would reply, "Please apne Mummy / Daddy ko bulao 😉)." Yes, it was the Landlord uncle again, who came to our rescue. Actually, uncle was staying in the house and rented a portion to us. So, in these sticky situations, we would take help of the uncle to get out of the situation 😉.
Now came another phase of search to purchase of a flat in an apartment. The situation was even more swashbuckling! We visited almost all construction sites in the vicinity. But when the supervisor would see us, he would advise us to come with parents 😉. That time Sanghamitra was pregnant with Sahil. We were about to become parents and Builders would nicely tell us," Mummy-Papa ko lekar aao. Apan logan aram se baith k baatan karenge. Aisa khali phukat bataan karne se kuch nai hota. Bade logan baatan karte toh baat age badhti, samjhe? Tum logan bachhe ho, utna bada amount ka baat cheet nai kar pate ☹ 😉" (Please understand that my Hindi is not gadbad, it is Hyderabadi Hindi, idhar aisa ich bolte miyan and I really love the lingo as much as the steaming Biriyani!)
Now from where we would bring parents in Hyderabad when they were in Bhubaneswar. Even if they did come, what would they talk? Anyway again, Uncle came to our rescue and patiently helped us negotiate with the Builder. The story dates back to 2011. After Uncle's intervention, like Chellum Sir in Family Man – 2 (the reader may please Google about Chellum Sir if not familiar!) , the deal was sealed, and we greeted Sahil with the 1000 Sq Ft. double bedroom flat where he could do all his wall painting without any Landlord's frowning eyes 😉.
Yes, we have come a long way since. A decade has passed. Now, by God's grace, we are dwelling in a nice duplex villa in a gated community. And of course, now nobody is enquiring us about our Parents or neither anybody is scanning for Sanghamitra's toe ring for any kind of proof. The vegetable vendors who once used to address me as "babu / nana / amma" used in Telugu to address affectionately to young ones, have started addressing me as "Sir / anna / garu" used in Telugu as respect words. (Of course the next generation has taken over). I have got some white hairs here and there. My mummy blames it on the hard Hyderabadi water 🙁 . Same with Sanghamitra also. Yes, age has gone up. But for us this is just a number 😉.
Especially after coming under the shelter of our Pujya Swamiji and the very beautiful os.me family, life has become even more meaningful. May it be black, white, grey or any other color, love has manifested, right Kirtee? 
That's all for today. Before ending the blog, let me compose some smart thing like Anu Malik ji (Pankaj ji 😉) for my Guru Maa Madhavi Voleti
" Scientist hoon main, Pagal bhi hoon; sab ke dilon mein shamil bhi hoon;
  Dhyan se apne mukarta nahin; Neutron se main kabhi darta nahin… 😉 " ….
Jai Shri Hari…
Love ya all. Thank you very much for your valuable time and patience.
---