January is so fresh and full of possibilities. We are holding a New Book of 365 white pages throbbing to be written. We have already used some of them. How and what we write on these first pages is the introduction of our story of the year 2023. What we write here determines whether our 2023 is going to be a blockbuster, a diary of resolutions, or just a scrapbook.  On the first week of  January, on our Guest Editorial, Nikunj came up with her vision board of the year and hashtag #bebettermewithosdotme and inspired all of us to make our vision boards for a better year.   Read Nikunj's editorial Here. Soon I read many blogs of my friends, abuzz with beautiful vision boards. I longed to make a vision board for myself and join the gang of #bebettermewithosdotme.   Somehow I was not getting the ideas.  Today evening while  I  was relaxing on a bench by the hillside, I decided to read a few pages from my current read ''The Happiness Project '' on my Kindle. I lazily turned the pages, and the sudden realization hit me, I am reading the right book. One of the most popular 'vision boards ' is right under my nose. I only need to tweak it to make my own vision board. I decided to catch the 'aha moment '.
What is a 'Happiness Project ''?
Gretchen Ruben is one great Author who spend a year writing resolutions starting from January to December and made it into a blockbuster book '' The Happiness Project, Or, Why I spent a year trying to Sing in the morning, Clean my Closets, Fight Right, Read Aristotle, and Generally Have More Fun ''.   Gretchen started '' The Happiness Project '' to outgrow her own limitations. She wanted to make life-changing resolutions and also stick to them. To begin with, She meticulously wrote down the goals for every month and also worked on them. She successfully made a bestseller of 348 pages writing masterfully on these monthly goals and how she executed them. And that is the book I am holding in hands right now!
For clarity, I have made Gretchen's  Vision Board taking ideas from her monthly goals. This is what it looks like :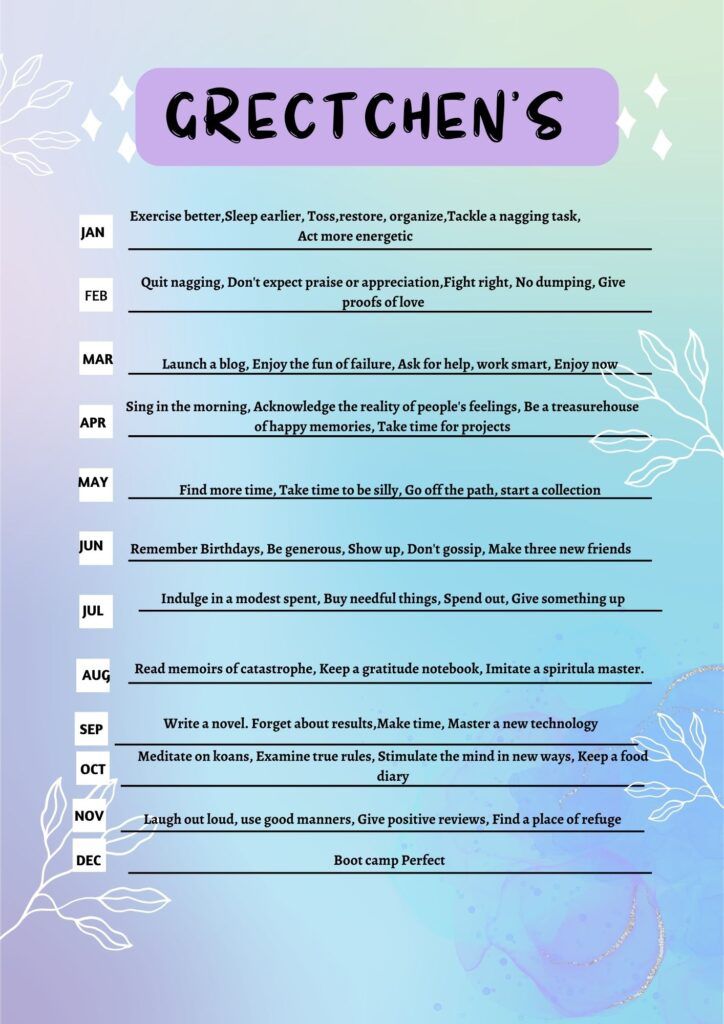 Now it is my turn to create a simple Vision board for myself.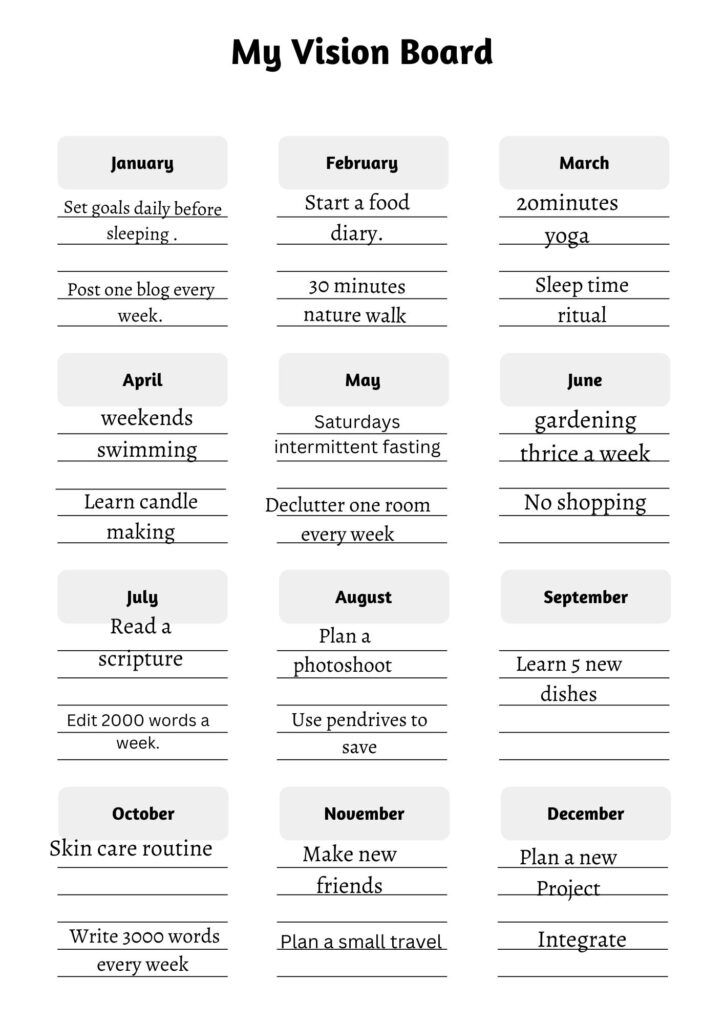 There we go, friends. One vision from a Great Author and another from yours truly 😊
Time to work on my Jan goals.   Happy Lohri and Makar Sankranti all Dear friends 🙂 Jai Sri Hari.
PS:
Twelve Commandments Of Gretchen
1.       Be Gretchen.
2.       Let it go.
3.       Act the way I want to feel.
4.       Do it now.
5.       Be polite and be fair.
6.       Enjoy the process.
7.       Spend out.
8.       Identify the problem.
9.       Lighten up.
10.   Do what ought to be done.
11.   No calculation.
12.   There is only love.
The link to Happiness Project is here :
Templates  and cover: Canva
---