I offer my humble Pranaams to you Rev. Sri. Sri. Om Swamiji🙏🕉 much love and light surround you always. Thank you for your Gracious presence always🙏🕉🌹
Kindness is such an amazing gift that one cannot but help basking in its humble act.
Undoubtedly one small act of kindness can have ripple effect on not just the one who carries it but also the one who witnesses it. Little small caring deeds do leave a lingering  smile on one's face and heart. But how a little act can help in  blossoming  one's heart?
Let me share a sweet soulful experience that I witnessed ….
November month last year in Canada came with  its unknown charm of experience . The Heavy snowfall and freezing temperature at times do tempt the brain to get moving and exploring and pep up the mood which is good in a way. And being a weekend made things more easier  to go for a nice outing with a relaxed mindset as there was enough time in hand.
So me, my daughter and her hubby all planned to go out for good lunch and  also shop for our five  furry babies ( our home is blessed with three cute dogs and two adorable kitties) . I planned to buy an absolutely different  cozy little cat bedding for my two kitties Zeus and Gaia and my daughter wanted some nice woollen coats for the loving  dogs.
The three cute  brats Bruno, Taurus, Lebowski we call them are true charmers and cheer up our home and they equally love the attention showered on them . Their eyes  always light up when they are gifted stuff toys or for that matter even when they are fondly and cuddly dressed in their coats or t-shirts.
We were all excited as Dimple ( my daughter) drove down to her favourite pet store. But as luck would have it we could not find the exact things that we were looking for . From one store to the other that we checked we found much of the stock sold out because of high demand due to the freezing weather. I could not get the kitty bed too that I long had in my mind.
After a good couple of hours of search we landed in a big pet store. It was massive and the stuff too was very captivating. My daughter got busy selecting coats for the dogs and I ventured ahead in a different section to look for the kitties bed.
My eyes almost got lit and glued at the sight of a sweet Igloo house and I felt my hunt was over.  Though it was not the usual kitten bed but it cutely reminded me of the stories and pics of the igloos I had read  when I was a  child. Also  these  were meant and made for dogs , but it gave me a feeling  that it would be equally great for cats too as they would love to sneak inside and warm themselves cozily.
I just needed help to know if it could be used for cats. A little ahead of me I saw a staff member catering very politely and friendly to another customer. Hence I waited for him to finish .
At that very moment a couple passed by with their small furry dog who got sniffing around and suddenly did his business ( peed in the middle of the passage) there.
The pet owner lady quickly approached this middle aged staff gentleman ( for whose service I was waiting too )  for some tissue paper.  But instead the staff offered to clean the spot without any hesitation .
'You may please enjoy  your shopping time, let me clean it' as he rushed to get the tissue paper. The lady smiled and thanked him enough for his help.
He then looked at me, 'Kindly  give me a minute and I shall get back to you. My apology, to keep you waiting'.
'No problem, please take your time' I answered.
It was a strange moment for me, for I was noticing this person multitasking, to humbly offering his time to serve others smilingly without battling an eyelid. There were many other staff helpers around and he could easily ignore the little details concerning at the  work place . But he just seemed to be all out there to help as much.  
Soon he returned and approached me , 'How can I help you please?' He probably had noticed me a tad confused  while inspecting the Igloo house .
"Well, don't you think I could use this house for my kitties, though it mentions it's for dogs" I asked him.
"It can be used for both dogs or cats, it's something new that's come up", he further stated.
"Great, I shall take the smaller size" I smiled at him. But honestly even the small size was way too big and heavy .
"Wait let me get a bigger platform cart for you' and he quickly headed to get one.
In the meantime my daughter came over with three beautiful coats for the dogs , and she too was amazed to see the igloo house .
The staff gentleman came with the cart, placed the igloo house on it and offered to help head with it till the cash counter.
He seemed equally impressed when he saw the choice of coats my daughter had picked up for the dogs.
'Those are some amazing coats you selected for your furries".
"Err, oh yes!! But I so wished they were little discounted too" she quipped smilingly at the staff person.
"Well don't worry, let me handle this" and he quickly headed at the cash counter and started to feed his identification no,  at the same time communicating softly with the cashier lady .
I seriously could not figure out what he was doing as we waited for him to finish.
In about 2-3 mins time when we approached to pay up the amount which was for almost 250 dollars , we found it  was now reduced to just 120 dollars.
'I hope I was able to help you with your shopping experience', the staff helper approached us with a big smile. We were all a bit surprised and thanked him for his gesture .
'Have a wonderful  day! And give my love to your furries', and he started to walk away.
Why would he just do us this favour! ? His action did impact us from within. How is he able to practice so much concern to all that he comes across in his given job with so much gentleness and patience. 
As my daughter got busy paying, I excused myself and quickly headed  towards the gentleman and stopped him ' It's so generous of you to be so kind to strangers. I am truly  touched by your gesture'.
"I only try my best to be of some help to as many as possible, glad to see you all smiling" I could clearly see  his eyes moisten up as he thanked me for the acknowledgement and moved on to get back to his duty.
It's true in every way that  kindness is pure form of Grace. And in its flow that day the exchange of Benevolence followed. My daughter was so moved herself that she  made it a point to go to the Pet Smart Store after work the next day again with me and her hubby. She halted on the way and grabbed hot coffee and Timbits ( bite sized doughnut balls) for just not the staff gentleman but much of the staff at the Pet Store, treating them well. I was totally surprised to see this. It wasn't that Carroll got us a discount but it was all about how much effort he took to show his care to his customers no less than strangers . 
The manager of that  store was already aware of Carroll's ( the staff gentleman)  large heartedness, but she was super impressed that a family has gone out of the way treating the whole staff because of him.
And the  day after I walked all the way down to the same store to meet and speak to him and know a bit on his journey to kindness. He took out sometime from  his work and spoke rather humbly. His moist eyes surely carried a  little life story which was indeed heartwarming.
" My name is Carroll. I hail from Goa, India. I got the opportunity in my young days to settle down in Canada for good. It's been almost a lifetime here and I love every bit of my journey lead so far. Having gone through the highs and lows of life, which we all do, to changing  few jobs  every experience only taught me to grow humbler by the day . I love my home space but equally respect my work too not just as a job, but a space of servitude. I love to offer and share my concern and care to all my customers  as a true service to the Divine who blessed me this opportunity to live for this  very purpose each day. A smile from others just makes me joyful and brims fulfilment within", he went on to add in the most simplest manner.
There was so much contentment in his expression.
He accepted  my humble request to take his picture so that I could write about his generosity that he practices each day in the most amazing yet gracious manner.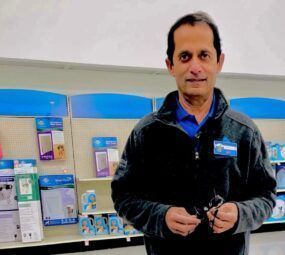 'Carroll' the staff gentleman at the Pet Store. 
Life truly is full of variant colors of human hearts. The best comes out when we merge with these colors to bring out our best formation.
This whole act of living kindness reminded me … 'That there are beings who carry act of kindness and then there are some soulful beings who live in the Color of kindness at all times, immersing in the joys of giving, irrespective of life being easy or taxing.
Indeed the Igloo House that we brought that day came as a joyous messenger of shelter with an insulating  feeling of warming hearts  who ever inspire us to treat and live  life sacredly.
Thank you Divine for such reminders in life that reflect your Grace🙏
Thank you my dear OS family and kind readers for your precious time in reading this post. Divine Bless you all. Sorry for being a bit slow in getting back, as I am still recovering from my health issue🙏
Jai Sri Hari!
Siddhika Umesh
The above pic is of my furry Zeus. He loved his sweet Igloo house. 
---