Hello…😄 i am very interested in art designs, carvings,drawing ,science and many other things related to nature 😁 i recently saw this fantastic carving on Net and did a lot of research on it… and the results shocked me… i ended up finding carvings and artistic representation that were so complex that it was difficult to draw them even on paper! but you won't believe…. it was carved on stone with very fine details! in this post I'll show you a few of them 😁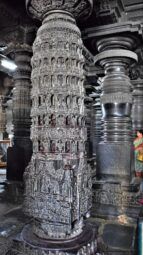 just see this pillar… you'll first think that it has small rectangular cavities in it and it's a ordinary pillar… it is decorated with flower, creeper and pearl carvings just like a normal ancient pillar..but when you zoom this picture you'll find something like this :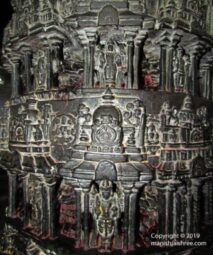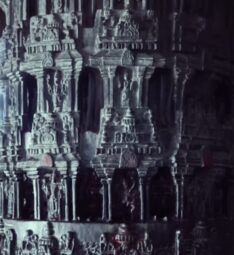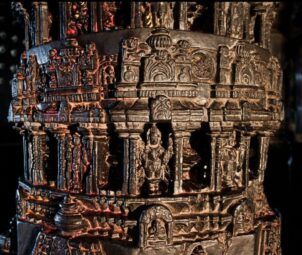 isn't this fantastic? inside every rectangle there's one deity! and you can even identify the deity because it is carved with lots of details! each rectangle is decorated with flowers and made like a small temple… and what's more fascinating is that… this pillar can actually rotate!! 🤩 though it doesn't rotates now due to safety reasons… this pillar rotated because of ball bearing mechanism! another fun fact… these small idols have large gaps behind them… you can put your fingers at the back of the carving and your fingers will touch each other 🤩… it is said that these idols are attached to the pillar just like you attach lego blocks…. there were holes in the pillar and small stone sticks attached to the back of the carvings… these stone sticks were inserted in the holes and fixed tightly so that it can't be removed by invaders and they were successful! now… i just said stones attached to the back of the carvings… this means that the builder who was building it melted the stone stick from one end and attached it to the carving and the carving was made out of one single stone!! that means 50+ stones like this were selected for making these deities! 
This pillar has 50+ carvings of different deities and each corner is decorated with flowers, bells, creepers, animals and geometric designs! just have a look at this carving: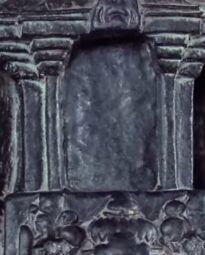 No carving? no no 😂 this carving shows the formless god… the Nirgun bhagwaan 😁 
Sri hari 🙏 :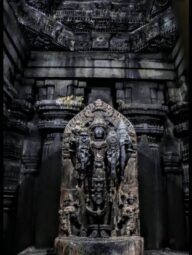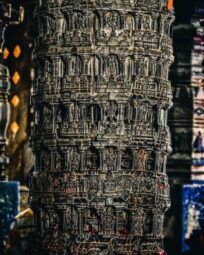 want to know more? 😁 these small carvings are actually large idols of gods that are situated in the temple complex! if you want to understand ancient indian architecture and arts you should visit this temple in belur! 
Oh i am really sorry, i forgot to tell the name of the temple 😅 the name of the temple is chennakeshava temple and the pillar is known as the narsimha pillar which is worshipped as the main deity of the temple.😁 
Thank you! 
---