For over three decades, I have been trapped in a dark tunnel of fear and anxiety. It all started at the age of six, when a close relative told me that I was adopted that led me to believe that I was unwanted. I had a longing for care and affection and sought validation from others. During my teens I was rather an extroverted person, yet I lacked self confidence. Looking back I feel it was more of a defence mechanism to make myself feel accepted by all by trying to please everyone.
The sudden death of my loving adoptive parents led to all my latent fears coming to life. The fear of death and loss of my loved ones triggered my dormant insecurities which led to my being clinically diagnosed with severe depression and OCD of my health and well being. My treatment included heavy anti depressants and electric shocks which went on for over two decades. However, these treatments failed to allay my fears and pushed me into a dark tunnel of hopelessness.
Little did I know, that there was a light waiting for me at the end of that dark tunnel…..  My Revered Guru Om Swami. It was seven years back when I met His divine grace. He led me out of that tunnel and helped me to break free from the shackles of depression and anxiety.
Since childhood I had had a spiritual bent of mind and I had the ability to surrender to divinity.
As my Guru says I have sown the seed, now go find your own truth….. His Black Lotus app supported me further in my journey.
During the onset of the pandemic the new version of the Black Lotus app introduced a wide set of goals that focused on meditation, growth and self awareness. Out of the numerous goals I chose stress and self esteem. These goals helped me become  self reliant, more confident in my decisions, emotionally stronger with less anxiety and panic as well as being mindful of my thoughts and actions.
I hope my truth inspires all those who are suffering and shows them the path to self healing.
I am grateful to my Guru and the Black Lotus team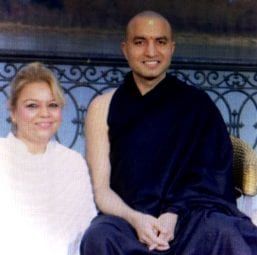 To end it,
"Good Karma is not measured by material rewards but by the ability to connect with my great Guru"
Kavita Om
---